Adekunle Gold and wife, Simi welcome new baby, Adejare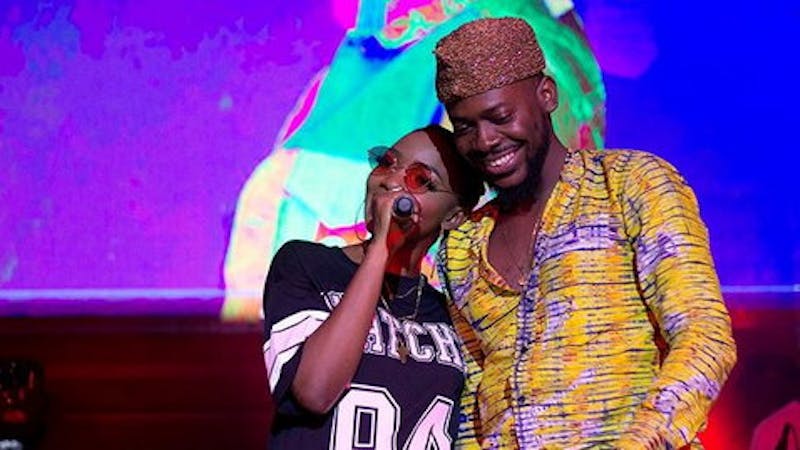 Nigerian talented singer, Simi has given birth to a beautiful baby girl. She posted the picture of the baby on her Instagram page on Sunday evening.
She displayed a picture of her husband, Adekunle Gold carrying the baby and wrote, "It is like free-falling this unending l, soul snatching, infinite, mind-boggling love.
"Dejare my baby girl, I got you. I promise. Now and forever. So help me, God. 5.30.2020".
Simi had earlier this year confirmed she was expecting a baby with her husband, Adekunle gold when she showed off her baby bump in her new song release video, Duduke, some weeks ago. Duduke had made it as the number one in the apple song chart with lots dancing to it and even participating in the #DudukeChallenge.
Simi releases her latest single titled "Duduke"
Simi's husband, Adekunle Gold (a.k.a AG Baby) has not been left out in the happy moment as he has made it known that he is also basking in euphoria with the recent development. He shared a cute and emotional message where he talked about how he felt when he saw his adorable little daughter and held her for the first time.
His message read partly, "It's been a lot, right? I know. The violence against women, against black people and this pandemic was just too much. I had to log out for a bit. I had to check out to prepare a healthy mind and a safe place to welcome my child into the world.
"And even though I have sad feelings throughout the day about the crisis outside when I am with my baby, it's pure unadulterated joy. I cried so much when Adejare came out. I cried when I first held her. I can't lie, I still stare at her and shed a few more. Lol.
"It feels like an obsession, really. If someone else is holding Deja, I miss her. I love our skin to skin time. I love feeding her. I love changing her diapers. I love everything, including insomnia. I'm obsessed with all her expressions; you need to see her stank face. My baby came out with head full of hair like mine and the most beautiful face I've ever seen like Simi. Wow."
"I feel so protective over her, and everything happening right now has made me even more conscious of how I want to raise her. I want her to always know she is loved. She is powerful. She is pure black girl magic, and I will always believe in her".
Social media users have also shown love for the duo by sending out congratulatory messages, and good wishes to the couple and their newborn baby,' Adejare' as her dad fondly called her.