BBN Day 16: I don't want to date you – Ozo to Nengi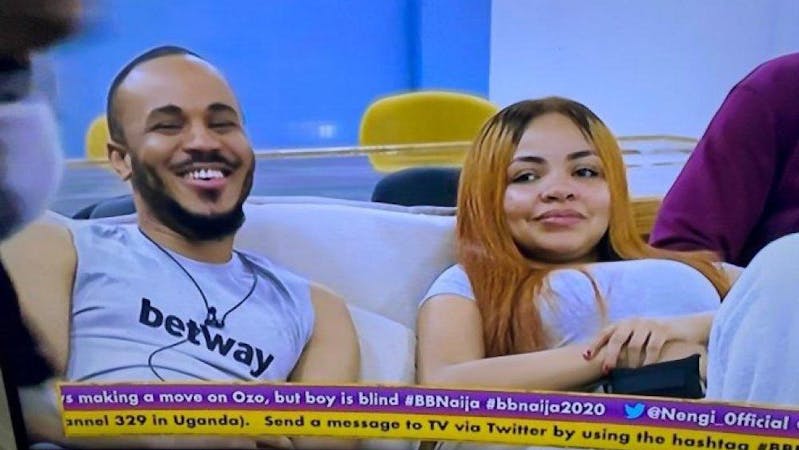 BBN housemate, Ozo told Nengi that he never had it in mind to date her.
This came as a shock to the fans of the show especially Nengi fans as Ozo is believed to have strong feelings for Nengi who he has spent much of his time trying to woo.
Nengi, on the other hand, had made her position on the relationship in the house known when she announced that she has a man outside Big Brother and wouldn't want to disappoint him.
Notwithstanding, viewers feel something can still happen between Ozo and Nengi as they keep getting closer and apologetic to each other.
The 'on-and-off' duo was chilling in the garden, and they made known their feelings towards each other.
During the 'garden talk', Nengi spoke about Ozo snubbing her for a week and how she made attempts to talk to him to no avail. Ozo rebutted and said they both had conversations during the same timeframe she claimed he was 'beefing her'.
However, as the conversation on dating resumed between them last night, Nengi reminded Ozo, "I've told you that I don't want a relationship in this house."
This rubbed off on Ozo's ego, who swiftly replied, "First of all, who wants to date you?"
Nengi and Ozo, BBNaija 2020 Housemates discussing in the garden
Responding to this, Nengi, asked, "Then why are you catching feelings? Why are you catching feelings because somebody likes me?"
Ozo seems not to be the only male housemate interested in Nengi as Prince and Kiddwaya are also battling to get her attention.
Ka3na has earlier advised Ozo to leave Nengi alone.
She said that she throws herself at male housemates, and no guy in his right senses would resist her as she's manipulative.
She also told Ozo that Nengi pulls the guys down and tries to get everyone in her corner, but that it does not work that way.
She went further to tell Ozo to get his prestige back by getting himself out of the situation.