Davido, Tiwa Savage, Naira Marley to perform live at NairaWin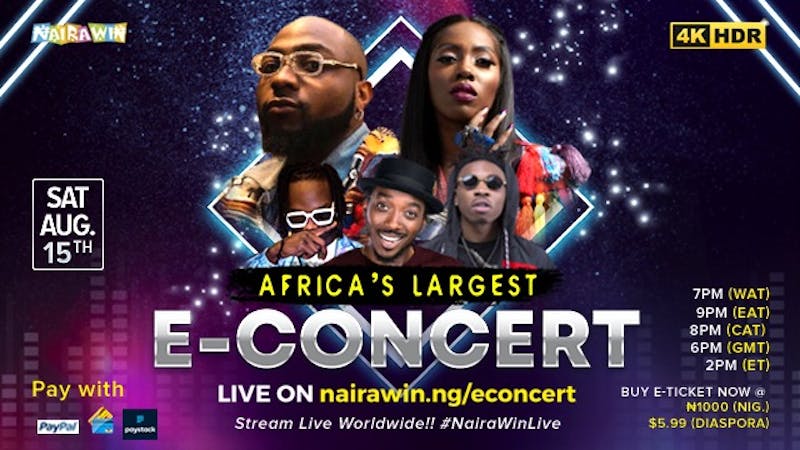 Popular Nigerian Musicians Davido, Tiwa Savage and Naira Marley will be performing live in one of Africa's largest E-concert NairaWin.
The show which will be hosted by Nigerian comedian, Bovi will see four winners have the opportunity to perform live on the same stage with their favourite artists.
They will also stand a chance to win a cash prize of 100,000 weekly, using the social media hashtag #NairaWinLiveChallenge from July 15 to August 8.
Speaking about the show, the executive director for Nairawin, Olusegun Edu, said: "As an innovation-driven digital platform, we are always committed to providing access and new experiences to everyone.
Even though the entire world is in the midst of an unprecedented pandemic, they still want the experience of a lifetime, and we are bringing that in 4K High definition with the Nairawin e concert.
It would be like having a concert in your living room, your bedroom or anywhere you choose to stream from!"
The ticket cost for the concert is 1000 Naira for Nigerians only while for non-Nigerian the ticket cost is $5.99. As there will be many whole like to watch online, you can stream live from www.nairawin.ng/concert.
NairaWin is an E-Commerce platform where customers can put up a low cost of N100 and stand a chance to win a product such as cars, electronics, smartphones, jewellery and other kinds of stuff. In the platform, winners can also win cash prizes.
When it came into existence, the Executive Director of the platform Olusegun Edu talked about the company's aim to help Nigerians saying, "We discovered that an average Nigerian wants new things and big things. But with N100, they can now realise the lofty dream through this platform."
He said customers could bid for any item of their choices with different modes of payment with just ₦100.
"Customers can bid through multiple modes now through SMS, USSD & WEB mode, which is handset agnostic.
This product is service-based, as it will be a mobile and web application. It is a participatory game of chance. Users purchase one or more ₦100 ticket for a selected item. Price of the product and quantity of ticket is set based on the retail price, and the same amount of value ticket will be sold.
"Naira Win Platform" provides a network space for the sale of various commodities in the "share sale" mode.
He shed more light on the platform during the time of its opening.
"On this platform, goods are divided into numerous equal shares, and participants can buy one or more shares using the official Naira Win website or mobile application. They will then have to wait till all the shares are sold out, and then the system will deduce the participant who will finally get the goods according to the platform rules.
"The product will be offered through operators on their billing platforms through airtime decrement and also through other modes of payment like Paystack and Opay.
"VASCOM is the parent company. It is a digital company creating products and services. At VASCOM, we have the lottery licence and all requirements to do this business. More digital products will be rolled out in the future. Our target is to contribute significantly to Nigeria's digital economy drive. The sole reason we are pushing our operations digitally.
"As a Nigerian brand, we are everywhere. Our target is to expand to other African countries soonest. We are working fast on that. It is a long-term strategy."