EndSars: Wizkid, Falz, Phyno and others in Zoom meeting with Aliko Dangote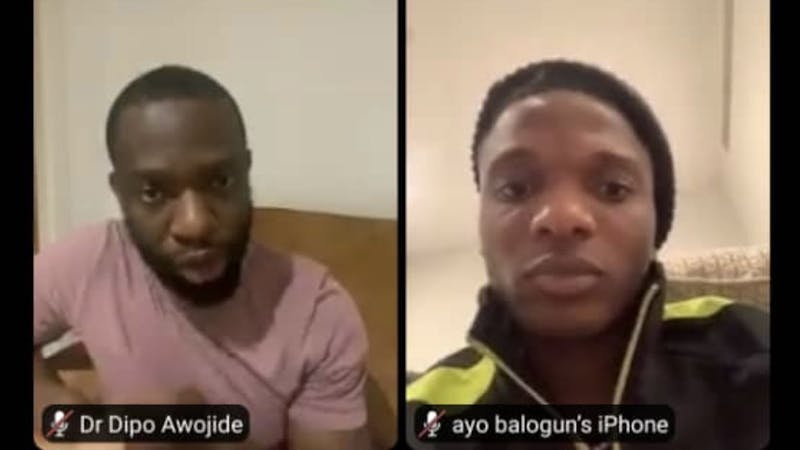 Nigerian youths woke up to the news of some celebrities in a meeting with the cream of the society as regards the EndSARS protest.
Notable Nigerian celebrities and others including Wizkid, Falz, Phyno, Dipo, Aisha, FK Abudu and others held an EndSars meeting with business tycoons Aliko Dangote, Tony Elumelu and others, without Segalink.
The trending photo of the meeting shows Wizkid, Falz, Phyno, Aisha Yesufu, Pamilerin, FK Abudu and Dipo in attendance. The meeting was between the above-mentioned celebrities and business tycoons Dangote, Emefiele, Tony Elumelu and, Abiodun of Oyo state.
The outcome of the meeting has not been disclosed but the agenda is known to be the EndSARS protest which has been ongoing in the country for about two days now.
The news of some celebrities representing the youths in a zoom meeting caused agitation from the youths who assert that they (Nigerian youths) never appointed any of them as their representative or spokesperson.
Celebrities who were in a zoom meeting with some elites as regards the EndSARS protest
Youths Agitate as Segalink was not represented
For some, the reason for their agitation is that none of the celebrities that attended the meeting ever mentioned that such discussion would be holding.
Some other groups believe that those in attendance are not a true representation of the youths as they are children of the elites and do not understand the suffering of a common man while others state that Segalink who should be in attendance was not there.
Segalink is one of those that called for the protest against SARS and police brutality. He has been at the forefront when it comes to fighting against SARS.
When anything, as regards SARS, is mentioned, Segalink should be at the forefront as he has been championing the fight against SARS since 2017.
Sega, one of the pioneers of EndSARS protest who was not in the meeting attended by celebrities as regards agitation of the youths over police brutality
Reactions from Nigerians on the Latest Development
Concern about getting divided
"The sacrifices of protesters should not go in vain. The governments are trying to divide us, making us not to speak with one voice. "
Attendees are not our representatives
"We don't need to hear, or anyone speak to us. This #EndSARS thing is very straight forward. It's just two damn words. End that shit and persecute all those officers. Simple. All this zoom meeting is just attention-seeking and ass licking."
"One thing they should know about this protest is that no one is the leader. We're all LEADERS and leading ourselves. Who sent them to negotiate and speak on our behalf. Let's not lose focus until #EndSARS#EndSWAT."
"Anyone that speaks on our behalf should speak at a live broadcast. We need to see them say what they are saying on live tv. They represent us, and we need to see how they represent us. For transparency, no closed-door meetings."
The need to remain focused no matter the outcome of the meeting
First thing I saw this morning on my trend table is Sega, Dipo n Pamilerin about a zoom meeting. Is this the way forward now, let's not lose focus. We don't want any zoom meeting. What we want is to #EndSWAT."
Celebrities who were purportedly in the zoom meeting with some elites as regards the EndSARS protest included Phyno, Wizkid and others
Confirmation on Twitter from Pamilerin, one of the Attendees
One of those that attended the meeting, Pamilerin has taken to his twitter handle to narrate how he found himself in the meeting.
His tweet reads, "Pamilerin join this zoom link. Boom I joined, na so we find ourself here oooo We don't have any leader, the youth already presented what they want, fix it. Lobaton. You can't stop people from protesting until they see that things are getting back to the way it should be"
Aisha Yesufu also tweeted, "Good morning Let it be known that I, Aisha Yesufu is not interested in being in any committee. The streets are where I belong, not the table. That's my strength! Let those who are good at the table be put forth. We must always put our best foot forward! #SARSMUSTEND"
In the heat of the whole thing, the fans of the two favourite musicians, Davido and Wizkid, saw it as an avenue to lash at each other.
Wizkid & Davido's fans clash after hearing about the meeting
"Davido Personally invited Falz, Rinu, Aisha and j.j Let dem come join him for an open meeting in Abuja with the IG dey all declined. But the same Set of people went behind our backs for A Secret Zoom Las Las everybody is a hypocrite oooh #EndSWAT."
"It is from this EndSARS protest that I know that the hate for Davido no be here."
"What is Wizkid doing there while everybody was lashing at Davido."
Nigeria youths have vowed to protest until their voices are heard.