Gov Abiodun appoints Laycon as Ogun State Youth Ambassador, gives him N5m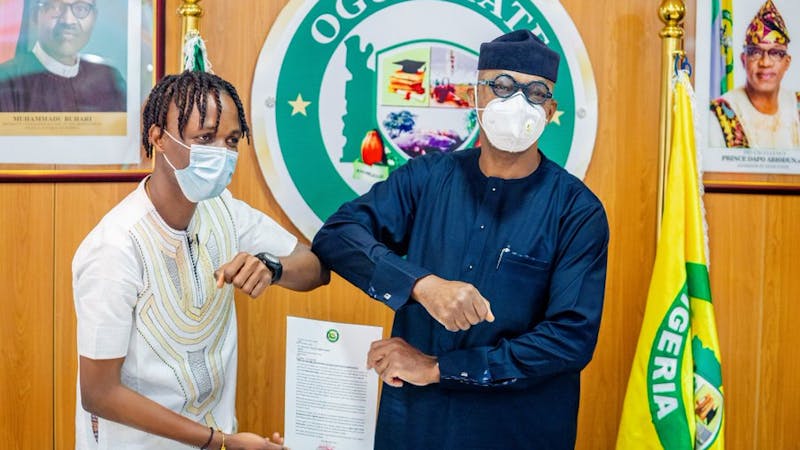 The 2020 reality TV show 'Big Brother Naija' winner Olamilekan Laycon Agbeleshe has been appointed as Ogun State's Youth ambassador by the state's governor Dapo Abiodun.
Attached to the appointment, the governor also gave Laycon a three-bedroom bungalow and total cash of five million (N5m) naira when he returned to his homeland, Ogun State.
Governor Abiodun congratulated Laycon and said he could not wait to work with him as one of his administrative personnel.
"Once again, I congratulate you and on this note, I hereby appoint you as Youth Ambassador of Ogun State.
"I look forward to working with you to be a model of good character, excellence, good virtues, calmness, integrity that are general attributes of Ogun State, and in fact, your homestead, Odeda,"  Abiodun said while hosting Laycon at the executive chamber of the governor's office.
Ogun State governor Abiodun praised Laycon for his positive behaviour and calmness during the reality TV show lockdown
The governor also said that the appointment of Laycon as the youth ambassador is with the belief that he will motivate other youths to live a positive life instead of living a negative life.
"We believe that you will help inspire our teeming youths to channel their energies towards positive engagements and shun vices such as robbery, drug abuse, cultism, advanced fee fraud, cybercrimes and kidnapping, amongst other negative tendencies," 
Governor Abiodun welcomed Laycon to his state and praised him for his comportment and calmness during his time at the housemate lockdown in Big Brother Naija show.
"On behalf of the government and good people of Ogun State, I join your fans across the world to welcome you to your home state.
"I also want to congratulate you on your success after 71 days as a housemate at the Year 2020 Big Brother Naija, Lockdown Edition," the governor added.
"Despite all the odds, temptations, and provocations in the house, I am proud that you came out unscathed and uninvolved in any scandal or immoral act.
"You have also demonstrated with the way you carried out your assigned tasks in the house with comportment; intellectual responses to questions and; your spirit of fair-play, that your academic achievement at the University of Lagos was earned.
Abiodun added that Laycon showed that high institution in Nigeria and Lagos state, in particular, are still capable and functioning to have produced someone like him with a good character.
"This has also shown that our universities can and still produce graduates that are found worthy in character and good learning," he added.
Olamilekan Agbelesha a.k.a Laycon emerged winner of the 2020 Big Brother Naija show, season five as 60 per cent of the votes from viewers went to him.
Laycon won the reality show Big Brother Naija on September 27, 2020, after beating Nengi and Dorathy in the final day of the show.
He was given many prizes including N30 million cash prize including a two-bedroom apartment courtesy Revolution Plus, A top of the range SUV from Nigerian automaker, Innoson Motors.
In addition to the gifts was a trip to Dublin courtesy Guinness, home appliances courtesy Scanfrost, others are a trip to Dubai packaged by Travelbeta, one year's supply of Indomie noodles, Munch it, and Colgate toothpaste, one year's supply of Pepsi, a branded chiller, trip to watch the UEFA Champions League finale and a brand new Oppo mobile smartphone.