'I got pregnant without sex' - Twitter reacts to Wathoni's revelation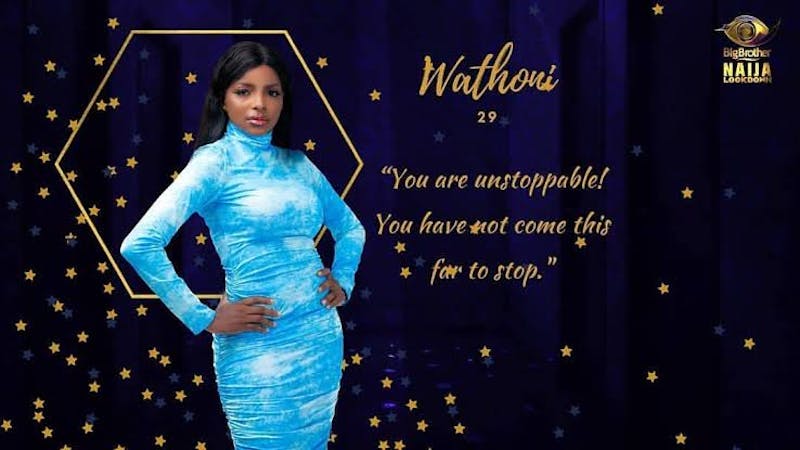 Big Brother Naija reality TV show gets more and more interesting. Fans and viewers of the show went wild yesterday after one of the BBNaija housemates, Wathoni, revealed that she got pregnant without having sex.
The viewers of the BBnaija show went berserk following Wathoni's story of how she got pregnant for her now-five years old son.
Wathoni, the single mom made the revelation on Thursday during the housemates wager task presentation. According to her, she got pregnant, not through sex but through heavy petting.
Wathoni further revealed that she was a virgin at that point and struggled with accepting the fact that she was indeed pregnant.
BBNaija Housemate, Wathoni shares the weird story of how she got pregnant without sex
Many viewers had reacted to Wathoni's pregnancy story with some of them taking to their social media accounts like Twitter to analyse it.
While some made fun out of the tale, some said it is just not possible. However, some of her friend's and fans also came to her defence amid the whole saga.
One of them with the username @Spicee_x said her story is "facts" as Wathoni was her roommate. The Twitter user claimed that it did happen. "Can still remember it like it was yesterday. It's wild, but it happened", she tweeted.
The story of Wathoni getting pregnant without sex got many people talking at the same time with lots wondering if one can get pregnant just by "intense make out".
Check out viewers' reactions to Wathoni's pregnancy story:
How possible is Wathoni's story of getting pregnant without sex?
As Wathoni narrated her pregnancy story, one can't help but wonder the possibility of that really happening.
Amid the confusions, reactions and comments on social media, one of the popular doctors on Twitter, popular known as Aproko Doctor had taken to the platform to enlighten people more on the possibility of Wathoni's story happening.
@aproko_doctor wrote:
"When the egg is released from the ovary, it lives for about 24-48 hours. A sperm can live up to 5 days in the woman's reproductive tract.
"Sperm dropped outside the vagina can enter, and if the conditions are right, get a woman pregnant.
"Wathoni's story is not impossible".