List of some celebrities in support of racism protests in US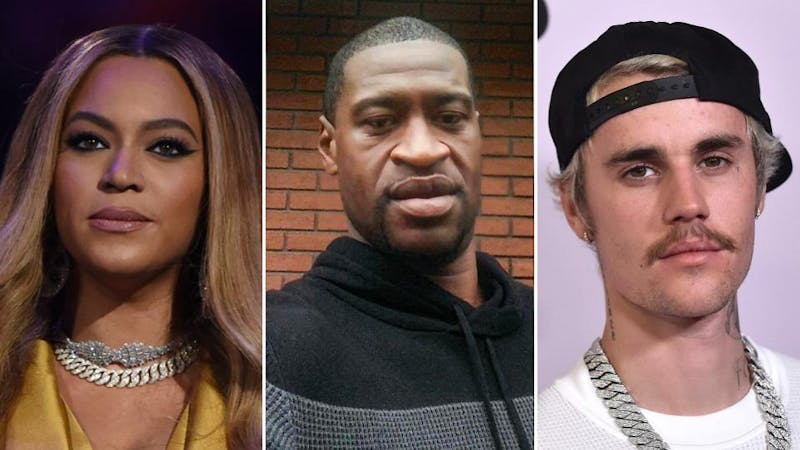 As the protest against racism continues to grow in the United States, let us look at the celebrities who are solidly in support of equality among the blacks and the white
Protests have been going on through the cities of the United States following the death of George Floyd who was murdered by Minneapolis police officers. People are out of the streets of different cities of the United States protesting for justice as well as equality among the white folks and that of the black.
Many celebrities around the world have stepped up to support the ongoing protest for justice and equality like Michael B. Jordan, Beyonce, Justin Bieber, Paul Pogba, Serena Williams, Jason Sancho, Ariana Grande, Chance the Rapper,
Halsey, Jamie Fox and many others in the street of their different cities paying solidarity.
Ariana Grande
Ariana Grande, a pop superstar, was seen at the Black Lives Matter protest in Los Angeles on Saturday. The singer took to social media to share her journey peacefully marching through the streets.
"Hours and miles of peaceful protesting yesterday that got little to no coverage. All throughout Beverly Hills and West Hollywood we chanted, people beeped and cheered along. We were passionate, we were loud, we were loving. Cover this too, please. #BLACKLIVESMATTER."
Chance the Rapper
The Chicago native spent much of last week in the streets protesting against police brutality and the wrongful killings of unarmed black men in his home town. At a rally he organized on Thursday, the rapper recalled his terrifying encounters with law enforcement.
"I think a lot of people look at me as a person that has money, that has influence, that has power and doesn't deal with a lot of issues, but I still have PTSD from my run-ins with officers. I've had knees in my back," Chance said.
Paul Pogba
The Manchester United midfielder who was rumoured to moving out of England to his former Italian club Juventus supported the quest for justice saying; "During the past few days I have thought a lot about how to express my feelings about what happened in Minneapolis."
"I felt anger, pity, hatred, indignation, pain, sadness. Sadness for George and for all black people who suffer from racism EVERY DAY! "Whether in football, at work, at school, ANYWHERE!
"This has to stop, once and for all! Not tomorrow or the next day, it has to end TODAY!
"Violent acts of racism can no longer be tolerated. I can't tolerate. I won't tolerate
"WE WON'T TOLERATE. Racism is ignorance. LOVE is intelligence.
Serena Williams
Serena Jameka Williams is an American professional tennis player and former world No. 1 in women's singles tennis. She has won 23 Grand Slam singles titles, the most by any player in the Open Era, and the second-most of all-time behind Margaret Court.
Serena took to her Instagram account to talk about racial discrimination that has been going on in the United States as protest continues in the cities of the United States over the death of George Floyd.
Jadon Sancho
The Borussia Dortmund winger supported the race for justice over George Floyd death with a celebration of his goal against Paderborn helping Dortmund in the 6-1 victory in the weekend. He removed his shirt showing off T-shirt with a caption "Justice for Floyd".
After the match he posted on Instagram "Solid performance from the team!! Delighted to get my first career hat trick, a bittersweet moment personally as there are more important things going on in the world today that we must address and help make a change. We shouldn't fear speaking out for what's right, we have to come together as one & fight for justice. We are stronger together".
Michael B. Jordan
The Famous American actor and producer in support of justice for George Floyd posted his picture on Instagram written #Justice for Floyd
Justin Bieber
Justin Drew Bieber well known with Justin Bieber as his stage name is a Canadian singer and songwriter, he followed other celebrities to stand against racism posting on Instagram " It is not enough to be quietly non-racist, now is the time to be vocally anti-racist".
Beyonce
Beyonce is an American singer and also a songwriter regarded as the one the most famous female artist in the world; she is the wife of renowned artist Jay-Z, she made a video on Instagram speaking about her support for justice for George Floyd.
The protest is still ongoing for justice and racism as people still move around the street of cities of the United States, and we look to see more celebrities who will step in for the support against racism.