Nigerians criticise Burna Boy for turning down Sowore's protest invitation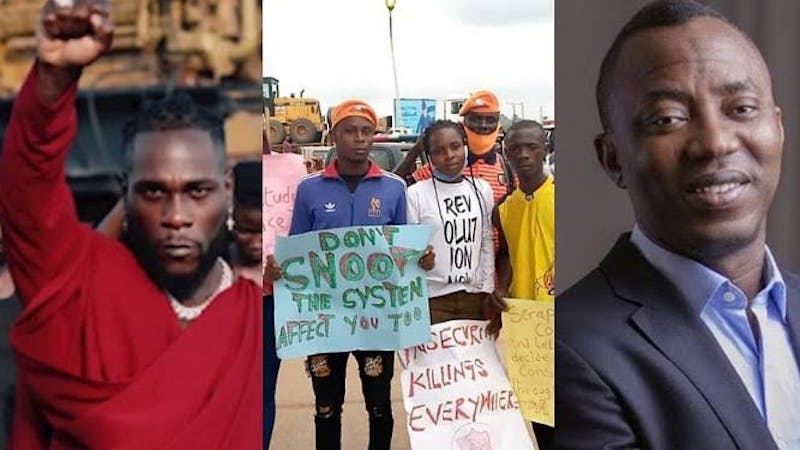 Nigerians on social media have blasted the music star and self-acclaimed "African Giant" for tactically declining the invitation of popular activist and revolutionist, Omoyele Sowore to join him in a revolution protest scheduled to hold on October 1st.
Omoyele Sowore, on Tuesday afternoon, had taken to his Twitter account to call on the Nigerian singer Burna Boy to join in the protest scheduled to hold on Nigeria's 60th independence anniversary day.
Sowore said Burna Boy is being likened to the late king of Afrobeat, Fela Anikulapo Kuti who spoke up against societal ills and evils but he (Sowore) has never seen Burna Boy partake in any protest or lead any revolutionary movement just like Fela did.
To this, Burna Boy replied saying he doesn't trust any Nigerian politician, including Sowore.
"Everybody is a Fela fan and supporter now that he is dead. Humans are so funny, you politicians are all the same (especially in Nigeria), and Frankly, I don't trust none of you @YeleSowore", Burna Boy tweeted in response.
Obviously, Burna Boy's response didn't go down well with Nigerians who took to their social media accounts to criticise the singer who through his music albums had always preached youth bravery.
Burna Boy in some of his songs had called Nigerian youths cowards and have asserted that they are scared to fight. Apparently, Nigerians expected that he would jump right into Sowore's invitation and lead the way for this peaceful protest.
Many Nigerians attacked Burna Boy on Twitter saying things like;
"Burna Boy claims fella blood flows in his veins, yet he hates politicians. I see that he's only carrying Fela for business gains".
"African giant who is so quick to call the youths many names is running away from a protest invitation, deflecting and shaming the person asking him to join them. You knew this, yet you called the youths names?"
"People might say Sowore is trying to make Burna Boy an instrument to actualise his agenda, but the point for me is that if you can talk the talk, you should be able to walk the talk.
"No be by calling people cowards in your song. I'm sure Fela won't be proud right now".
Some further extended the attack to Sowore, saying that he (Sowore) is not to be trusted as well.
Check out more reactions coming from social media: