Cuppy and Kiddwaya - Throwback pix of DJ Cuppy having fun with Kiddwaya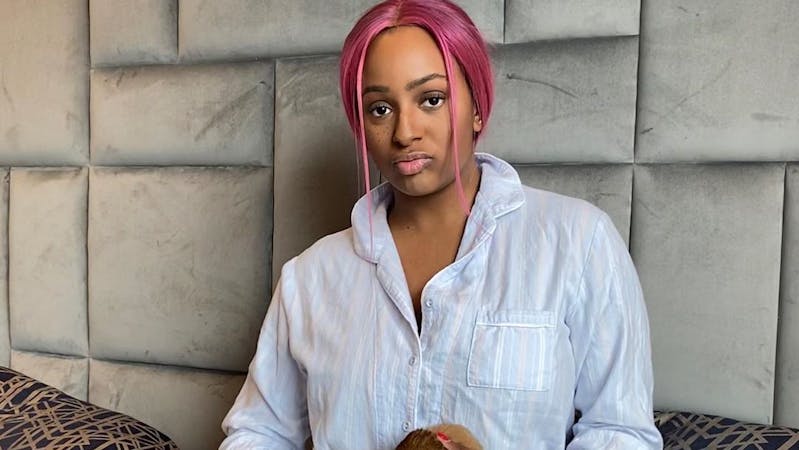 Florence Otedola better known as DJ Cuppy, took to Insta stories recently to share a throwback video of herself partying with Big Brother Naija Lockdown housemate, Terseer Waya, better known on the show as Kiddwaya. Oh well, some still refer to him as 'Kidd Waya'.
Kidd Waya and DJ Cuppy were spotted sipping drinks amid friends as they cheered, laughed out loud and had discussions. Although the video had no audible sound, they were all smiling and appeared to be having a good time.
Throwback picture of DJ Cuppy and Kiddwaya. Cuppy shared video of herself and Kidd Waya having fun.
DJ Cuppy, a few days ago while declaring her support for Kiddwaya, also shared a throwback photo she took with him.
Is there more to DJ Cuppy and Kidd Waya's friendship?
Trust Nigerians to be dramatic and to read unnecessary meaning out of nothing. Some of them started nursing the thought that there is something more between Kidd Waya and Cuppy after pictures of the two surfaced online.
The pictures first came up shortly after Kidd Waya when asked by Big Brother to give a shout out, gave a shout out to his social media handler and DJ Cuppy.
People started reacting to it on social media. Some took to their Twitter accounts to share tweets regarding the two (Kiddwaya and Cuppy).
Another photo of DJ Cuppy and Kidd Waya hanging out with friends which surfaced online
One of the users identified as Jazzope tweeted, "So DJ Cuppy is Kiddwaya's friend #BBNaija".
Yet another with the handle @GabriellaSpark6 wrote:
"Kidd shouted out his social media handler and DJ Cuppy. He basically said they're his favourite girls outside and love them...Boom!
"Ndi haters association came for our baby geh, Erica, that Kidd will never date her outside. Common sense is really not common. #BBNaija Kiddrica".
'Kiddwaya' or 'Kidd Waya'?
Okay, at this point you might be wondering which is the right spelling, Is it 'Kiddwaya' or 'Kidd Waya'? Well, if you want to be more accurate, you should use 'Kiddwaya'.
However, some fans still opt for 'Kidd Waya'. Perhaps, it doesn't matter much since both share the same pronunciation.
Kiddwaya who has been having fun in the Big Brother Naija house recently made his intention known to his fellow housemates as regards the lady he would like to date in the house.
During a "Spin the bottle" ( truth or dare) game, Kiddwaya was dared to pick and kiss the girl the "one girl he likes in the house."
As expected, he walked up to his love interest, Erica and they both shared a deep and passionate kiss for 30 seconds in front of other housemates.
Kiddwaya and Erica kissing during Truth and Dare
Big Brother Naija 2018 housemate, Teddy A also took to social media to reveal his admiration for this year's housemate, Kiddwaya.
According to him, the billionaire's son, Kiddwaya, got his type of "Alpha vibe".