Doctors strike speculated to end today as FG, NARD reach agreement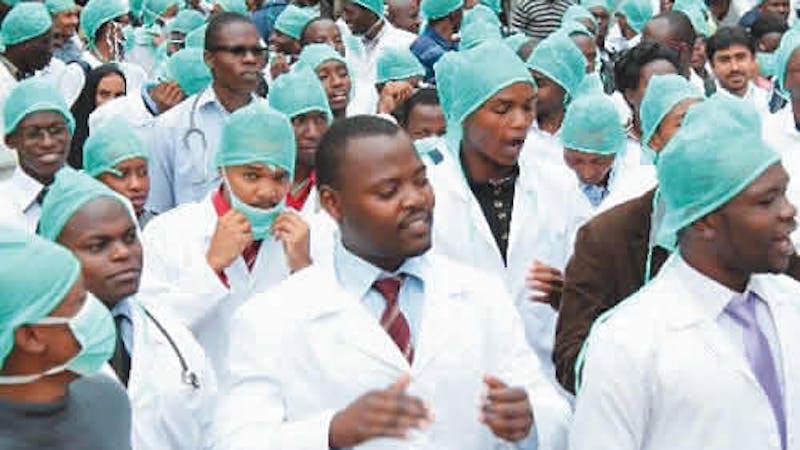 The National Association of Resident Doctors will likely call off its strike today (Thursday) following an agreement which it reached with the Federal Government on Wednesday.
The association is expected to consult with its Executive Council with a view to calling off the strike within 24 hours of reaching an understanding with the government.
The resident doctors had embarked on an industrial strike on September 7, over the failure of the government to meet their demands which include payment of the outstanding COVID-19 allowance, insurance package and payment of medical residency training fund.
The Minister of Labour and Employment, Dr Chris Ngige, presided over a marathon reconciliation meeting between both parties in Abuja.
At the end of the meeting, a communique was issued in which both parties agreed that the COVID-19 isolation centres now had sufficient provision of Personal Protective Equipment.
The FG and NARD agreed on the provision of group life insurance for doctors and other healthcare workers as well as payment of death-in-service benefit to next-of-kin/beneficiaries.
The communique also read in part, "Noting that the 2020 Appropriation Act was revised due to COVID-19 pandemic, the N4bn appropriated for residency training under a wrong heading for Medical Residency is to be vired before expenditure.
"The process of amendment is, therefore, ongoing and is expected that this process and cash-backing will be through in two weeks".
On the issue of payment of outstanding 2014, 2015 and 2016 arrears, the meeting recalled that it was agreed that the matter would be discussed further after COVID-19; thus, no agreement has been breached yet.
A further agreement was that discussions for review of a Permanent Hazard Allowance for all health workers would commence as soon as possible after consultations by the Minister of Labour and Employment with all stakeholders in the health sector.
"In view of these understandings, NARD will consult with her Executive Council within the next 24 hours with a view to calling off the strike by September 10, 2020.
"Nobody will be victimised for any activity connected with or for participating in the industrial action", the communique said.
Ngige had earlier expressed his displeasure with the striking development describing the doctors strike as "unwarranted, illegal and badly timed".
He noted that the association had embarked on an industrial action twice, while negotiations were still ongoing.
However, he acknowledged the fact that certain demands of the association were yet to be met while noting that the government had fulfilled six out of their eight demands.