Trump wants to fast-track Oxford University's potential COVID-19 vaccine -report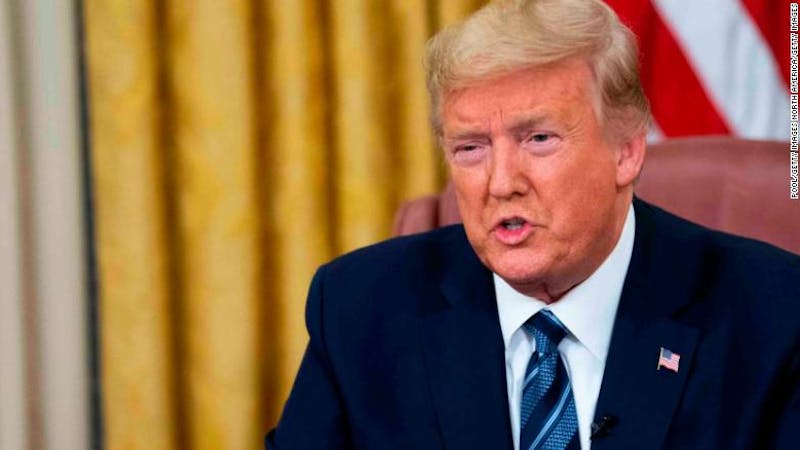 The United States President, Donald Trump intends fast-tracking approval of the Oxford University's possible COVID-19 vaccine in time for use in the forthcoming election, a report says.
According to the Financial Times, the administration is looking at the potential vaccine being developed by Oxford University and AstraZeneca.
One of the options could be to make the US Food and Drug Administration (FDA) authorise it for emergency use in October, a month before the election in which President Trump hopes to beat the Democratic rival, Joe Biden, the paper reported.
Trump is reportedly behind Joe Biden in several presidential election polls and progress with a COVID-19 vaccine will most likely boost his chances hence, the plan to fast-track approval of the vaccine.
So far, the United States has the highest rate of infections as well as deaths from COVID-19, the illness resulting from the coronavirus.
According to figures from John Hopkins University, almost six million infections have been recorded with nearly 177,000 deads.
The White House has declined to comment on the story, which also cited people who have been briefed on the plan.
AstraZeneca, in response to the report, denied discussing emergency use authorisation for the potential COVID-19 vaccine with the US government. It added, "It would be premature to speculate on that possibility".
The potential vaccine is undergoing its phase 2 and phase 3 trials in the United Kingdom as well as other countries even as results are expected this year.
Clacified reported earlier that Australia is among the countries anticipating a positive result from the COVID-19 vaccine trials even as its governments preorders 25 million doses of the vaccine.
Meanwhile, Trump in another news was reported to have announced the emergency authorisation of convalescent plasma as a treatment for COVID-19.
Suggestions have been made that blood plasma from COVID-19 survivors could help people who are still battling with the disease as it contains antibodies.
Studies are still ongoing in this area as evidence is not conclusive as regards its effectiveness and dosage.