A beginner's guide to Black Friday shopping
Black Friday is arguably the busiest sales day in the year, with 93.2million buyers shopping online in 2019. On the arrival of the pandemic, more and more people have embraced online purchases.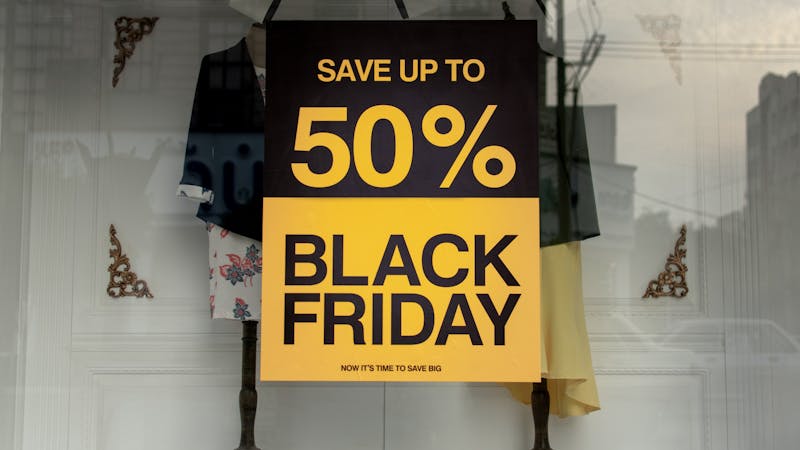 With everyone scrambling online for special deals, Black Friday can be overwhelming even for the most experienced shopper.
Overwhelming because you want to ensure you shop for all your essentials before the Christmas bells ring. Meanwhile, you have little or no time on your hands; at this point, shopping in store is not an option.
You can decide to, but no one enjoys wading through a crowd of people struggling to grab all the best discounts.
What is Black Friday all about?
Black Friday is recognized as the holiday season before Christmas, where you can get deals and heavy discounts.
Typically, retailers prepare competitively with special offers, coupons and discounts to encourage more buying decisions.
This year, Black Friday is on November 26, but that's barely enough time for your Christmas shopping.
Thanks to the pandemic majority of shoppers will patronize retailers online.
Usually, Black Friday is a 1-day event, but times have changed. Now, there are early deals that begin a week or two before Black Friday arrives. This year, they are starting already; Jumia hit the ground running on November 5.
Amazon is also an early birdie; they began since ending of October.
As everything's online, certain retailers already have started the sales discounts.
They are Jumia, Amazon, Walmart, and Konga, whose deals are ongoing.
How do I get the best deals and save money?
Getting the best deal is about being organized and putting your act together.
Ready to snag the best discounts and products sales offers this period?
I would help if you had these helpful tips to give your shopping game a boost.
Black Friday requires a good dose of planning and research to ensure you are making the right purchases.
Create a budget and stick to it
Black Friday sales are specially designed to get you to shop quickly especially, limited discount sales.
It's easy to get carried away with excitement and overspend.
Before you hit the buy button on that website, set a budget and stick to it.
Easier said than done, right?
Decide on the things you need in list form ranging from everything you want to buy for your loved ones and yourself.
Calculate how much each item will cost, and that's your budget limit. Any additional spending should not be more than 20% above your initial budget.
Look at the "price," not the "save."
The essence of shopping during this period is to save and minimize costs.
Most of the discounts are fake; for instance, a $100 bag is now $50. Times some retailers fix the value on the actual cost of the product. Proper research would help in this case.
One thing is constant though, many deals are not as fantastic as they look, and it's easy to be fooled.
Take safety measures by comparing prices with other retailer online stores.
Research the products beforehand
It always pays to do your due diligence beforehand to avoid buying products that just fluff.
Research affords you the advantage to read reviews and feedbacks from previous customers.
You can guarantee that you will only go for products you have an idea about.
Start shopping early
The adrenaline hits differently when you are shopping under pressure.
Shopping early allows you to follow up with every single deal on the market that will be useful.
These days e-commerce shops are kicking off Black Friday pretty early.
You also want to avoid the "out of stock'' story; of course, you are not the only one at Black Friday.
Sales at some retailers have already begun on Jumia, Amazon, etc.
I will help if you keep your ears to the ground for special deals.
Shopping early is a better way you get top quality items before they go out of stock.
Sign up to retailers' email lists for more info
The best way to get ready for shopping on the most significant pre-Christmas sales is to sign up for the retailer mailing list. 
Signing up early is essential because Black Friday online sales start pretty early.
You get the best deals delivered straight to your email inbox
Use websites and apps
E-commerce websites have mobile apps to make your Black Friday shopping seamless.
You can add items to your shopping cart if you see a price you like, so you can access those items quickly and be ready to order.
Next review the websites of other retailers to compare both prices.
Some deals are time abound; if you can find the start time, pay close attention to the website.
Once the sales deal starts on the website, refresh the page, and clear your web browser cache.
If you trust the retailer, you can create accounts and save your credit card information before the event deals begin.
Only register with retailers you trust
Shopping online will require you to input some personal details.
If you trust the retailer, you can create accounts and save your credit card information before the event deals begin. Creating a profile makes the checkout process as fast as possible.
Avoid shopping with unusual brands, don't follow every ad you see online for Black Friday.
Be social
Follow all your retailers on Facebook, Instagram Twitter so you can stay up to date with exclusive deals and promotions. Social media is the new bill board for adverts and awareness. Turn on your notification for all your favourite retail accounts.
There you have it, all the tips to give you a fantastic shopping experience. Don't forget to keep little funds for some miscellaneous items.