Attractive tourist centre in Nigeria: The Ezimo Iyi Nzu Waterfall
Ezimo waterfall popularly known as Iyi-nzu waterfall 250ft high is one of the tallest waterfalls in Enugu state. It is one of the most attractive tourist centres in Nigeria and is indeed is a beauty to behold.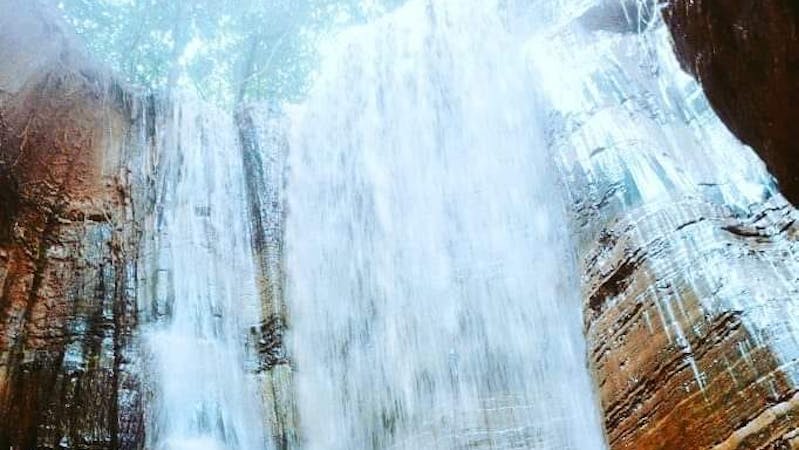 Brief History of Ezimo people (the Ezimo Iyi Nzu Tourist centre locality)
Ezimo is a community under Udenu Local Government of Enugu State. It is a land known for its peaceful nature.
Ezimo is made up of six communities, Ogbufie, Amogu, Ozalla, Amallaogbo, Amankwo and Amaogbelle. These six communities do not emerge from family ties as in the case of many communities in Igbo land.
In fact, the six communities in Ezimo migrated from different states and tribes.
According to stories by the elders, some migrated from Kogi, others from Anambra and some others from nearby villages but the unique thing about the people of this community, Ezimo is the peaceful coexistence among them despite differences in origin and background.
The six villages came together and formed one of the strongest and most peaceful communities known today as the "Ezimo" community.
Imilike, Obollo, Ogbodu are among the communities that share a boundary with the Ezimo community.
Ezimo celebrates different festivals which include Akatakpa festival, Omabe festival, and they equally join the whole Igbo race in celebrating the New yam festival..
The Ezimo Waterfall, a beauty spot for tourism
Ezimo waterfall popularly known as Iyi-nzu waterfall 250ft high is one of the tallest waterfalls in Enugu state and is deemed a tourist centre in Nigeria. This tourist centre is located in Amaogu village of Ezimo community.
Ezimo waterfall is as ancient as the community itself. Though not popular like other waterfalls, it happens to be the tallest of all waterfalls in the state and for tourists, it is an amazing location for a tourist centre.
When approaching the waterfall, one can hear the sound of the waterfall almost 10km away, and this mostly incites fear on visitors and tourists who have never visited the waterfall before.
However, Ezimo waterfall is characterised by its peaceful nature. Despite the echoes and rustic sounds, it is a peaceful waterfall that has never constituted any form of harm to anybody.
The sound of the waterfall is part of its awesomeness and announces the beauty spot even from afar. When you think of a tourist centre in Nigeria, you should think of the Ezimo Iyi Nzu waterfall as well.
Video of Ezimo Waterfall
Peep a video clip of the Ezimo Iyi Nzu waterfall, one of the tourist centres in Nigeria located in Enugu state.
Ezimo waterfall, the fullness of nature
Ezimo waterfall is fenced by nature itself. The environment of this tourist centre is a conducive and full of nature and greenery scene.
As one takes the route that leads to the waterfall, the melodious voice of birds can be heard from all angles as trees clap in happiness, blowing gentle breeze and waving their hands into the thin air.
Tourism: Tour of the Ezimo Waterfall
Having seen the ecstatic nature of Ezimo waterfall, you shouldn't deny yourself the opportunity of visiting this breathtaking place. Prepare and join Mr Onyekachi C Ugwu and his tourist groups.
Mr Onyekachi C. Ugwu is the former Transition Chairman Udenu Local Government Council where the Ezimo waterfall is located.
Have you made up your mind to visit the Ezimo waterfall and see this beauty of nature yourself? Mr Onyekachi C Ugwu and his tourist group are the tour organisers here.
Mr Onyekachi C Ugwu, an honourable member and a great son of the soil has been clamouring for a standard tourist centre in Ezimo community. He and his tourist group have championed the organising of tours to the Ezimo waterfall.
Without doubt, Ezimo Iyi-nzu waterfall deserves to be turned into a more standard tourist centre that will be attracting more local and foreign tourists to Enugu state.
Onyekachi C Ugwu wrote "Make your Xmas hilarious. Get READY to experience the frills and thrills of Ezimo Chain of waterfalls.
Get ready to immerse yourself in the therapeutic cascade of healing waters. Be in the Tour and make your Xmas holiday filled with fulfilment.
Come and wander through the wavy pathway into the Iyi Nzu waterfall lined with a mass of kaolin wall. Come have a feel of surface coal from which the fall tumbles.
Dry your sweat from the chilling vapour of the waterfall. Serenade your ears with music without singers resonating out of the fall.
It's a 250ft waterfall; the tallest in Enugu. Come experience nature at it's best...
It's a day to savour and relish... Join over 300 tourists and write your name on the wall of history."
Onyekachi C Ugwu can best be described as the master of pen and professor of words. He is a great poet that his words soothe the soul.
Visit Ezimo Iyi-Nzu waterfall, experience and soak yourself in the warm embrace of mother nature.
It is indeed, a beauty to behold and is regarded as a tourist centre in Nigeria.