Best beaches in Lagos, Nigeria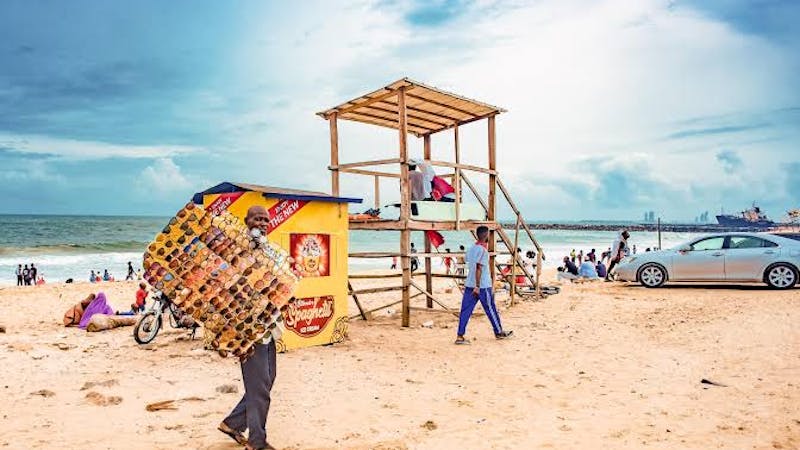 Lagos State can be said to be the busiest city in Nigeria. With this state's hustle and bustle comes the high demand to take a break, chill and rest. Here, we will check out the best beaches in Lagos to visit for fun.
Overview of the Lagos city
Lagos is a financial centre and major economic hub of Nigeria. It was the capital of Nigeria until 1991. The Lagos state capital is Ikeja.
Despite the nation's capital being moved to Abuja, Lagos has remained the unofficial seat of most government organizations and agencies.
Lagos is also a chief port, with its port consisting of Apapa Quay. Apapa Quay, located on Lagos mainland, serves as the major outlet for Nigeria's exports.
Over the years, Lagos state has attracted both foreigners and nationals alike. Many people have migrated from the rural areas to this metropolitan city in search of greener pastures.
It is not a surprise that today, Lagos alone has a population of over 14 million as of 2021. This is according to the World Population Review.
The too much population has given rise to issues such as increased air pollution, overcrowding and too much traffic along the Lagos highways.
The result of this is that Lagosians spend more time than they normally do on the road. Have you visited Lagos? Have you ever been stuck in Lagos traffic? If you have, you must have felt frustrated and exhausted from the whole traffic issue.
This is more reason why Lagosians need relaxation spots like the beaches. Fun places like the beaches offer a good avenue to unwind during the weekends after work stress. But then, do you know the beaches to visit in Lagos?
Top 5 best Lagos beaches
Lagos has lots of scenic beaches, some public, while some are private-owned beaches. These beach coastlines offer a perfect escape from the routine Lagos hustle and bustle.
Beach visitation is the ideal thing you need to get away from the busy and hectic city. If you want some solitude, alone, with a loved one or with your family, you can find it at any of these beaches.
The top beaches in Lagos to visit for fun and relaxation include:
1. Elegushi Beach
Elegushi is one of the top 5 best beaches in Lagos
Elegushi beach is one of the top 5 beaches in Lagos. This private beach is located at Ikate Lekki and is owned and managed by the Elegushi Royal Family.
This Lagos beach is perfect for nightlife, dancing, fun and adventures. By providing quality fun activities and relaxation, one can say that this is one of Lagos' coolest relaxation spots.
Entrance to the beach is not free. You have to pay N1000 as the gate fee. Also, if you came in your car, you will have to pay a parking fee of about N200. Unless you know your way to the beach, it is advisable to visit a transport service provider with a GPS app system, so you don/'t miss your way.
This Lagos beach attracts as much as 40,000 visitors every week. Sundays record the highest number of visits.
What attracts visitors to the Elegushi beach? This Lagos private beach offers an amazing view of the ocean and an ideal venue for social events, picnics, reunions, hangouts etc.
You will find on Elegushi beach different delicacies, especially local delicacies like pepper soup, fish and chicken barbecue.
Another good thing about the Elegushi beach is that it is open to all 24 hours every day; for this reason, its bars, lounges, night clubs and restaurants are always open. In fact, the best time to visit this beach is in the evening.
What should you wear to Elegushi beach? Wear regular or casual beachwear to the Elegushi beach. Take note that the management doesn't support nudity.
If you love surfing in the waters, you can do that at Elegushi beach. However, you have to be careful as the ocean does carry strong waves.
2. Tarkwa Bay Beach
Tarkwa bay beach is one of the most popular beaches in Lagos
Tarkwa Bay Beach is another popular beach in Lagos and one of the most fun beaches to visit. . The beach is not accessible by road as it is located on an island.
To locate Tarkwa Bay Beach, you have to take a boat ride to Onisiwo Island, Lagos Habour, Nigeria. The boat ride is one of the top things that visitors to the beach enjoy as it offers some form of adventure.
However, a boat ride to and fro Tarkwa Bay Beach is not free. Depending on the type of boat, you have to pay some amount of money to be carried to your destination.
For the local boats, charges range between N4000 to N8000 per ride, while the more sophisticated speedboats charge as much as N30,000 and above. It is often better to go as a group to help offset the bills and for more fun.
Gate fee at the Tarkwa Bay is N300. You also have to pay for your space here. The amount you will pay will depend on whether you are renting a tent or just a seat space and the location of the space. A seating space ranges from N500 to N2,000, depending on the tent's position on the beach.
You can enjoy a variety of delicacies while watching the water. Among the mouth watery foods you can buy here include roasted fish, chicken barbecue, suya, rice, pepper soup and other local dishes.
Here, you can take part in watersports activities, bike riding as well as other recreational activities. This is one of the best beaches in Lagos that offers both adventure and relaxation.
Unlike the Elegushi beach, the Tarkwa Bay Beach is quite waveless and is safer for swimming.
Tarkwa Bay Beach has other hotels and resorts around where foreigners usually lodge. Thus, it is not a surprise to see many foreign tourists taking a walk on the beach. Also, you will notice different exotic yachts, boats and speedboats around the beach.
3. Atican beach
The Atican beach is a private beach located at Lekki. It is one of the top best beaches in Lagos
Atican Beach is one of the most beautiful beaches in Lagos. It is located off Abraham Adesanya, off the Lekki-Epe Expressway, Lekki. It is a private beach.
Gate fee at Atican beach varies depending on which day of the week you are visiting. On weekdays, visitors are to pay less- N500, but on weekends, the gate fee is N1000. However, visitors are likely to be given discounts if they come as a group.
Also, here you have to pay for your space. The tent fee varies depending on tent size. The small tents go at the average rate of N10,000.
This beach is very clean and serene- a sharp contrast to the noisy Lagos streets, highways, bars and clubs. The environment is also secure and perfect for relaxation.
You can chill by the beach with a plate of chicken suya, chicken kebabs, beef and a bottle of cold drink. There are lots of other appealing foods you can order as well.
The Atican beach offers you a picturesque view of the ocean. The management of this beach must be commended as they have done well in managing this beach.
The beautiful environment and the white sparkling beach sand as the background makes this spot perfect for a honeymoon, private tour, couples hangout, retreats and photoshoots.
Fun at this Lagos beach includes horseriding, football, dancing and listening to music live band.
The Atican beach also has supportive features for kids as it has a children's playground and also offers live band music. The Atican beach is not just one of the best beaches in Lagos but also one of Nigeria's top tourist centres.
#3.4 4. Oniru Private Beach
Oniru beach is a private managed by the Oniru Royal Family
Oniru Beach is another private beach in Lagos. Just like the Elegushi beach, the Oniru beach is managed by a royal family- the Oniru Royal Family. It is located at no 1 Ligali Ayorinde street, Ozumba Mbadiwe Avenue, Eti-Osa.
This beach isn't as big as the Elegushi beach. However, it is quiet and one of the most beautiful private beaches in Lagos.
The gate fee here is N1000 for each adult and N200 for parking space. You might get a discount if you go with friends or family as a group.
Fun things to do at this private beach include swimming, horse ride, Ferris wheel, dance, taking a romantic walk, enjoying exotic foods, and taking lots of pictures.
The Oniru beach is well-secured and is rated high for its neatness. The beach surrounding is also lovely.
5. Whispering Palms Resort
Whispering palms resort is a beautiful spot and a great relaxation venue
One of the most sought-after tourist sites in Nigeria is the Whispering Palms Resort. This is one of the best beaches one can visit in Lagos. It is located on a lagoon waterfront.
Whispering Palms resort is located at the Whispering Palms, Iworo Village, off Lagos Badagry Expressway, Aradagun, Badagry.
Whispering Palms is a beautiful resort and offers a great relaxation venue. This beach is one of the oldest in Lagos, yet it is still one of the top sites for vacations.
Couples going on weekend gateways, vacations, and even honeymoon find this resort quite appealing. It is also great for picnics, corporate events and team bonding.
Give yourself a treat by visiting this resort. Get a refreshing air as you sit by the seaside sipping your coconut juice while taking in a beautiful view of the lagoon and.
Also attached to this resort is a museum, a zoo, a hotel and a restaurant. Needless to say, there are lots of fun activities to partake in here.
You will also find in the Whispering Palms Resort a basketball court, swimming pool, lawn tennis, football pitch, volleyball and even a mini-golf course. Why won't you rate this beach as one of the best beaches in Lagos?
Asides from these five listed beaches, Lagos state is also blessed with a range of other beaches such as the Laguna Beach, Tarzan Private Beach, Lekki Beach Resort, La Manga Luxury Beach Villas, Lekki Leisure Lake and Coconut Beach.
These are all nice places that you can go and chill whenever you want to. Through the hassles of life, remember it is okay to take a break once in a while, unwind, relax and have some fun.