China-Africa Initiative: PASDO distributes food items to 600 poor households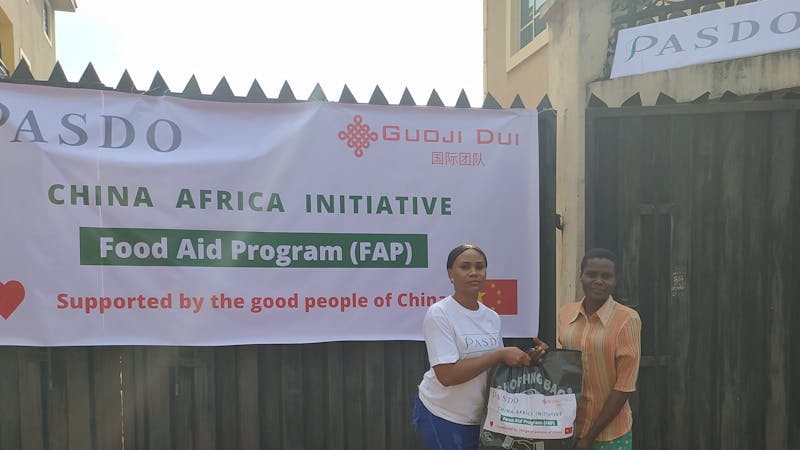 A little over six hundred poor households in Nigeria have received food items distributed in December under the Food Aid Program (FAP) of the China Africa Initiative (CAI,) being implemented by PASDO.
This is coming at a time when food prices have hit rooftops, the economy is suffering the ravaging effects of COVID-19, and the country is experiencing its worst recession in 30 years.
PASDO's donation mostly channelled by Chinese individuals
Speaking during the food distribution exercise that was held at PASDO's secretariat in Awka, Anambra State over a three-day period, Amaka Iheanaetu, a senior member of PASDO explained that the goodwill gesture was made possible as a result of donations from Chinese individuals.
Amaka Iheanaetu further said that mostly Diaspora Chinese students in countries like France, the United States and the United Kingdom desired to help poor Africans navigate the difficult times.
Mrs Amaka revealed that among the key organizational donors to the program are Guoji Dui Resources (国际团队), a pro-China company focused on language, tourism, e-commerce, ICT and business services, and the Peace Advocacy and Sustainable Development Outreach (PASDO), Africa's foremost non-governmental organization for promoting peace and sustainable development.
She pointed out that food distribution exercise will happen from time to time.
She highlighted the need for Africans to key into the opportunities that will be created by the China-Africa Initiative to enhance their standard of living and make them less dependent on aid.
PASDO explained that the goodwill gesture was made possible as a result of donations from Chinese individual.
PASDO's Director encourages a more positive view of China
In his address, the Director of the China-Africa Initiative, Elochukwu Ezenekwe, who has championed China-related issues for about a decade, encouraged the audience to have a more positive view of the people of China and harness their friendly disposition for beneficial cooperation.
According to Ezenekwe, "Some people want us to believe that the Chinese are terrible, but as we can see today, that is not true.
"They actually care about Africans, and that is why we have these food items being distributed. We just have to understand that there are good and bad people everywhere, including in our beloved country.
" Instead of getting distracted with the malicious propaganda against China, let us channel our energy into seeking how to forge stronger cooperation with them".
"China, for example, is currently the world's largest agricultural importer with heavy demand for wheat, soybean, cotton and some other agricultural produce.
On our own end, we have a large expanse of arable land that we can put to use to help China fulfil its demand for Agric produce while we also earn a good income and provide jobs for ourselves. So let's ditch all these malicious information that is not helpful."
Six hundred poor households in Nigeria have received food items distributed by PASDO
While encouraging the audience to continue to provide needed support to Chinese expatriates in Africa, Elochukwu Ezenekwe noted that "As Africans, we are known to be kind, and we treat foreigners well.
So I would encourage us to continue to assist the Chinese people amongst us.
We should also try to protect them whenever we can.
And, when there is a dispute – because as humans, there's bound to be misunderstandings, let us try to resolve them amicably without resorting to violence or taking laws into our hands.
I recall how one of our young Chinese volunteers, Yuxi Luo, explained to me that from the days of Mao Zedong – the founder of the People's Republic of China, the Chinese have always regarded Africans as "Brothers". They are being taught this in their secondary schools.
If they think so about us, it is only fair that we reciprocate and not let any external influence come in-between our relationship with them".
Beneficiaries express gratitude to PASDO
The PASDO beneficiaries who received packages of raw food items expressed gratitude to the organizers of the events and the Chinese donors behind the kind gesture.
Mrs Joyce Nnamani who spoke on behalf of the PASDO beneficiaries prayed God to bless the Chinese and the organizations involved in the program, and also prayed for several-folds replenishment of whatever has been spent in putting smiles on their faces at an economically hard time like this.
China taking interest in relations between China and Africa
 An increasing number of young Chinese are taking an interest in the relations between China and Africa after PASDO launched the China-Africa Peace Initiative (CAPI) earlier in the year to douse tensions between the two parties owing to COVID-19 misunderstandings that led to some conflict between Africans and their hosts in the Guangzhou city of China.
Under CAPI, hundreds of videos conveying empathy and goodwill messages to aggrieved Africans were produced by young Chinese nationals.
The Chinese participants took the stress to learn indigenous African languages which enabled them to make the videos in Igbo, Hausa, Yoruba, Swahili, Akan, Zulu, and more than 10 other African languages (in addition to English and French).
The videos, which were launched on the China-Africa Day celebrated on September 9 of every year, have since been uploaded to the YouTube channel of PASDO and are available to the public.