Jeju Island: Total blast for your vacation
Jeju Island, located southwest of the Korean Peninsula, is the Republic of Korea's largest island. It is a resort island that has magnificent views of nature and plenty of entertaining excursions for solo travellers, families, and couples alike. It is a good place for vacation.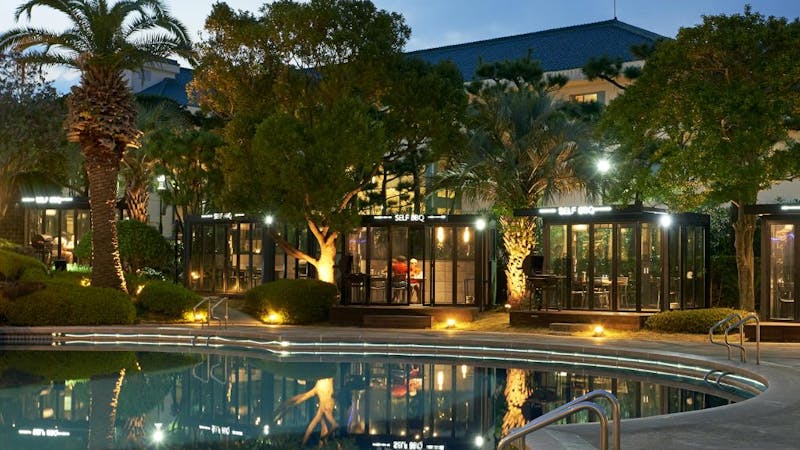 Jeju Island, located southwest of the Korean Peninsula, is the Republic of Korea's largest island. It is a resort island that has magnificent views of nature and plenty of entertaining excursions for solo travellers, families, and couples alike.
Jeju is a world-renowned treasure island worthy of worldwide attention. In November 2011, Jeju Island was voted onto the New Seven Wonders of the World which includes the Amazon Rainforest, Komodo Island, Table Mountain, and more.
It's a place you will like to visit for your vacation. Nature undeniably spread its wing in Jeju, and the feeling is just wow.
Daepo Haean Jusangjeolli Cliff:
Daepo Haean Jusangjeolli Cliff is a spectacular rock formation that is well worth checking out.
Natural Monument, the jagged cliff was formed when Hallasan Mountain erupted; the cooling lava created the beautiful formations we see today.
It is a place for sightseeing as we can see its peculiar square and hexagon shapes re-emerge before you.
daepo_haean_jusangjeolli_cliff
Seongsan Ilchulbong:
Also known as Sunrise Peak, the volcanic crater of Seongsan Ilchulbong is Jeju's most famous and iconic attraction.
Formed some five thousand years ago by a volcanic eruption, its distinctive bowl-like shape rises dramatically up above the sea and the waves that pound its cliffs.
Seongsan Ilchulbong and its unique landscape are the most impressive sights you can expect to see in Jeju Island
seongsan_ilchulbong in Jeju Island
Udo Island:
Udo Island's splendid scenery has long attracted visitors to its shores. Over the years, it has even appeared in a couple of Korean films.
Udo Island is just a short ferry ride away from the village of Seongsan-ri in the east of Jeju. As well as exploring all its natural sights, visitors can take a trip to see its charming little lighthouse or check out its museum on local marine and insect life.
In total, it only takes around an hour to drive around the whole island.
udo_island in Jeju Island
Jeongbang Waterfall:
Jeongbang is one of the most famous waterfalls on the island. Shooting off the top of a cliff, Jeongbang's white waters plunge directly into the ocean below. Report has it that it is remarkably the only waterfall to do so in the whole of Asia.
Towering to a height of 23 meters, the majestic falls undoubtedly make for a dashing sight, as rugged rocks and tree-topped cliffs lie to either side of it
jeongbang_waterfall in Jeju Island
Dongmun Market:
The market was established back in 1945. Everything under the sun is being sold there raging with glistening fresh fish displays lying next to stalls laden with fruits, vegetables, meat, and more.
Wandering around is a fun way to spend an afternoon or evening over there.
There is loads of delicious local food to be had in the market. As dusk falls, people head here to enjoy its fabulous street food, with dumplings and seafood being particularly popular.
As it is a traditional market, Dongmun is a great place to visit if you want to get a taste for local life in Jeju City
Dongmun_market in Jeju Island
Hamdeok Beach:
Hamdeok Beach's soft sands and shallow waters make it a popular place to visit with families, especially during the warm summer months.
While much of the beach disappears at high tide, when the waters retreat, a huge sand bar emerges. This is delightful to stroll along, with the glimmering turquoise waters lying all around you.
Bordered by rocky islets and rolling hills with the town of Jochen lying behind it, the beach is set amid some beautiful scenery, and there are some lovely coastal hikes you can do nearby.
In addition to the changing rooms and deckchairs you can find along its golden sands, there are also lots of restaurants, cafes, and hotels for you to choose from.
Hamdeok_beach in Jeju Island
Hallim Park:
Hallim Park has something for everyone in the family to enjoy; there is even a children's amusement park for young ones to get a thrill out of.
Covering a vast area in the northwest of the island, Hallim Park has lots of delightful gardens for you to wander around, and each of them has a different theme or look with various types of fauna and flora on show.
Hallim_park in Jeju Island
Manjanggul Cave:
Formed hundreds of thousands of years ago, Manjanggul Cave is one of the largest and longest lava tube caves in the world and is a very popular draw among tourists.
It is these dimensions that make walking along the one kilometre of the enormous cave that is open to the public so impressive. On the way, you'll pass lots of beautiful stalagmites, stalactites, and rock formations.
Spirited Garden:
With its peaceful look and feel, the immaculately presented Spirited Garden is a delight to stroll around. Centuries-old bonsai trees lie alongside rambling hills, picturesque stone bridges, and gently gurgling waterfalls.
Spirited_garden in Jeju island
Hyeopjae Beach:
Blessed with dazzlingly bright white sands and sparkling turquoise waters, Hyeopjae Beach in the west of Jeju Island certainly paints a beautiful picture.
While its warm sands are perfect for lounging peacefully on, its inviting waters make for some great swimming, and the views out over the nearby Biyangdo Island are simply stunning.
As several restaurants and cafes are lying along the beach, with amenities such as changing rooms, showers, and parasols all on offer, you can easily spend a whole day or more relaxing at Hyeopjae Beach.
Hyeopjae_beach in Jeju Island