Travel and tourism: Top 10 most beautiful countries in the world
A country with scenic views attracts visitors. Nothing beats the feeling of visiting a country that has many beautiful spots. You might want to get a glimpse of the top 10 most beautiful countries in the world; this will come in handy for your next trip.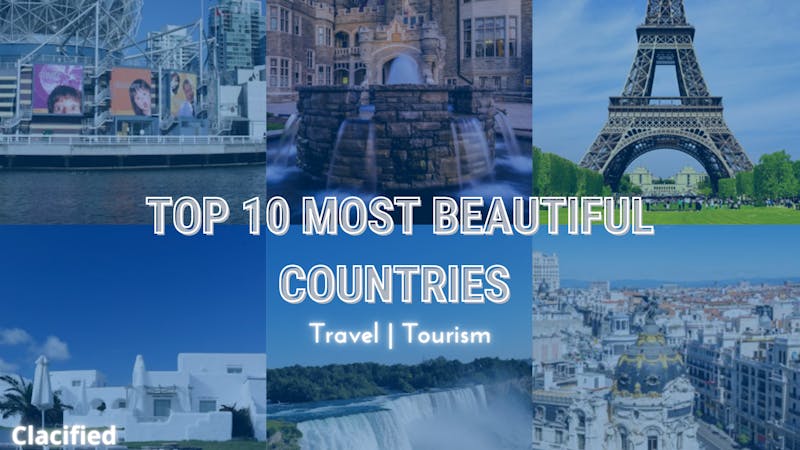 Indeed beauty lies in the eyes of the beholder. However, many people have attested to the beauty of the countries listed in our list of the top 10 most beautiful countries in the world.
Every country in the world has something it is known for. Each has something unique to offer- it could be a bustling economy, breathtaking and natural sceneries, well-designed architecture, abundant natural resources, advanced technological settings, fashionable people, profound cultural heritage or delicious local cuisines.
Some countries are just naturally gifted and attract people from different parts of the world. If you want to make a trip like a vacation and is confused about the country to visit, we have picked some fantastic countries that might interest you. Check out this list of the top 10 most beautiful countries in the world.
The most beautiful countries in the world
The top 10 most beautiful countries in the world to visit are:
Italy
Spain
France
New Zealand
Greece
Canada
Thailand
United States of America
Switzerland
South Africa
Whether you like being in islands where you can watch the waters, seeing the mountaintops, cities with state-of-art facilities or the less noisy countryside, there is undoubtedly a country in this list that would suit your quest.
1. Italy
Italy is the most beautiful country in the world, hence it is the number one in our list of the top 10 most beautiful countries in the world. It has more beautiful heritage sites than most other countries of the world. The Italian culture and heritage are top-notch, the greatest of them all.
Italy is rich in terms of art and culture. It is an exciting country with high biodiversity. Since remnants of the Roman empire are scattered all over the country, people feel connected to Italy's heritage when they visit.
Unsurprisingly, Rome, Venice and Florence in Italy are among the most beautiful cities in the world.
When it comes to food, Italy has one of the most incredible dishes. Some iconic Italian dishes to try include Risotto, Polenta, Focaccia, Polpette, Bruschetta, Mozzarella, Antipasti, Parmigiano, Fritto Misto and Bistecca Fiorentina.
The rural areas of Italy are scenic, and the country is also blessed with beautiful beaches.
Beautiful places to visit in Italy
Venice, Italy (a scenic view of water body with stunning buildings)
Here are names some beautiful places people can visit in Italy:
The Amalfi coast
Lake Garda
Campo de' Fiori, Rome
San Cassiano
Island of Capri
Isola Bella, Sicily
Venice
Santa Margherita
Brera, Milan
Sorrento
Verona
The rolling vineyards of Tuscany
The dolomite mountains of Trentino
2. Spain
Spain is undoubtedly one of the most beautiful countries in the world. One of the most famous views of Spain that usually pops up every time is that of the Balearic Islands, but that is not all that Spain has to offer. Spain is that and much more.
Spain is a diverse country with a mix of people from different backgrounds and parts of the world. There are sophisticated urban areas and Mediterranean villages with beautiful sights to behold.
Some popular cities in Spain include Barcelona, Madrid, Granada and Seville. This beautiful country is the centre for many movie shoots and is also famous for paintings. Its smaller cities also have well-preserved historical centres.
Beautiful places to visit in Spain
Seville, Spain's sizzling Southern city
Spain's breathtaking landscape and dynamic cities are worth visiting; hence, the country is rated one of the top 10 most beautiful countries in the world. Some beautiful places to visit in Spain include:
Seville
Barcelona
Madrid
Mallorca
Granada
Ibiza
Canary Islands
Valencia
San Sebastian
Costa del Sol
3. France
France, no doubt, is one of the top 10 most beautiful countries in the world. Its capital city, Paris, exudes much beauty, class, elegance and cultural grandeur. This country attracts thousands of visitors coming for tourism and vacation every year.
Aside from its capital city, other cities in France also have stunning features and a relaxing atmosphere. France is known for its perfectly preserved towns, outdoor cafes and wine-producing regions such as Champagne and Bordeaux.
There are so many mesmerising spots in France that visitors can't stop thinking about the country after visiting.
Some popular sites in France include the Eiffel Tower, Louvre Museum, Arc de Triomphe, Palace of Versailles and the Centre Pompidou. Jadin d'Acclimatation is a great place to visit with kids. It is a park with rides and activities for children.
Life expectancy in France is high. This is partly due to the quality standard of living and their healthcare system. France has one of the best health care systems in the world. The nation has universal healthcare, which is mandatory for all citizens, whether employed or not.
Life in France is sterling. Best believe that you will be surrounded by fine wine, brioches, magnificent art galleries, museums and parks, good food and happy people! With so many heritage sites and the rest of Europe close to you, you will most likely never be bored.
Beautiful places to visit in France
Do you want to check out the top places people visit in Paris? Here are names of some of the most beautiful places or remarkable spots to visit when on a tour or vacation in France:
Eiffel Tower
Luxembourg Gardens
Montmartre
Sainte-Chapelle
Saint-Tropez (land of luxury)
Moulin Rouge
Tuileries Garden
Rodin Museum
Grand Palais
Provence (land of lavender)
Parc des Buttes-Chaumont
Gorges du Verdon (the grand canyon of France)
Jardin des Plantes
Pont des Arts
City of Science and Industry
Corsica (the island of beauty)
Place du Tertre
The Pavillons of Bercy- Museum of Fairground Arts
Palais-Royal Garden
4. New Zealand
It is not a surprise that New Zealand is rated one of the top 10 most beautiful countries in the world. With its turquoise lakes and breezy shores, this country has one of the most intriguing landscapes in the world.
Some people that have visited parts of the country like Lake Tekapo affirmed that it is one of the most beautiful places in the world.
Describing New Zealand would be incomplete without mentioning the abundance of galleries and museums that have contributed to the country's artistic and cultural attributes over the years.
Each part of the country you turn to has fascinating historical elements, spectacular natural landscape, stunning city view, crashing waterfalls or scenic beach that makes it welcoming and friendly.
Beautiful places to visit in New Zealand
Below are names of some beautiful places worth visiting in New Zealand.
Piha beach
Cape Reinga
Milford Sound
Mount Taranaki
Wanaka
Nelson Lakes National Park
Castlepoint
Marlborough
5. Greece
One of the reasons why Greece is a popular tourist is the ruins of Athens and ancient temples. However, the magic of Greece lies not only in these iconic histories but also in the scenic Islands and islets of Greece.
There are also less popular places like the art exhibits of Nisyros and the thermal baths of Evia, which every Greece visitor needs to see. You also won't regret stopping at Naxos for some fresh seafood.
Visitors love this country's delicious food, amazing transparent sea, atmosphere, deep heritage, and picturesque beaches. It is one of the most beautiful countries you can visit in the world.
Beautiful places to visit in Greece
Amber Light Villas located in Santorini, one of the most beautiful places Greece
Below are names of some of the top spots in Greece that puts the country in our list of the top 10 most beautiful countries in the world.
Santorini
Olympia
Skyros
Rhodes
Athens
Chios
Nafplio
Meteora
Skiathos
Zakynthos
6. Canada
There is more to Canada than beavers, lumberjacks and maple syrup which are in most stories with a Canadian setting. Canada has a blend of majestic landscapes and natural beauty. Hence, Canada is one of the top 10 most beautiful countries in the world.
The country has unique spots that attract people from diverse backgrounds and races. For instance, the B.C. mountains attract thousands of snowboarders and skiers, while the Yukon Territory is a place of solitude for people who like the calmness of the wilderness. There are also the East Coast cities of Montreal and Toronto with their appealing cuisines and cosmopolitan atmosphere.
Generally, Canada is known for its laid back lifestyle, majestic scenery, great outdoor activities, wildlife and friendliness. It is a country of choice for international students and also workers or skilled immigrants.
Beautiful places to visit in Canada
Casa Loma mansion in Toronto
Delight in the wonder of Canadian resorts, seasides, pristine beaches, mountains and adventurous towns. Some great places or cities to visit in Canada include:
Banff National Park, Alberta
Victoria, British Columbia
Vancouver Seawall
Glacier National Park
Great Bear Rainforest
Cape Churchill, Manitoba
Niagra Falls, Ontario
CN Tower
Prince Edward County
Victoria-by-the-Sea
Quebec City
Great Slave Lake
Whitehorse Region, Yukon
7. Thailand
When listing the most beautiful countries in Asia, Thailand is always top of the list. Little wonder it also makes it to our list of the top 10 most beautiful countries in the world.
Thailand is seated right at the centre of the Indo-Chinese Peninsula. The county, which was formerly called Siam, is now officially called the Kingdom of Thailand.
Thailand is popular for its majestic royal palaces, picturesque tropical beaches, ornate temples and wonders of nature. The country, also known as the "Land of Smiles", is one of the spotlights of Southeast Asia.
It has numerous islands, each with something unique to offer to every traveller. If you also prefer a city lifestyle, Thailand is also up for that. It has buzzing places such as the capital city Bangkok with entertaining outdoor centres for a fulfilling experience.
Aside from having stunning craft and art outlets with architectural buildings, Thailand is also incredibly blessed with various wildlife such as tigers and wild elephants, which you can see when you go on tours.
Beautiful places to visit in Thailand
Thailand is home to some spectacular places. Here are names of some of the most beautiful places to visit in Thailand:
Thi Lo Su Waterfall
Grand Palace, Bangkok
Inthanon National Park
Maya Bay
Railay Beach
Millennium Hilton, Bangkok
Koh Phi Phi
Koh Nangyuan Viewpoint
Sunday Night Walking Street, Chiang Mai
Pai
Elephant Nature Park
Phanom Rung Historical Park
Khao Sok National Park
Beaches of Koh Samui
Floating Markets
Waterfalls at Erawan National Park
8. United States of America (U.S.A.)
The United States of America has remarkable landscapes and cityscapes. Aside from being one of the most beautiful countries in the world, U.S.A. is also one of the biggest countries in the world. The country is known for its multiculturalism as it harbours people from different parts of the world.
People visiting the U.S. get to experience the sight of beautiful cities, rolling grasslands, plateaus, vast expanses of deserts, mountainous areas covered by glaciers and an astonishing variety of wildlife.
Exploring the country's gorgeous beaches, prized national parks, mountains, city relaxation spots and high life centres, as well as the Grand Canyon, would be worth it. A visit to this country will be incomplete without taking a peek at the arctic-like scenes in cities like Alaska and feeling the warmth and vibrance of Southern California.
Beautiful places to visit in the U.S.A.
Las Vegas, neon-lit city with beautiful resorts, 5-star hotels, casinos and other fun places
The U.S. has some of the most iconic cities in the world. Some of its iconic cities are among the most beautiful places you can visit in the world. You can start your tour of America from the following places:
Killington, Vermont
Red Rocks Amphitheatre
Kenai Fjords National Park
The Palouse
Niagara Falls, New York
Watkins Glen State Park
Dry Tortugas National Park, Florida
Harbour Town, South Carolina
Charleston, South Carolina
Wilow City Bluebonnets, Texas
Savannah Georgia
Philadelphia, Pennsylvania
Mackinac Island, Michigan
Thomas Jefferson Memorial, Washington DC
Multnomah Falls, Oregon
Harpers Ferry, West Virginia
Maroon Bells, Colorado
9. Switzerland
Switzerland is one of the top 10 most beautiful countries in the world. This tourist-attracting country is famous for many things such as high standards of living, great values, amazing art and culture, festivals, nature and their food known as 'Swiss cuisine' (a combination of German, French and Northern Italian food).
Switzerland confederation is made up of 26 cantons which are further segmented into subdivisions and cities. Switzerland cities are great places for tourism and study.
The capital of Switzerland is Bern. It is a magnificent city with a panoramic view. People visiting this beautiful country will also find lots of fun places in Geneva and Zurich, the two largest cities in Switzerland.
Nature is also one of Switzerland's greatest pride. The country's nature includes mountain areas and lakes. Rhine Falls is a historic waterfall that attracts visitors all year round, particularly on the Swiss national day, August.
Students also love Switzerland. This is because Switzerland has some of the best universities in the world, such as ETH Zurich, the University of Geneva and the University of Zurich.
The country has many international students studying different undergraduate and postgraduate courses in their various universities. The good thing is that most of their universities teach in the English language and provide a conducive environment for international students.
Beautiful places to visit Switzerland
Casino Interlaken AG, a casino in Interlaken, Switzerland
Here are names of some of the most beautiful places in Switzerland to visit:
Interlaken
Lucerne
Lake Geneva
Chateau de Chillon
St Moritz
Ticino and Lake Lugano
Gruyeres
The Matterhorn
Lugano
Bern
Rhine Falls
10. South Africa
South Africa, a great black nation, seated in the continent of Africa, makes it to our list of the top 10 most beautiful countries in the world. South Africa has an epic diversity of landscapes, culture and heritage. It is definitely a place you would want to visit if you want to have a memorable travel experience.
Unlike other countries, South Africa has three capital cities- Pretoria (executive seat), Cape Town (legislative) and Bloemfontein (judicial).
A greater percentage of the South African population are Black Africans with different languages and ethnic groups. However, also living among them are Europeans, Asians and multi-racial people. The country welcomes visitors from other parts of the world.
From the popular Drakensberg Mountains to the Blyde River Canyon, South Africa takes pride in its beautiful landscapes. The country is known for its richness in mining and natural resources. Johannesburg, South Africa's biggest city and home of the late President Nelson Mandela, is known as the City of Gold.
Beautiful places to visit in South Africa
Because South Africa has a diversity of cultures, stunning topography, an abundance of wildlife, epic coastlines and beauty of nature, it is one of the most beautiful countries in the world. It has become one of the most popular travel destinations for travellers in the world.
V&A Waterfront, a shopping mall in Cape Town
Below are some of the most beautiful places to visit in South Africa today:
Kruger National Park
Penguin Colony at Boulders Beach, Cape Peninsula
Blyde River Canyon
Vineyards of Franschhoek
Kgalagadi Transfrontier
Elands River Falls, Mpumalanga
Jacaranda tree-lined streets in Pretoria
Cape Vidal Beach, iSimangaliso Wetland Park, KwaZulu-Natal
V&A Waterfront, Cape Town
Cape Town, Western Cape
Stellenbosch, Western Cape
Hermanus Coastline
Pilansberg National Park
The pandemic that hit the world in 2020 shook the tourism industry; however, the good news is that travel guideline and precautions have been put in place to ensure the safety of travellers and curb the spread of the coronavirus.
There might be a dilemma with travelling during the pandemic; however, vacation and tourism travellers need not worry much as most countries on this list of top 10 most beautiful countries in the world are not at high risk for COVID-19. Just ensure you take COVID-19 precautionary measures.