Travel and tourism: The dilemma with travelling during a pandemic
Normally, one would say "leisure travel and pandemic should not exist together". But for how long do you continue putting off your travel plans when the pandemic is taking long doesn't seem like one that would vanish soon?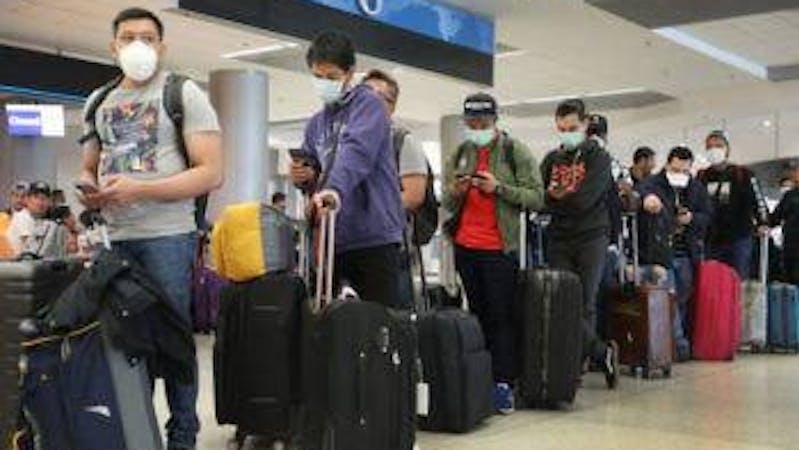 Normally, one would say "leisure travel and pandemic should not exist together". But for how long do you continue putting off your travel plans when the pandemic is taking long and doesn't seem like one that would vanish soon?
Yes, logically, our brain is telling us not to do so as the world is in a global health crisis. However, there is still that part of our brain that is restless and daydreams of vacations.
That part of the brain could push us to wake up by 4 a.m and impulsively book a flight to the Bahamas. It makes it worse that we are in the summer season, the season for vacations. Is travelling worth the risk?
This tug-of-war is undoubtedly going on in the mind of lots of people right now even as the coronavirus has plunged the world into some depressing state. Oh well, at the end of the day, you would decide whether to take the risk or not.
If you finally make up your mind to make your leisure trip, then you should ensure you do the vacation thing responsibly.
Start with choosing your destination carefully (check out areas that have fewer cases of the virus). Ensure that you abide by their travel and health requirements and then very importantly, make sure that you keep you and your family protected by adhering to the precautionary measures against COVID-19.
Travel tourism destinations need money
While travelling might seem like a selfish thing, it is not entirely. You might think you are taking the vacation "just for you" to feel good, but you are not the only one benefiting from that.
Right now, different sectors of the economy are down, travel and tourism included. The money that travellers like you will spend on the flight, food, accommodation, excursions etc. is essential for the continuous functioning of the tourism industry.
Visit luxurious Caribbean vacation spots
Indeed travel to certain regions, for now, are still restricted. The US, for instance, still has limited travel options for its citizens. However, the Caribbean is more open, as well as some states in Mexico.
Places like Aruba or rather the Caribbean Island generally depend on tourism for their economic well being.
With over five months pandemic bringing everything to a halt, one can't help but imagine how the livelihood will be in a place where about 80% of the workforce is employed by the tourism industry.
The same applies to some European countries like Italy, Portugal and Greece, which also have a significant percentage of the economy relying on tourism.
Although Greece and Portugal did abide by the EU recommendation to close their borders to foreigners, they only did so reluctantly and because it was necessary to protect the masses. But, it was also at the peril of their economy.
You might as well do away with the spooky feeling and concentrate on choosing the right destination and taking appropriate measures to keep yourself safe even while you have fun.
If you are going to take the travelling step, do it responsibly
Even though movement has been seriously limited during the past few months, the travel ban is being gradually lifted in several places, and it is becoming more acceptable to travel as long as you do that responsibly.
Restaurants which were initially closed are now open not just for food takeaways but outdoor seating as well. Several parks and beaches are now open as well.
Start with getting tested for COVID-19 before you embark on your journey as this gives you some peace of mind while you are on the trip. In fact, some destinations like the Caribbean would require a negative COVID-19 test before you can gain entrance.
You must adhere to the health and safety protocols of your destination
Also, when you get to your destination, you must follow all their safety protocols so as to have a peaceful and hitch-free vacation. Really, nothing should keep you from travelling if you are going to do that responsibly.
Precautions to take for travel during the pandemic
Remember, COVID-19 is still out there and travelling or even leaving the home increases chances of getting infected or spreading the infection. Hence, the need for you to carefully plan your journey and take precaution while at your destination.
Here are some precautions to take as advised and recommended by the Centres for Disease Control and Prevention (CDC):
Check to know if the coronavirus is spreading at your destination and note the high-risk regions to avoid.
Bear in mind that some people are at higher risk of falling severely ill from the virus, e.g. older adults and people with underlying medical conditions. Do you have a medical condition that places you under this category?
Check to know if your destination has requirements or restrictions for travellers.
During your trip and at your destination, always wear your mask to keep your nose and mouth covered.
Avoid contact with people (keep a distance of at least 6 feet away from people that are not from your household).
Wash your hand often using soap under running water or alcohol-based hand sanitiser.
Avoid contact with anyone who is sick.
Avoid touching your nose, eyes or mouth if your hands are not properly washed.
Reasons why you should travel more often
When you hear of people often travelling on vacations, do you wonder why they do so? Do you wonder if it is necessary? Oh well, travelling does a whole lot of good to the traveller that I can't help but say, "Yes, it is necessary".
No, its not really about spending money or a seemly flashy lifestyle. There are quite several benefits that come with taking a break off everything and booking a flight or boarding a bus for a leisure trip to an entirely new place.
Travel helps you maintain your sanity
At this point, when the world seems to be drawn into a state of depression, what we need more now is some dose of sanity. Some have been confined at home for so long while some have been kept away from family and friends for a long while.
There are those who have been stuck at home all the while with work being the only thing keeping them company. Admittedly, it would be a huge relief to take a break from the long hours of working alone or remotely.
Staying home alone for long could deal a blow to one's emotional, psychological and mental health.
Travelling can help relieve stress, boost happiness and general wellbeing
What about those that have been kept apart from their spouse because of the pandemic? A leisure journey by such partners will help restore some sanity both to their mental health and to the relationship.
Also, even in the absence of the pandemic, travel has shown to lower the risk of depression. A study from the Marshfield Clinic in Wisconsin showed that women who went on vacation at least twice a year are at a lower risk of suffering from depression.
Travel is good for general health
Travelling helps promote your general well being. A joint study was carried out by the Global Commission on Aging and Transamerica Centre for Retirement Studies in collaboration with the U.S. Travel Association.
The study showed that women who make leisure travel at least twice a year are less likely to suffer from a heart attack than those who only travel after about six years.
The same also applies to men as those who do not take annual vacation showed 30 per cent higher risk of developing heart diseases and 20 per cent risk of death.
An article published on Los Angeles Times also said that "Travel is the best medicine". It asserts that travel keeps you younger and healthier.
Travel enhances creativity
When you travel to other places, you meet new people, see things you haven't seen before, experience a whole new life and way of doing things. It simply makes for greater exposure which in turn enhances one's creativity.
According to Adams Galinsky, a professor at Columbia Business School, "Foreign experiences increase both cognitive flexibility and depth and integrativeness of thought, the ability to make deep connections between disparate forms".
Galinsky has worked on several studies which investigate the links between creativity and international travel. However, travelling alone shouldn't be enough; the traveller has to be purposeful about engaging as well.
Travel relieves stress and boosts happiness
Science has shown that embarking on trips, leisurely especially can lower your stress levels. Which better way of taking a break from the suffocating workspace or troubles at home than taking a vacation?
A study did reveal that travellers report having less anxiety and better mood three days after their vacation. It is also interesting to know that these benefits linger even weeks after the trip.
Also, when you travel, you tend to become happier as you leave behind work and lots of other things you would have been worrying your head over.
It is even more exciting to know that some people gain increased happiness from just planning their trip. Thus, the benefits of travelling start even before the trip date.