Luxury homes in Australia in danger of collapsing into ocean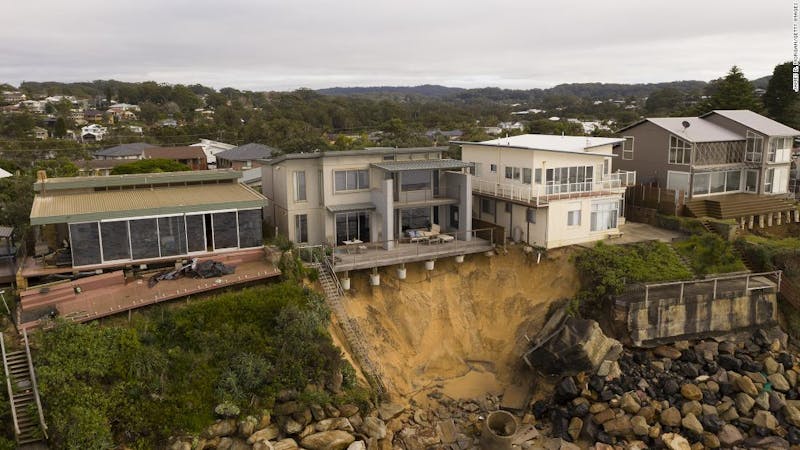 Luxury beachfront homes located in the coastal neighbourhood in New South Wales state, Australia are in danger of collapsing into the ocean due to coastal erosion.
Residents of more than 40 houses located along the Wamberal Beach which is located in the central coast north of Sydney have been forced to evacuate over the past few days as coastal erosion threatens to destroy and damage homes.
The cliff which is above the water has multi-million dollar properties sitting atop it. However, with days of strong swells eating away the land, the cliff face has started crumbling.
Videos recorded last Friday showed white waves surging up the cliff, almost reaching the houses. This leaves behind broken staircases and debris in the sand as the tide pulls away.
The weekend as reported by CNN had the backyard of some homes swallowed by water with some porches and balconies partially collapsed.
Authorities have said that dozens of homes are "at-risk2 and residents were given two hours to pack their belongings and evacuate during low tide.
Aerial view of Wamberal suburb in Australia's New South Wales
Authorities have shut off power, gas and water to the properties that are at greatest risk and also fenced off the danger zone.
It's not clear when the homeowners would be allowed back into their homes as the Central Coast Council has asked members of the community to stay off the area.
Meanwhile, local officials and welfare agencies are working to provide crisis accommodation for the displaced residents. Some residents however frustrated saying its a bit too late.
The annoyed residents accused the local council off not taking sufficient action to address the long-standing issues. They have warned against the coastal erosion for years, especially after the destructive storms in 2016.
The council had released a statement which acknowledged "the severe weather had caused great distress to residents". It said the council wouldn't take regulatory actions if the residents wanted to take "coastal engineer-designed action".
Mayor Lisa Mathews in the release said, "This is not a time for blaming each other. It is a time for us to work together to deliver long-term solutions for the coast, including those who have been terribly impacted by this event".
Some residents, however, saw this as further evidence of authorities absolving themselves of responsibility.