Akwa Ibom set up 8-Man panel to investigate police brutality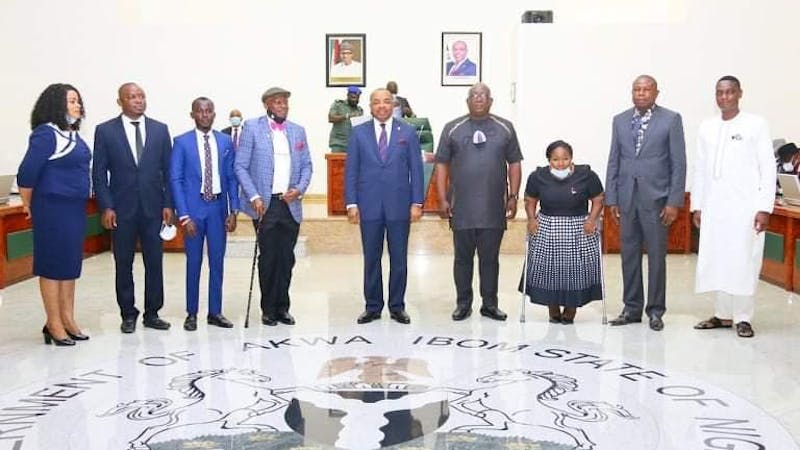 Akwa Ibom state government has set up an 8-man Panel to investigate cases of police brutality, human rights violations and SARS brutality which Nigerian youths have demanded to be brought to an end
The 8-man panel was organised by the governor of Akwa Ibom State Udom Gabriel Emmanuel on Tuesday 20th October 2020, at the Executive Council Chamber, Government House, Uyo.
The 8-man panel is set up to look into any case of police brutality in the state and draw conclusions on the cases. He urged the panel to be transparent in Judging the cases and come up with suggestions that will address the issues when implemented.
Governor Emmanuel has advised the youths of Akwa Ibom State to stay calm so that hoodlums will not hijack the EndSARS protest and destroy properties.
"I advise the people to remain law-abiding and peaceful; you should not allow hoodlums to hijack the process because that common man selling akara that hoodlums are going to attack is not the cause of the problem.
"You know how he manages to get capital to start the business. The more peaceful we conduct ourselves to get our demands the better for everybody", Emmanuel advised.
"Let me also say here that in every organization including the church, the bad eggs you notice are not more than 0.04%, you know bad apples they say, spoil the good ones.
"Even with that let us look at it in that direction that there are a few percentages of policemen in this country who are doing the rightful thing.
"Let us not throw the baby with the bathwater because at the end of the day we still need the police to protect lives and property in the state", he appealed.
Among the 8-Man panel are Chairman, Rtd. Justice Ifiok Ukana, Secretary/Representative of State Attorney General, Mfon Edemekong Esq, Representative of Civil Society Organisations and Protesters is Manti Umoh.
Others include Representative of Civil Society Organisations, Harris Udoh, Representative of the Police, Barr. Bassey Essien while the Youths Representative is Barr. Omen Bassey.