American flag lowered as US consulate in Chengdu officially shuts down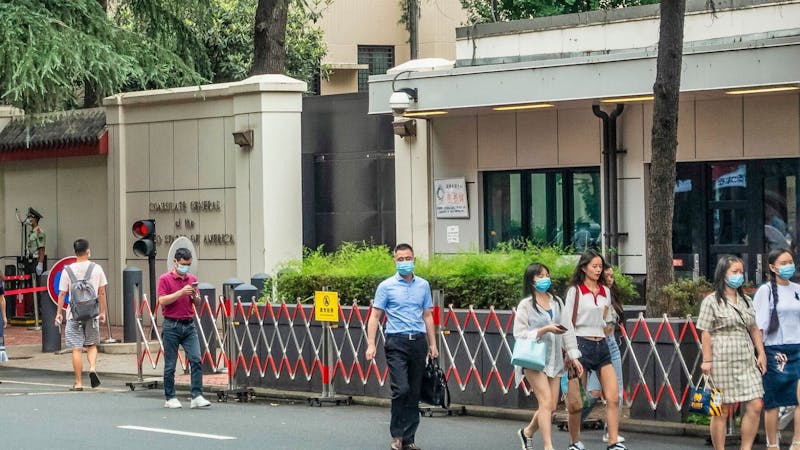 The United States consulate located in Chengdu city, China officially closed Monday morning amidst the growing tension between China and the US.
China had earlier announced last week that it would be shutting down the US consulate in Chengdu on Monday (today) in a tit-for-tat move to retaliate the closure of China consulate in Houston.
The China government also issued a 72-hour time frame just as the US did to the Chinese consulate in Houston last week.
The Chinese Ministry of foreign affairs said in a statement on Monday that the Chengdu consulate closed at 10 a.m on Monday as the deadline expired.
The Ministry via a statement posted o the Chinese social media platform Weibo said that after the closure, "Relevant Chinese authorities then entered from the main entrance and took over".
A woman waving the Chinese flag in front of the US consulate in Chengdu
According to the Chinese state-run broadcaster CCTV, the American flag over the building was lowered at dawn. The police moved back onlooker was the consulate prepared to close officially.
Over the weekend, many people had gathered outside the US consulate in the city, taking selfies and waving the Chinese flags.
The US insignia was taken down on Saturday while removal work began on a plaque outside the embassy on Sunday. Shipping containers were loaded into trucks as staff prepared for the closure of the embassy.
Chengdu, which is the capital of China's southwest Sichuan province, was regarded as an important diplomatic outpost for the United States. It covers a vast expanse of the country, including the controversial Tibetan Autonomous region.
The US Mission in China posted a video on Twitter on Monday morning which featured images of the Chengdu consulate being opened by the then-Vice President, George Bush in 1985.
It also listed the areas covered by the diplomatic mission such as Tibet.
The mission's official post read, "Today, we bid farewell to the US consulate General in Chengdu. We will miss you forever".