Buhari, Governors congratulate Obaseki after he won Edo State election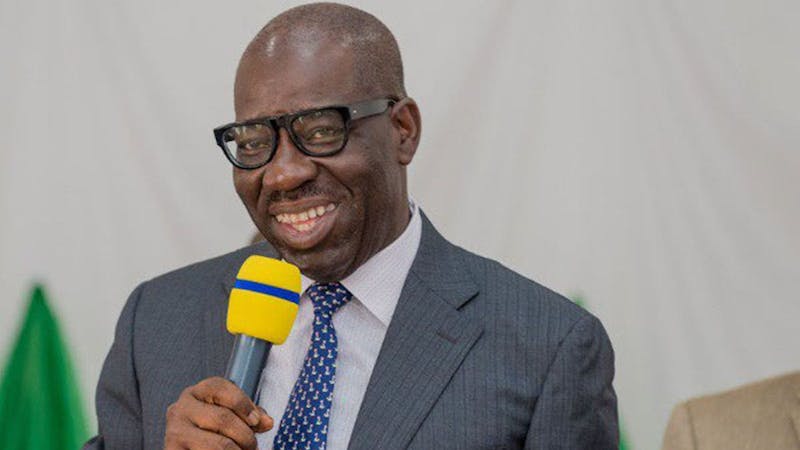 President of Nigeria Muhammadu Buhari and some other governors in Nigeria have congratulated Godwin Obaseki, the new governor of Edo state after he was announced the winner of the governorship election.
Obaseki was announced as the winner of the 2020 Edo State's governorship election on Sunday, September 20, 2020, by the Independent National Electoral Commission (INEC).
Buhari through his presidential spokesman, Garba Shehu, on Sunday congratulated the new governor saying he is committed to free and fair election as it is the pillar of democracy which the country represents.
"My commitment to free and fair elections is firm because, without free and fair elections, the foundation of our political and moral authority will be weak," Buhari said.
"I have consistently advocated for free and fair elections in the country because it is the bedrock of true democracy.
"Democracy will mean nothing if the votes of the people don't count or if their mandate is fraudulently tampered with."
Also in other congratulation messages, governors of different states which include Ben Ayade ( Cross River), Okezie Ikpeazu (Abia) and Aminu Tambuwal (Sokoto) congratulated Obaseki on his victory.
Governor Ayade urged Obaseki to see his winning as a clarion call, as the people of Edo showed their trust in him and fought for their right in making sure they elected who they wanted.
"Obaseki should see his victory as a clarion call to do more for Edo people who have these four years reposed their confidence in you," Ayade said.
He added: "The result of the election shows clearly that the people of Edo State were not prepared to circumscribe their sovereignty under any circumstances.
Ikpeazu of Abia State said, "They have spoken clearly that no one can take away their rights to choose their own leader".
Also, Tambuwal commended President Buhari and INEC who made sure that the election was a free and fair one.
He said: " From Aso Rock came a firm directive that the game must be played according to the rules.
"In following this directive, our security forces jettisoned the toga of allying with the outlawed mode of electoral conduct. I commend Mr President over his statesmanship.
" Similarly, the election umpire(INEC), hitherto tainted as biased reviewed its position and stayed on the path of equity and fair play.
Obaseki who contested the election under Peoples Democratic Party (PDP) got 307,955 votes beating his opponent Osagie Ize-Iyamu of the All Progressives Congress (APC) by 84,336 votes.
Obaseki won in 13 local governments out of 18 local governments in Edo state.
On the other hand, his opponent Osagie Ize-Iyamu got a total vote of 223,619; he won only in five local governments out of 18 local governments in Edo State.