Fani-Kayode separates from wife, demands N2bn from blogger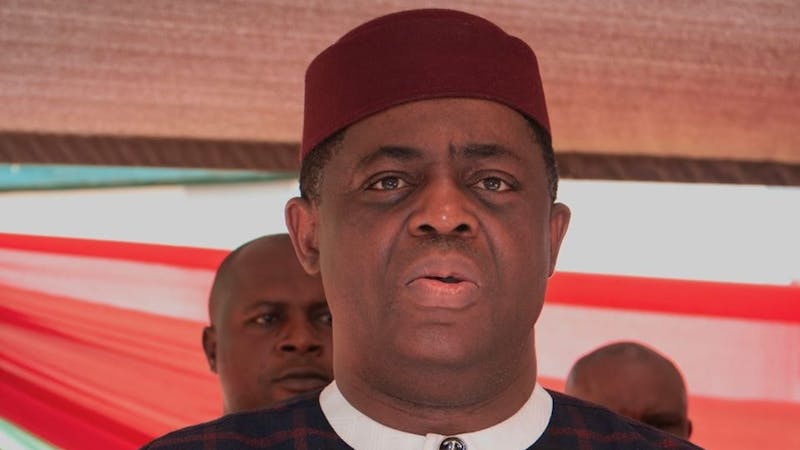 A former Minister of Aviation, Femi Fani-Kayode has separated from his wife, Precious Chikwendu, with whom he had four sons.
According to Punch News, Fani-Kayode has also written a pre-litigation letter to popular blogger, Stella Dimokorkus, demanding the sum of N2bn from her for a report he termed libellous.
According to the blogger, the separation was attributed to domestic violence, adding that Fani-Kayode may not have been the biological father of the triplets sons as they were conceived via IVF and Chikwendu had demanded a DNA test.
SaharaNews carried this news saying, "Sources told SaharaReporters that the former minister started by abusing Precious from the first year of their marriage - the same fate that befell her three predecessors".
The SaharaNews report added that that the violence had increased with the years. "FFK, as the ex-minister is often referred to, was said to have ordered Precious to abort her last pregnancy claiming it did not belong to him.
"The sources said precious ignored him but got a savage beating, including on her belly for the recalcitrance.
"A source said Fani-Kayode always hit the woman violently in the presence of their home helps and sometimes threatened her with a gun by sticking the weapon in her mouth to warn her against squealing", the report said.
Femi Fani-Kayode and his wife, Precious Chikwendu, a former beauty queen
However, in a report by PunchNews papers, it said Fani-Kayode had termed such reports of him separating over domestic violence as libellous and preposterous.
The report read said the minister was disturbed about the manner with which the report was written. In a letter signed by his lawyer, Mr Adeola Adedipe and dated September 16, 2020, Fani Kayode had stated that the allegations were maliciously engineered.
The letter was titled, "Defamation of Chief Femi-Fani Kayode- RE: Femi Fani-Kayode and Precious Chikwendu Part Ways Over Alleged Domestic Violence".
Fani-Kayode denied allegations that said he retrieved the car he bought for his estranged wife and left her broke. He also said that it is sad that his innocent little children would be dragged into this.
In the letter, he demanded the retraction of the allegations from the blogger on the platform they were published and also a negotiation of the sum of N2bn.
"You are also advised to enter into negotiations with us for the sum of two billion naira only being a token amount for penitence.
"Please bear in mind that you have 14 days from receipt of this letter to comply with the highlighted mitigating measures, failure of which will leave our client with no preferred alternative than to seek redress in court", the letter partly read.
Fani-Kayode and the former beauty queen Chikwendu got together in 2015 and welcomed their first son around 2016. A set of triplets followed suit in 2018.