FG warns state governors over taxing miners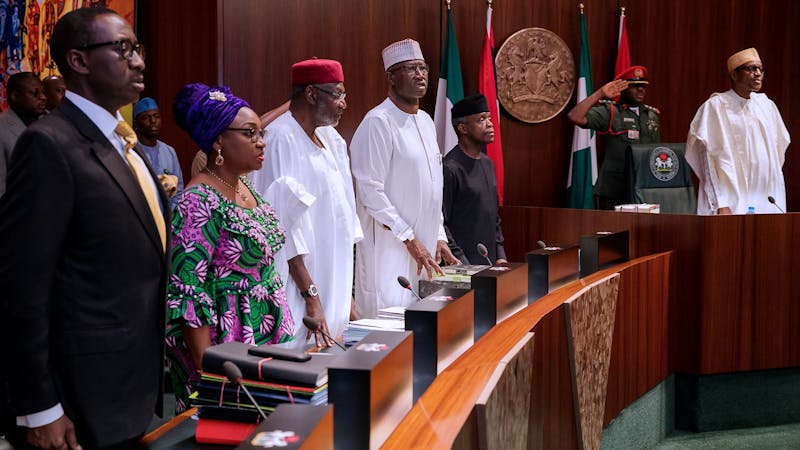 The Federal Government of Nigeria has warned state governors to stop imposing taxes on miners in their states saying they will deduct any tax imposed on any miners from state allocation.
The warning was given during the 11th virtual Federal Executive Council (FEC) meeting held in Presidential Villa, Abuja with President Muhammadu Buhari.
Minister of Information and Culture, Alhaji Lai Mohammed briefing the journalists after the meeting revealed that miners are only required to pay taxes to Federal Government as their activities fall within the provision of the Exclusive List of the 1999 Constitution as amended.
Mohammed revealed that mining companies are facing insecurity as the major problem they have in Nigeria as many companies have been shut down.
Mohammed said: "The Minister of Mines and Steel Development presented a memo which largely was to ask for the Council's approval to address the major challenges the mining industry is facing.
"Among the challenges the industry is facing, according to the minister, is that of insecurity in certain parts of the country.
He said that the Ministry of Finance, Budget and National Planning has been commanded to deduct taxes already collected by the state from their federal allocations.
The information minister added that double taxes are affecting operations of different company and that pushes them away. Any state found in the action will be regarded as illegal taxing.
"The industry is also faced with the problem of a collision between some stakeholders, sometimes the traditional rulers.
"In other words, if a particular state engages in double taxation, you are imposing illegal taxes on a duly registered mining company, and if reported to the government, the Ministry of Finance will deduct that money from your allocation. The intent is to ensure that we don't scare away investors, be local or foreign.
Mohammed said that states could register with any company in their state if it wants to participate in the mining business.
"This will go a long way to reassure the investors that Nigeria is a safe place to invest now.
"It was also directed that the National Economic Council (NEC) should also dialogue with the governors and let them understand that states can participate in mining as corporate bodies.
"In other words, states can register companies and participate in mining.
"But they cannot come there as sub-national authorities because the law is very clear. The Federal Government has the exclusive right to mine and manages all mineral resources."