Rivers State Wike gifts National Assembly members 15 SUVs, demands unity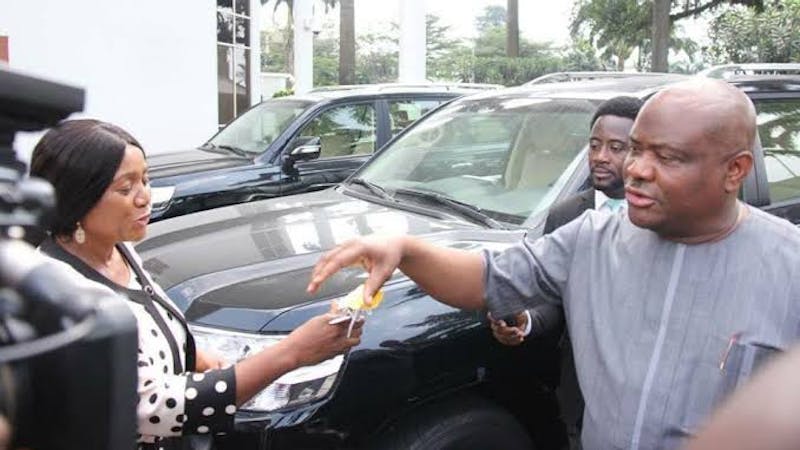 The Governor of Rivers State, Nyesom Wike, has charged lawmakers representing Rivers State at the National Assembly to defend the interest of the state fearlessly and in unity while gifting them new SUVs.
Wike advised the lawmakers to remain united and resist distraction while consulting with the party regularly in the course of duties.
According to a statement by the Commissioner for Information and Communications, Paulinus Nsirim, the governor gave the charge while presenting 15 Sports Utility Vehicles to members of the National Assembly at the Government House, Port Harcourt.
Governor Nyesom Wike overwhelms Rivers lawmakers as he he gifts them 15 Land Cruiser Prado VX TXL jeeps
Wike who was represented by the Rivers States Chairman of the People Democratic Party, Desmond Akawor said the aim of the gesture was to ease the movement of the lawmakers and also to stimulate the effective discharge of their duties.
It read partly, "Resist distraction, remain united, consult the party regularly and defend the interest of the state fearlessly. This gesture is to ease your movement and enable you to discharge your legislative duties effectively".
This isn't the first time Governor Wike would be making such move. He seems to understand that when people are treated well, and given enabling resources, they carry out their work more effectively.
Recall, that Clacified earlier reported on August 5th that the governor in a similar move, distributed 41 sports utility vehicles to judges in the state High Court to boost the delivery of justice within the state.