Gov Wike 'rescues' ex-NDDC MD, Nunieh from police siege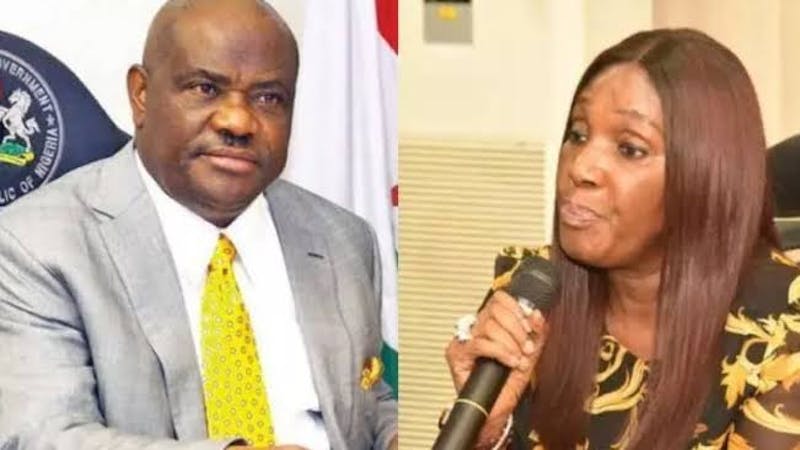 The Governor of Rivers State, Nyesom Wik on Thursday rescued the former acting Managing Director, Niger Delta Development Commission (NDDC), Joy Nunieh, from a siege laid to her house in Port Harcourt by police officers.
The governor reportedly rushed to the house of the ex-NDDC boss after security operatives surrounded the house. A video which went viral online showed the governor at the entrance of Nunieh's home in Port Harcourt.
It was reported earlier that Nunieh accused the Minister of Niger Delta Affairs, Godswill Akpabio in a recent interview of harassing her, abuse of office and corruption among other allegations.
However, the minister in a statement made released through his spokesman, Aniete Ekong described the allegations as "false, malicious and libellous".
A house of Representatives' Committee had invited Nunieh to appear before it today in Abuja.
It was also reported that before the alleged invasion, the governor of River's State on Tuesday said he would not allow any sort of harm to befall Nunieh as regards the ongoing probe of the NDDC.
The state government released a statement through the commissioner for Information and Communications, Paulinus Nsirim. The statement read:
"We wish to state that while we are not interested in identifying with the present unfolding drama in the NDDC; we will not, however, fail to protect our daughter from actual harm or perceived danger.
"The state owes it as a duty to protect her citizens from danger no matter their political affiliation, and we cannot fold our arms and watch anyone harm her or indeed any Rivers citizen.
"We advise those involved in the present altercations in the NDDC to thread with caution in their actions and utterances".