#EndSARS: Live Update on Call-to-action to end SARS in Nigeria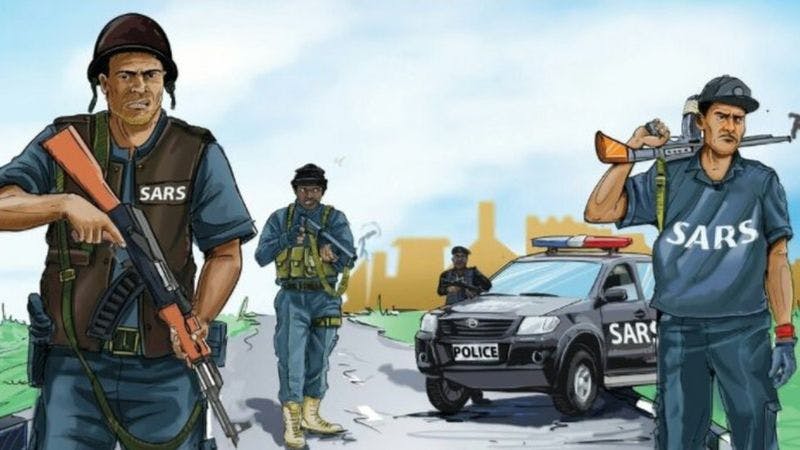 Latest On EndSARS Campaign
Nigeria's inspector general of police has banned Special Anti Robbery Squad (SARS), a notorious unit from carrying out stop and search duties and setting up roadblocks amid growing anger at routine harassment and atrocities allegedly committed by its officers.
Mohammed Adamu also said members of the Special Anti Robbery Squad (SARS) must always wear uniforms.
Videos shared recently on social media appear to show officers extorting money and even shooting people. 
Nigerians want SARS disbanded
The hashtag #EndSARS is trending on Twitter, triggered by the alleged killing of a young man by officers from the unit in the city of Lagos on Saturday.
Many people are also using the hashtag to share stories of brutality attributed to the police unit.
SARS and other tactical police units have been banned from "invasion of privacy of citizens particularly through an indiscriminate and unauthorised search of mobiles, laptops and smart devices," Mr Adamu said in a statement on Sunday.
They should, he said, focus on cases of armed robberies, kidnapping and other violent crimes. He also said that police commissioners and commanders would be held liable for the misconduct of officers in the areas they were in charge of.
Nigeria's inspector general of police official press release; he banned (SARS) the notorious unit from carrying out stop and search duties.
Nigeria's inspector general of police official press release; he banned (SARS) the notorious unit from carrying out stop and search duties.
Past Actions to Ban SARS
Three years ago Nigeria's police chief ordered an immediate re-organisation of the SARS after public outcry, but little, if any, changed according to an Amnesty International investigation published in June.
The rights group accused SARS officers of using "torture and other ill-treatment to execute, punish and extract information from suspects".
It documented 82 cases between January 2017 and May 2020. Amnesty found the group allegedly targeted men between the ages of 17 and 30.
"Young men with dreadlocks, ripped jeans, tattoos, flashy cars or expensive gadgets are frequently targeted by SARS," the organisation said.
"The Nigerian authorities must go beyond lip service and ensure there is real reform, " Osai Ojigho, director of Amnesty International Nigeria, said about the findings.
Outcry and protest to End SARS: Celebrities React
Many Nigeria youths have taken to social media to condemn actions orchestrated by SARS, linking the Squad to various nefarious activities in the country.
As the #EndSars campaign surges on twitter, many citizens have signed up for protest across the country. Videos circulating on social media shows protests rocking Benin city.
Nigerian Celebrities like Runtown and Naira Marley have encouraged their fans to join them in protest, Runtown announced on twitter that there will be a protest on Thursday 8th October 2020 by 10 am.
Though Naira Marley called for a peaceful protest, Clacified reported that he later backed down after positive message from the Nigerian Police.
Runtown Calls for peaceful protest against SARS
Nigerian Celebrity Rapper and Musician Falz has also signaled his intention to join Runtown in the peaceful protest, the move was no surprise to many as he has used his music and videos to air his views on the state of the country.
Falz has been a vocal critic of some societal ills in the country.
Recall his viral music video 'this is Nigeria' where he decried Police brutality, excesses of religion and other issues facing the country.
Falz Signs up for the peaceful protest
Nigerian Musician Wizkid buzzed the airwaves on twitter when he criticized President Buhari over his tweet wishing President Donald Trump speedy recovery.
Wizkid quoted the tweet calling president Buhari an old man while urging him to focus on Nigeria and take actions to end the killings orchestrated by SARS.
The "Fever' Corona has condemned the SARS a few times on his twitter timeline, he also replied Mrs Lauretta Onochie, an Aide to president Buhari.
Wizkid tags President Buhari an old Man
Wizkid calls for end to police Brutality
Outcry and protest to End SARS: Nigerians React
A twitter user lamented: "If dey are not on uniform & dey stop u, pls stop. Whether u driving or u ar on your "walking", pls stop.
This SARS would pull the trigger at the slightest provocation. In "D End", dey would b dismissed from service & u my friend, u would be in ur grave. #EndSARS"
During a live video session between Naira Marley and Frank Mba, the public relation officer of the Nigerian Police Force, he suggested that actions taken by Nigerians can help the police in their quest to enforce justice on rogue SARS operatives.
The reverse appears to be the case according to a twitter user who complained that Police officers arrested a man for submitting a video clip he recorded.
The tweet read: "How senseless can the Police really be in this country? They arrested a Nigerian who posted the video of the near extrajudicial killing of that guy in Delta. #EndSARS"
Another Twitter user asked a sensible question "If SARS is dissolved, won't same brutal and callous officers be absolved into other police departments of the same force?...#ENDSARS and reform the entire police force.."
The question begs for answers on what will happen if SARS is finally disbanded, what will happen to the former SARS operatives, will the Force sack or absolve them, if the latter is the case then the cycle lingers.
Another fellow tweeted "SARS cells across Nigeria should be opened for independent investigators to look into cases of detainees in those cells.
Many are in SARS cells for 4yrs just because they were standing in front of their houses by 8 pm. A sick man went to buy drugs & he got picked up. #EndSARS"