Council Members pledge to dismantle Minneapolis police department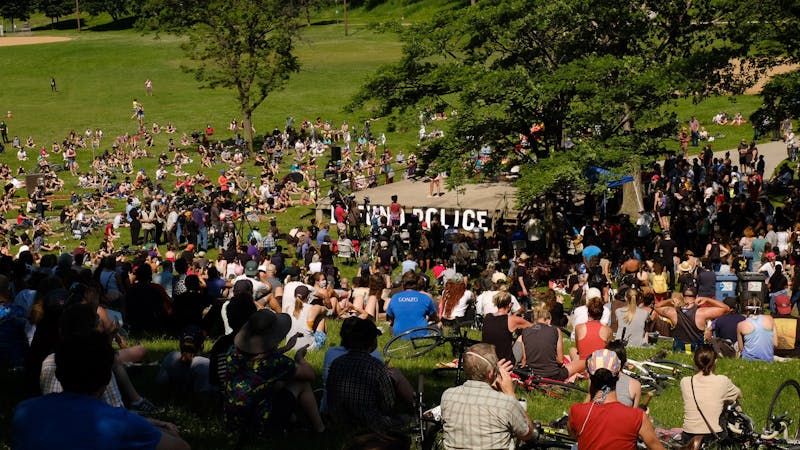 On Sunday Nine members of the Minneapolis City Council of the United States voted to dismantle the Police Department, with a promise of creating a new system that will be safe for the public of Minneapolis. The law enforcement of the city has long been accused of racism.
The death of George Floyd, who was killed by Minneapolis Police on Monday 25 May 2020, has raised more question about the department of Police in Minneapolis City.
The council members addressed the people of Minneapolis gathered on a grassy hill late in the day saying, "It shouldn't have taken so much death to get us here," Kandace Montgomery, the director of Black Visions Collective, told from the stage at the rally. "We're safer without armed, unaccountable patrols supported by the state hunting black people."
Protesters have protested for the abolishing of the Police department across the United States since the death of Floyd.
In an interview on Sunday, the Council Members stated that they are yet to have a plan for what the new safety system will be but working with the community to carve out a new idea for the safety system.
At the course of the voting Mayor Jacob Frey who the Police department answers to voted against abolishing of the Police but the Council Members said they have enough votes to override a veto by Jacob. Earlier on Saturday Mayor Fred was booed by hundreds of protesters when he kicked against abolishing of the department shouting "Go home, Jacob Frey!", "Shame! Shame!".
Mr Frey said on Sunday that while he opposed dismantling the Police Department, he would "work relentlessly" with the city's police chief and the community "toward deep, structural reform and addressing systemic racism in police culture." He added he was "ready to dig in and enact more community-led public safety strategies."
Patrisse Cullors, a co-founder of Black Lives Matter and chair of Reform L.A. Jails, compared the feeling of the cry for abolishing Police to that of the call for abolishing slavery.
In a statement, he said, "This is massive,". "This is the first time we are seeing, in our country's history, a conversation about defunding, and some people having a conversation about abolishing the Police and prison state. This must be what it felt like when people were talking about abolishing slavery".
The executive director of Minnesota Chiefs of Police supported reforming of the police department rather than defunding them and stated they are open for discussion.
"When someone is in immediate danger, fearing for his or her life, would these victims still have a place to call and a person who is willing and able to help?" he asked. "If so, then we're open to more discussions."