Ondo Assembly: Tension as two lawmakers get suspended, Majority leader resigns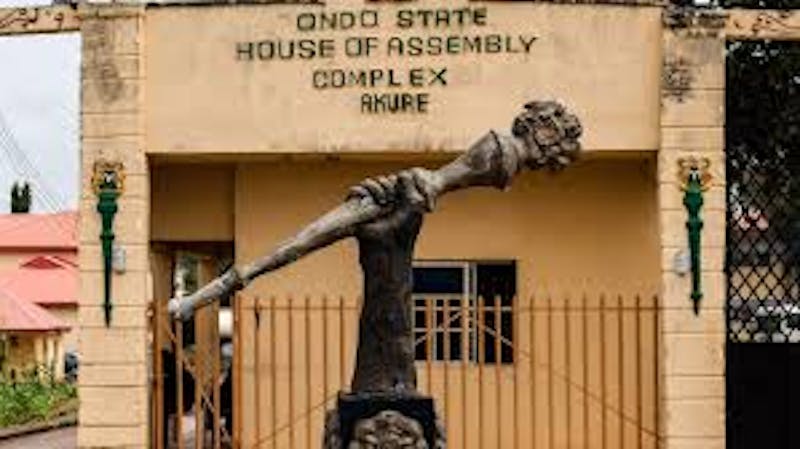 The Ondo state House of Assembly has suspended two lawmakers who dissociated themselves from the impeachment process of the Ondo State deputy governor, Hon Agboola Ajayi.
Deputy Speaker, Hon Iroju Ogundeji, and the lawmaker representing Ondo West II, Adewale Williams was suspended, the House Majority Leader, Jamiu Maito, also resigned his position.
According to the leadership of the House of Assembly, the duo of Ogundeji and Williams were suspended for unruly behaviour.
One of the suspended lawmakers claimed that his suspension was communicated to him verbally by the Speaker, Rt. Hon Bamidele Oleyelogun.
The letter of his resignation was read by the clerk of the Assembly, Bode Adeyelu at plenary.
The two suspended lawmakers and the Majority leader that resigned were amongst the nine lawmakers that dissociated themselves from the impeachment of the defected deputy governor, Hon Agboola Ajayi.
The state House of Assembly served the defected deputy governor of Ondo State Hon Agboola Ajayi impeachment notice over allegation of gross misconduct.
This took place at the plenary session presided over by the Speaker of the Assembly, Mr Bamidele Oleyelogun.
On June 21, he defected to the People's Democratic Party (PDP) from the All Progressives Congress (APC).
Since then, the plot to remove him from office has heightened.
Fourteen members of the Assembly signed the impeachment notice on Tuesday afternoon while nine members disassociated themselves from the process. 
Ajayi is accused of abuse of office, financial recklessness, abandonment of office and petition for defecting to the Peoples Democratic Party. 
However, some members said the impeachment notice was unconstitutional, saying it would not stand because "it does not meet two-third of the House members required by law."
However, the deputy governor has approached a Federal High Court sitting in Abuja to stop the impeachment process.