'Return Friday or face the music', Obaseki tells Benin escapee inmates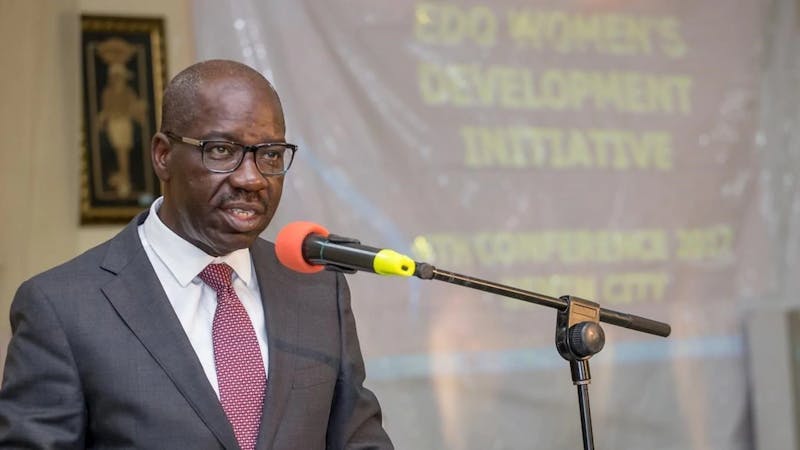 The Governor of Edo State, Godwin Obaseki has ordered the prison inmates that escaped in Benin during EndSARS protest to return voluntarily within three days or face the wrath of the state.
Benin jailbreak and controversies surrounding it
It was reported that some inmates in Benin Medium Security Correctional Centre and Oko Medium Security Correctional Centre escaped on Tuesday morning.
However, reports failed to capture if it was the EndSars protesters that freed the prisoners or the government did.
Reports from unauthorised sources said the warders might have freed the prisoners through the authorisation of the government so as to heap the blame on EndSARS peaceful protesters.
In contrast, some media houses reported the EndSARS protesters freed the prisoners. A critical look at the event will make one think twice of such an assertion.
The prisoners were seen escaping from the fence and not the gate, which is a clear indication the protesters couldn't have been involved.
Others believe the government might have paid hoodlums to the job.
Obaseki's statement about Benin Jailbreak
The Nigerian Correctional Service disclosed on Wednesday that 1,993 inmates escaped from the facilities.
Governor Obaseki, the governor of Edo State in the company of his deputy, Philip Shaibu, and other top police and military officers in the state, inspected the affected correctional centres.
Obaseki after close inspection said: "You will agree with me that this is not in the spirit of the#EndSARSprotest. This is sheer criminality. The real protesters were focusing on the reform of our policing system and not to destroy government property, break into prisons and release inmates".
He equally commended Inspector-General of Police, Mohammed Adamu, for sending a Deputy Inspector-General of Police, Celestine Okoye, to Benin to put the situation under control.
Obaseki gives escaped inmates three days
The governor of Edo state, Obaseki has given the escaped inmates three days to return prison yard or face the wrath of the state.
He said, "We know their friends may have released some of the inmates and others used the opportunity to get out of the facilities.
"We are using this opportunity to appeal to all inmates in our correctional services who have escaped to come back on their own before the close of business on Friday this week.
"If they come in and go to the Nigeria Police Force Command headquarters in Benin City, nothing will be done to them.
"However, those who do not report back after Friday night, we have all their records, we will go after them, and appropriate sanctions will be meted against them."