100 Best football players in the world 2022
The ultimate list of the best football players in the world in 2022, based on statistics and match performances.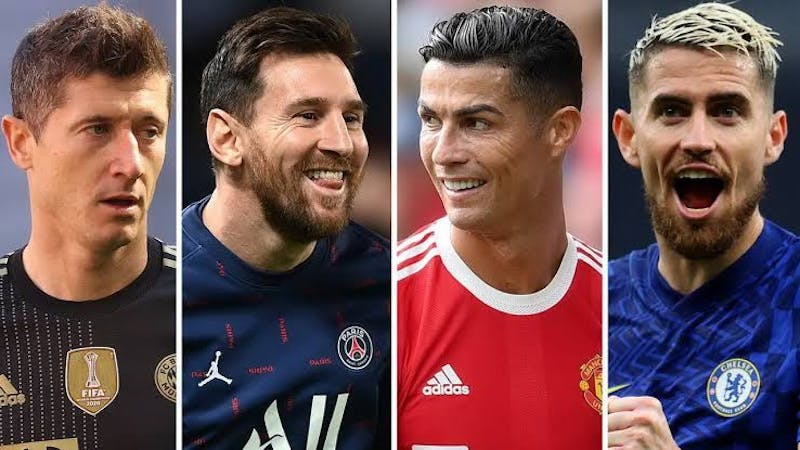 As the world acclimatizes to 2022, new ideas, new goals and new lists are the primary agendas of netizens who want to do away with the old calendar. And what list is greater in the new year than that of the best football players in the world 2022.
Award platforms like the Balon d'Or, have come under intense criticism in recent years due to their use of a flawed popularity model to recognise outstanding players as exemplified by the Messi-Lewandowski debacle of 2021.
This criterion which comes in form of voting processes from teammates, coaches and journalists, have proven to be inconclusive, as players who do not generate front-page popularity or those with zero PR, are relegated to the trenches.
For example, the 2021 FIFA The Best Award final voting result had Neymar in the top 10, despite the Brazilian managing only 8 league goal contributions all year. On the other hand, a player like Thomas Muller who boasted 40 goal contributions in the more competitive Bundesliga was wholly snubbed.
Mohammed Salah and Karim Benzema have earned rave reviews for their numbers in the tail-end of 2021
This disregard could be attributed to the commercial appeal, flamboyant aura and youthful marketability that the German lacked.
With this indeterminate flaw in mind, Clacified have employed a more definitive yardstick that is purely based on statistics. To determine the best players in the world for 2022. This model ranks players solely on how well they have performed, regardless of transfer valuation, transfer fee, popularity or position.
Selection criteria
Personalities enlisted in this compilation of best football players in the world have first been selected based on a points basis which is primarily determined by the difficulty of the league. The difficulty of the league in turn is ascertained by positioning on UEFA league coefficient rankings.
Leagues with at least a 90 coefficient score see their players awarded with 0.5 points, while leagues with:
80-89 = +0.4 points
70-79 = +0.3 points
60-69 = +0.2 points
50-59 = +0.1 points
40-49 = 0 point
30-39 = -0.1 points
20-29 = -0.2 points
10-19 = -0.3 points
0-9 = -0.4 points. 
This in translation means that if a player from the Danish Superliga is worth 8/10 points, their true value will depreciate by -0.2 points, while a player in the Bundesliga worth 7.3/10 points will see their value appreciate by 0.3 points.
So rather than a massive difference of 0.7 points as seen in their initial valuation, the gap in quality will been shortened to 0.2 in cognizance of the competitiveness of each leagues.
Secondly, players who have amassed a certain amount of points in European competitions are considered and awarded extra points based on the quality of the competition.
Champions League = +0.3
Europa League = +0.2
Conference League = +0.1
Lastly, the competitiveness of the club is the final criterion to conclusively determine quality.
This benchmark has been employed with hindsight from history and factual evidence which show that a player with excellent performances at a smaller club in a top league is not necessarily on the same pedestal as a similar player at a big club in a lesser league.
For example, a top player at Arsenal in the most competitive league worldwide, will not rank above a player with similar metric at PSG, in the more inferior Ligue 1.
Alternatively, a top player from Leicester City is not equivalent in quality to a player from Ajax despite the chasm in the competitiveness of both leagues.
However, due to the fact that the competitive gap between clubs of different leagues has been bridged in recent years, this criterion minimally influences our player ratings.
Timeline
Player points have been accrued from the last quarter of 2020 to December 2021.
International competitions in that period, such as the EUROS and Copa America have not been considered.
This is so as to avoid players from these regions having an advantage over other federations like CAF and AFC, who were without a competitive tournament in that window.
Without further ado, here are the best football players in the world in 2022.
Best football players in the world 2022

| | | | | | |
| --- | --- | --- | --- | --- | --- |
| | | | | | 2nd top scorer - Europe 2020/21 |
| | | | | | Most league goals since 2020 - Global |
| | | | | | Most progressive passes - Bundesliga 2020/21 |
| | | | | | 2nd most direct goal contribution - Global first half 2021/22 |
| | | | | | Golden boot - UCL 2020/21 |
| | | | | | 2nd most through balls - Europe top leagues 2020/21 |
| | | | | | 2nd most touches - Europe's top leagues 2020/21 |
| | | | | | Most chances created - UCL 2020/21 |
| | | | | | Most chances created - UCL Group stages 2021 |
| | | | | | Most carries into opposition penalty area - UCL 2020/21 |
| | | | Juventus, Manchester United | | 3rd top scorer - Europe top leagues 2020/21 |
| | | | | | Best playmaker - UCL 2020/21 |
| | | | | | Most shots attempted per minute - Europe first half 2021/22 |
| | | | | | 2nd most chances created - Europe's top leagues 2020/21 |
| | | | | | Most goals + assists - Premier League 2020/21 |
| | | | | | 2nd most big chances created - UCL Group stages 2021 |
| | | | | | Most chances created - Europe's top leagues 2020/21 |
| | | | | | 3rd most shots attempted - Europe's top leagues 2020/21 |
| | | | | | Best playmaker - Europe's top leagues 2020/21 |
| | | | | | 2nd most progressive player - UCL 2020/21 |
| | | | | | Most direct goal contribution - Global first half 2021/22 |
| | | | | | 4th most chances created - Europe's top leagues 2020/21 |
| | | | | | 2nd top scorer - UCL 2020/21 |
| | | | | | Top scorer - UCL Group stages 2021 |
| | | | | | Best finisher - UCL Group stages 2021 |
| | | | | | Most goal + assists - Europa League 2020/21 |
| | | | | | Most touches - Europa League 2020/21 |
| | | | | | Best playmaker - Ligue 1 2020/21 |
| | | | | | Most clear-cut chances created since Aug 2020 - Ligue 1 |
| | | | | | 3rd most progressive passes - UCL Group stages 2021 |
| | | | | | 4th most successful pressures - UCL Group stages 2021 |
| | | | | | Best playmaker - La Liga 2020/21 |
| | | | | | 2nd-most big chances created - UCL Group stages 2021/22 |
| | | | | | |
| | | | | | Most defensive actions - UCL 2020/21 |
| | | | | | |
| | | | | | 3rd most crosses - UCL 2020/21 |
| | | | | | 10th highest pass accuracy - Europe's top leagues 2020/21 |
| | | | | | Most progressive player - Global first half 2021/222 |
| | | | | | 3rd-most goal contributions - UCL 2020/21 |
| | | | | | 2nd-most shots on target - UCL 2021/21 |
| | | | | | Most progressive player - Serie A 2020/21 |
| | | | | | Most interceptions - UCL 2020/21 |
| | | | | | Most touches - UCL Group stages 2021 |
| | | | | | 2nd most assists - UCL Group stages 2021 |
| | | | | | Best playmaker - Serie A 2020/21 |
| | | | | | Golden boot - Primeira Liga 2020/21 |
| | | | | | Most accurate crosses per game - Global first half 2021/22 |
| | | | | | 4th most assist - Europe's top leagues first half 2021/22 |
| | | | | | 3rd-most shots on target per 90 - Europe's top leagues 2020/21 |
| | | | | | 3rd most assists - UCL Group stages 2021 |
| | | | | | 2nd most through balls - UEL 2020/21 |
| | | | | | Best dribbling accuracy - UCL 2020/21 |
| | | | | | Most assists - Serie A first half 2021/22 |
| | | | | | 5th most chances created - Europe's top leagues first half 2021/22 |
| | | | | | 3rd most big chances created - UCL Group stages 2021 |
| | | | | | 2nd most accurate passes - 2020/21 Premier League |
| | | | | | Best chance converter - UCL Group stages 2021 |
| | | | | | Most pressures applied - UCL 2020/21 |
| | | | Valencia, Manchester City, Barcelona | | 7th most goals per minute - |
| | | | | | |
| | | | | | 3rd most aerial duels won - UCL 2021/22 |
| | | | | | Most touches - Europe's top leagues 2020/21 |
| | | | | | |
| | | | | | 8th most dribbles completed - UCL 2020/21 |
| | | | | | 9th most aerial duels won - UCL 2020/21 |
| | | | | | 2nd top scorer - Serie A 2020/21 |
| | | | | | 8th most tackles completed - UCL 2020/21 |
| | | | | | Most big chances created - Europe's top leagues 2020/21 |
| | | | | | 2nd highest save percentage - UCL Group stages 2021 |
| | | | | | 4th most big chances created - Serie A 2020/21 |
| | | | | | 3rd most goals - UCL 2020/21 |
| | | | | | 3rd most big chances created - Bundesliga 2020/21 |
| | | | | | Most non-penalty goals-assists - UCL Group stages 2021 |
| | | | | | 10th most goals+assists - Serie A 2020/21 |
| | | | | | 4th best chance converter - Europe's top leagues 2020/21 |
| | | | | | Highest scoring defender - Eredivisie first half 2021/22 |
| | | | | | 2nd most goal contributions since Aug 2020 - Primeira Liga |
| | | | | | 2nd most fouled player - UCL 2020/21 |
| | | | | | 7th most big chances created - Bundesliga 2021/22 |
| | | | RB Salzburg, Leicester City | | 9th most goals+assists - Global 2020/21 |
| | | | | | 3rd most chances created - Ligue 1 2020/21 |
| | | | | | Most long-range goals - first half Europe's top leagues 2021/22 |
| | | | | | Most goals per minute - first half Europa League 2021/22 |
| | | | | | Most big chances created - Serie A 2020/21 |
| | | | | | Most goals+assists - first half Primeira Liga 2021/22 |
| | | | | | 9th most goals+assists - LaLiga 2020/21 |
| | | | | | 2nd most crosses - Europe's top leagues 2020/21 |
| | | | | | 5th most goal+assists - first half Primeira Liga 2021/22 |
| | | | | | 3rd most goals+assists - first half Eredivisie 2021/22 |
| | | | | | Most assists - first half Europa League 2021/22 |
| | | | | | Most tackles+interceptions per game since Aug 2020 - Eredivisie |
| | | | | | Most tackles+interceptions - 2020/21 Austrian Bundesliga |
| | | | | | Most chances created - Europa League group stages 2021 |
| | | | | | 4th top scorer - Bundesliga 2020/21 |
| | | | Bo russia Mönchengladbach | | 7th most assists - Europe's top leagues 2020/21 |
| | | | | | 4th most big chances created - LaLiga 2020/21 |
| | | | | | 4th most through balls per game - first half Europa League 2021/22 |
| | | | | | |
| | | | | | 5th most big chances created - 2020/21 Premier League |