Chinua Achebe, A Literary Icon, Novelist, Poet, Critic, African, Biography
Albert Chinualmogu Achebe popularly known as Chinua Achebe is a Nigerian novelist, poet, professor, and critic that has explored so many areas in African literature. Here lies the biography of this African literary icon.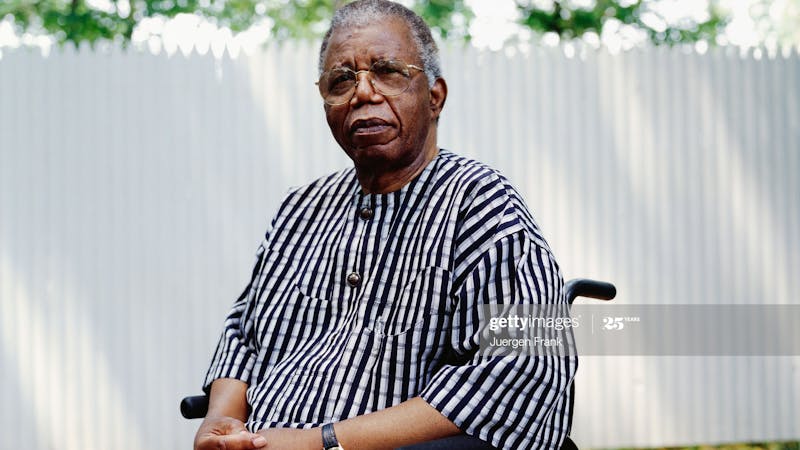 Albert Chinualmogu Achebe popularly known as Chinua Achebe is a Nigerian novelist, poet, professor, and critic that has explored so many areas in African literature.
Achebe made an indelible mark in the area of African literature and the literary world as his writings focus more on African heritage and culture.
In many of his writings, he frowns at the imposition of western customs and values upon traditional African society.
His primary concern was with emergent Africa at its moments of crisis. His novels range in subject matter from the first contact of an African village with the white man to the educated African's attempt to create a firm moral order out of the changing values in a large city.
Early Life
Achebe, born in 1930, grew up in the Igbo town of Ogidi, Anambra state and raised by his parents Isaiah Okafor Achebe and Janet Anaenechi Iloegbunam Achebe.
Achebe from early-stage has show signs of intelligence as he excelled at school and won a scholarship to study medicine, but changed to English literature his preferred course at University College now the University of Ibadan.
He, however, has shown interest in literary writing right from childhood. In his university days, his writing career kicked off proper.
Education
In 1936, Achebe entered St Philips' Central School. Despite his protests, he spent a week in the religious class for young children but was quickly moved to a higher class when the school's chaplain took note of his intelligence.
One of the teachers described him as the student with the best handwriting in class and the best reading skills. He also attended Sunday school every week and the special evangelical services held monthly.
In 1948, in preparation for independence, Nigeria's first university opened known as University College, it was an associate college of the University of London.
It was during his studies at Ibadan that Achebe took notice on how European Literature presents Africans in a wrong light. That was when he read Joyce Cary's, Mr Johnson. From that day, Achebe set to present the actual image of Africa.
Achebe was admitted as a Major Scholar in the university's first intake and given the scholarship to study medicine; however, he abandoned it for English Literature as earlier stated above and has to pay for his tuition.
While in school, Achebe wrote "Polar Undergraduate, In a Village Church, The Old Order in Conflict with the New" and "Dead Men's Path" and other essays and letters about philosophy and freedom in academia.
After graduation, Achebe taught for a short time before joining the staff of the Nigerian Broadcasting Corporation in Lagos, where he served as director of external broadcasting in 1961–1966.
He also took an interest in world religions and traditional African cultures and since then, has taken it upon himself to enlighten Africans on their culture and ancestral heritage.
In 1967 he co-founded a publishing company at Enugu with the poet Christopher Okigbo, who died shortly in the Nigerian civil war for Biafran independence, which Achebe openly supported.
In 1969 Achebe toured the United States with fellow writers Gabriel Okara and Cyprian Ekwensi, lecturing at universities.
Upon his return to Nigeria, he was appointed research fellow at the University of Nigeria and became professor of English, a position he held from 1976 until 1981.
When the region of Biafra broke away from Nigeria in 1967, Achebe became a supporter of Biafran independence and acted as ambassador for the people of the new nation.
The civil war that took place over the territory, commonly known as the Nigerian Civil War, ravaged the populace, and as starvation and violence took its toll, he appealed to the people of Europe and the Americas for aid.
Achebe dressed in an African attire in 1988
His Journey to the Literary World
Achebe's journey to the Literary world started at his early stage. However, His novel Things Fall Apart announced him to the world.
Chinua Achebe made a splash with the publication of his first novel, Things Fall Apart, in 1958. Renowned as one of the seminal works of African literature, it has since sold more than 20 million copies and been translated into more than 50 languages. 
'Things Fall Apart, Arrow of Gods, No Longer at Ease, Anti-hill of the Savanna and A Man of the People' are regarded as his major works. No Longer at Ease (1960), Arrow of God (1964) and Anthills of the Savannah (1987).
However, there are so many other novels such as There was a Country, a story he wrote about the Biafran nation.
Achebe's books of essays include Morning Yet on Creation Day(1975), Hopes and Impediments (1988), Home and Exile (2000), The Education of a British-Protected Child (2009), and the autobiographical essays.
Achebe also published several collections of short stories and children's books, including "How the Leopard Got His Claws (1973), Chike and the River, Girls at War, Trouble with Nigeria, Marriage Is a Private Affair " among others.
Beware, Soul-Brother (1971) and Christmas in Biafra (1973). Don't Let Him Die (1978) are collections of poetry and so many others.
Achebe an African noble writer
His style of writing
Just as every literary artist's tool is language, Achebe's strong tool is his beautiful use of language to communicate with his audience.
Achebe is well known for the use of proverbs as a device for delineating his characters in many of his works. His style of writing draws heavily on the oral tradition of the Igbo people. The proverbs often illustrate the values of the rural Igbo tradition.
Achebe incorporate elements of the Igbo language into his novel. By incorporating Igbo words, rhythms, language, he goes a long way to bridge a cultural divide. This is in confirmation with his assertion that African writers to should write in English but an English that nears every attribute of African culture and tradition.
Achebe, in one of his essays, said: "His works are a new voice coming out of Africa, speaking of the African experience in a world-wide language."
Achebe frequently includes folk songs and descriptions of dancing in his works which are evident in Things Fall Apart and No Longer at Ease.
Artists such as Phanuel Egejuru have called his style of writing 'Achebeism'.
Achebe's novels approach a variety of themes; however, it is predominantly Igbo cultural identity, Culture and Colonialism, Masculinity and Feminism.
Achebe the father of African Literature
Awards and Recognition
Chinua Achebe's early work made him the father of modern African literature as an integral part of world literature and Africa's greatest storyteller.
Many books and essays have been written about his work over the past fifty years. In 1992 he became the first living writer to be represented in the Everyman's Library collection published by Alfred A. Knopf.
Achebe was the recipient of over 30 honorary degrees from universities in England, Scotland, Canada, South Africa, Nigeria and the United States, including Dartmouth College, Harvard, and Brown University.
.He was awarded the Commonwealth Poetry Prize, an Honorary Fellowship of the American Academy of Arts and Letters 1982.
In October of 1999, Chinua Achebe was awarded the thirty-second Saint Louis Literary Award, joining other previous winners such as Tennessee Williams, Eudora Welty, and Saul Bellow.
He was also awarded Foreign Honorary Member of the American Academy of Arts and sciences in 2002, the Nigerian National Order of Merit (Nigeria's highest honour for academic work), the Peace Prize of the German Book Trade.
Still, in 2002, Achebe won the Peace Prize of the German Book Trade, an international peace prize awarded by a foundation whose aim is to promote tolerance and understanding throughout the international community.
The Man Booker International Prize 2007 and the 2010 Dorothy and Lillian Gish Prize. He was appointed Goodwill Ambassador to the United Nations Population Fundin 1999.
A literary festival is celebrated in his honour, known as the Chinua Achebe Literary Festival.
Achebe and Nelson Mandela in one of his recognition and awards
The 60th anniversary of the first publication of Achebe's Things Fall Apart was celebrated at the South Bank Centre in London.
In December 2019, a memorial bust commemorating Achebe was unveiled at the University of Nigeria, Nsukka.
Nobel laureate Toni Morrison has noted that Achebe's work inspired her to become a writer and "sparked her love affair with African literature."
Even outside of Africa, his impact resonates strongly in literary circles. NovelistMargaret Atwoodcalled him "a magical writer – one of the greatest of the twentieth century."
Nelson Mandela recalling his time as a political prisoner, once referred to Achebe as a writer "in whose company the prison walls fell down" and that his work Things Fall Apart inspired him to continue the struggle to end apartheid.
His Demise
The father of African Literature was laid to rest on March 21, 2013, at age 82.
He was honoured all over the world and on his burial, the president of the country together with other government officials were there to bid him farewell.
Ikechukwu Achebe giving tribute during his father
I will like to end by saying despite his scholarly achievements and the global importance of his work, Achebe never received a Nobel Prize, which some observers viewed as unjust.
That didn't stop him to laud Soyinka's achievement when he won it.
In 1988 Achebe was asked by a reporter how he felt about never winning a Nobel Prize; he replied:
"My position is that the Nobel Prize is important. But it is a European prize. It's not an African prize ... Literature is not a heavyweight championship. Nigerians may think, you know, this man has been knocked out. It's nothing to do with that."