Cristiano Ronaldo biography, football career and rise to fame
Cristiano Ronaldo, popularly known as 'CR7' is a Portuguese professional football player.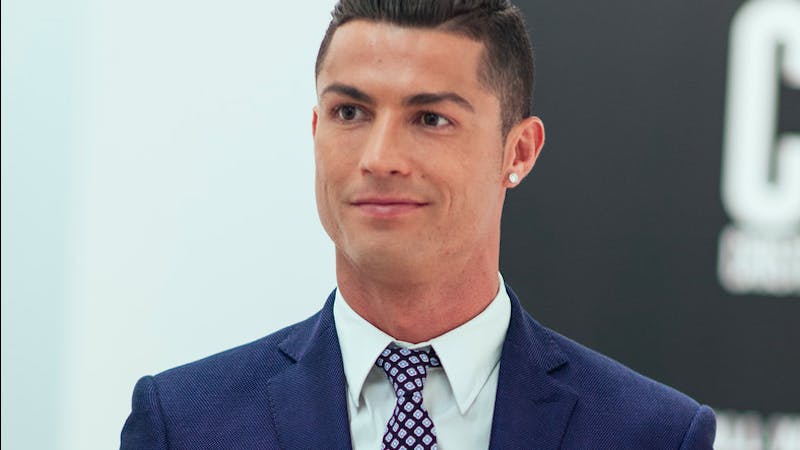 Cristiano Ronaldo, popularly known by his nickname 'CR7' is a Portuguese professional football player. He plays forward for Juventus (Italian club) and the Portugal National Team.
Early Life
Cristiano Ronaldo was born on 5 February 1985, in Madeira, Portugal, to Jose Dinis Aveiro and his wife Maria Dolores dos Santos Aveiro. His father was a gardener with the municipality while his mother worked as a cook. Ronaldo was the youngest child among four children; others being a son and two daughters.
Ronaldo was expelled from the school after he assaulted his teacher by throwing a chair at him. He had always been a keen footballer and by the time he was 14 years old, he decided to concentrate on becoming a professional footballer. Ronaldo had been playing for Andorinha since he was eight.
In 1995, Cristiano Ronaldo joined the club 'Nacional' located in his home town of Madeira and following his good show for them he joined one of the biggest clubs in Portugal, namely, 'Sporting CP' after clearing a trial.
Sports Career
Ronaldo earned his place in the youth team of Sporting CP at the age of 16, after he was promoted by the first-team manager. Ronaldo became the first sporting CP player to play in the under-16, under-17, under-18, B-team and the first team before finally graduating into the senior team in the year 2002.
He scored two goals in his league debut and announced his arrival on the big scene. His exploits for Sporting CP brought him into prominence and some of the biggest clubs in England like Liverpool, Arsenal and Manchester United started courting him.
Ronaldo's representative spoke with then-Liverpool boss Gerard Houllier and Barcelona president, Joan Laporta on signing him. Arsenal Manager also met with Ronaldo to discuss a possible transfer
Cristiano Ronaldo played in a UEFA Champions League against Manchester United, in 2003. Alex Ferguson was impressed by Ronaldo's performance in a 3-1 defeat of Manchester United in August 2003 and brought him to the club in the same year.
Cristiano Ronaldo played for Sporting Lisbon in his home country Portugal before making a club record switch to Machester United in 2003.
Manchester United
In his first season at Manchester United, Ronaldo scored three goals in the league and also scored in the FA Cup final to help the club win the trophy. A year after joining Manchester United, Ronaldo scored two goals in the European Championships for Portugal as the team ended runners up on home soil.
Cristiano Ronaldo became one of Manchester United's most important players during his six-year stint at the club and during that time the club became one of the most successful clubs in Europe as it won three league titles on the trot as well as the UEFA Champions League in 2008.
Ronaldo scored 84 goals for the club in 196 league games and became one of the best players in the world.
In the Champions League, Ronaldo inspired United to clinch Europe's prestigious tournament which earned him the UEFA club footballer of the Year Award. Ronaldo rounded off his time with United with the Ballon d'Or award, becoming the first Premier League Player to be named the FIFA World Player of the Year.
He also received the FIFA Puskas Award for best goal as well as winning the Premier League with United for the third time. Ronaldo claimed a total of nine trophies while at Manchester United.
Ronaldo Champions league at Manchester United
Real Madrid
In 2009, Cristiano Ronaldo became the most expensive player in the world after Spanish giant Real Madrid paid Manchester United £80 million to bring him to Madrid.
He scored 33 goals in his very first season. In the following season, he ended the Spanish league season with 40 goals, which became a record in the league's history and helped Real Madrid win the Copa del Rey.
In 2012, Cristiano Ronaldo helped Real Madrid win the Spanish league title and it proved to be his first league title with the club.
He scored 60 goals in all competitions in the season as Real Madrid cantered to the title with 100 points. He followed it up with a haul of 55 goals in all competitions the following season.
The seasons that started in 2013 was a particularly special one for Ronaldo as he scored a staggering 51 goals in the season and at the same time helped Real Madrid win their coveted 10th UEFA Champions League title.
In the Champions League, Ronaldo scored 17 goals that made him the highest scorer ever in a single season of the tournament. He has a total of 89 goals in the tournament overall.
Juventus
After rumours of an imminent move from Real Madrid, Ronaldo secured a 100 million Euros transfer to Juventus which also included an additional 12 million euros in fee and contributions to Ronaldo's youth club.
His transfer was the highest for a player above 30 years old. Ronaldo attributed his move to Juventus to the need for a new challenge, but later said he opted for a transfer due to a lack of support from the club president.
He debuted for Juventus in a Serie A goal against Chievo on August 18, 2018. In his first champions league appearance for Juventus, he was sent off due to violent conduct.
Ronaldo celebrates his first goal for Juventus.
Achievements and Awards
Cristiano Ronaldo's Trophy Cabinet
Below is a list of Cristiano Ronaldo's trophy cabinet, a list of all the trophies he has won in his career so far.
Premier League (2006-2007, 2007-2008, 2008-2009)
FA Cup (2003-2004), Football League Cup (2005-2006, 2008-2009)
FA Community Shield (2007)
La Liga (2011-2012, 2016-2017)
Copa del Rey (2010-2011, 2013-2014)
Supercopa de Espana (2012, 2017)
UEFA Champions League (2007-2008, 2013-2014, 2015-2016, 2016-2017, 2017-2018)
UEFA Super Cup (2014, 2017)
FIFA Club World Cup (2008, 2014, 2016, 2017)
UEFA European Championship (2016)
UEFA Euros (2016)
Cristiano Ronaldo's Individual Awards
FIFA Ballon d'Or (2008, 2013, 2014, 2016, 2017)
UEFA Men's Player of the Year (2013-2014, 2015-2016, 2016-2017)
Champions League Forward of the Season (2017-2018)
UEFA Club Footballer of the Year (2008)
Barclays Player of the Year (2006-2007, 2007-2008)
PFA Young Player of the Year (2006-2007)
PFA Player of the Year (2006-2007, 2007-2008)
La Liga Best Player (2013-2014)
La Liga Best Forward (2013-2014)
La Liga Most Valuable Player (2012-2013)
Ronaldo's with his Ballon d' Or award
Family and Personal Life
Ronaldo gave birth to his first child in 2010, the identity of the child's mother is unknown. It is unclear if he was involved in a relationship or if the child was given birth to via surrogacy. In 2017, he became a father to twins daughter Eva and son Mateo. He once dated Irina Shayk and they separated in 2015 when he starts dating Georgina Rodriguez who he later engaged to become his fiancée.
Ronaldo is known to be a philanthropist. In 2004, he visited Indonesia to raise funds for rehabilitation and reconstruction after TV footage showed a boy whose parent had been killed in the 2004 Indian Ocean earthquake and tsunami, and had been stranded for 19 days.
In 2012 he and his agent paid for the treatment of a nine-year-old Canarian boy with terminal cancer. He sold his 2011 golden boot for 1.5 million euros to fund schools in Gaza. In August 2016, he launched the CR7Selfie app, a selfie app for a charity to aid Saving of children.
Irina Shayk Ronaldo's girlfriend
Ronaldo's Net worth
Ronaldo's net worth is currently estimated at a massive sum of $400 million USD. His net worth is boosted by his investments and endorsement/sponsorship deals with Herbalife, EA Sports, Tag Heuer, American Tourister, and Tag Heuer, to mention a few. His salary as of 2019 is €31 million EUR.