Lionel Messi football career, biography and rise to fame
Lionel Andres Messi is an Argentine international player who currently plays for FC Barcelona and one of the world's best players.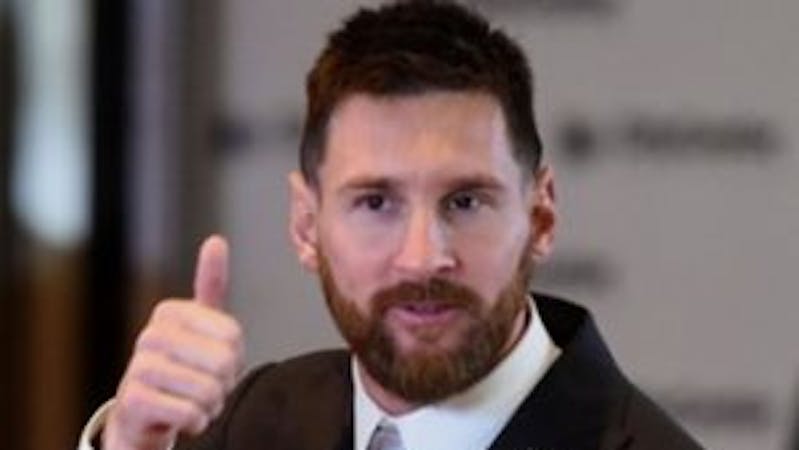 Lionel Andres Messi is an Argentine international player who currently plays for FC Barcelona and one of the world best players.
Early years
Lionel Messi was born to Jorge Messi and Celia Cuccittini in Rosario, Santa Fe Province. He has three siblings, two elder brothers Rodrigo and Matias, and a sister, Maria Sol.
His father was a factory steelworker, and his mother employed as a part-time cleaner. From his father's side, this player is of Italian and Spanish descent whereas, from his mommy's hand, he has Italian.
At the age of five, Messi started playing for the Grandoli, a local club coached by his father. By the time he turned eight, he was playing for Newell's Old Boys.
The group was immensely talented, which is visible from the fact that they lost just a single match in the next four years. It was their sheer interest and talent for the game that made the group popularly known as "The Machine of '87'".
Unfortunately, Messi was diagnosed with a growth hormone deficiency when he was eleven. Despite being immensely talented, he was not offered help by the local clubs, who were not willing to pay for his treatment.
It was at this juncture that Carles Rexach, the sporting director of FC Barcelona, came to his aid. He promised to offer help to Messi by paying for his medical bills only if the latter moved to Spain. Messi then enrolled at Barcelona's youth academy.
Messi at Newells Old Boys
Messi's Road to Fame
Messi's career kick-started in the year 2000 when he played for the junior ranks. Within a short span, he became the only player to play for five different teams.
Messi progressed through the ranks of Barcelona's junior team leading to his move to the senior team at the age of 16. His excellence at the game was visible from the fact that Messi quickly moved through the junior ranks to make a league debut on October 16, 2004, against RCD Espanyol.
His first goal came the following year on May 1, 2005, against Albacete. He created history by being the youngest to ever score in a La Liga game for Barcelona. His remarkable performance earned him the friendship of Barcelona's star Ronaldinho, who helped him have a smooth transition into the first team.
Lionel Messi relationship with Ronaldinho
He received Spanish citizenship in September 2005, which finally made it possible for Messi to make a debut in the Championship League.
Messi's first outing at the Champions League was against Italian club Udinese. Though he entered the field as a substitute, he had some fantastic ball combinations with Ronaldinho, the two sharing good chemistry with quality balls, runs and devastating trickery.
Out of his 17 league appearances, Messi managed to strike six goals. However, a muscle tear in his right thigh led to his premature exit from the league, which Barcelona eventually won as champions of Spain and Europe.
In the 2006-07 season, Messi was no longer the substitute. He found himself listed in the eleven-member squad. In the 26 outings, Messi successfully netted the ball fourteen times, even scoring a hat-trick in El Clasico, thus becoming the youngest player ever to have scored in this fixture.
Messi's action for scoring the goals was way too similar to Maradona's, which resulted in fans labelling him as 'Messidona'. For one of the goals, he ran about the same distance, 62 metres (203 ft), beat the same number of players (six, including the goalkeeper), scored from a very similar position, and ran towards the corner flag just as Maradona did against England in 1986 World Cup.
Messi employing different football tricks and techniques.
February 27, 2007, saw Messi play his 100th match for Barcelona against Valencia CF. in the Champions League, Messi scored six goals and provided one assist before his premature exit due to muscle tear.
It was the fourth time in three seasons that Messi suffered this type of injury. Overall, Messi had managed to score 16 goals and assisted 13 times in all competitions.
2009 was a successful year for Messi as he not only won his first Copa del Rey but helped his team win La Liga and finally the Champions League. With three victories by their side in a single year, Barcelona became the first-ever Spanish club to win the treble. Messi scored hat-tricks quite a couple of times as well. He ended the season with a total of 38 goals and 18 assists in all competition.
Before the year-end, Barcelona had recorded another win at the 2009 Club World Cup beating Estudiantes, thus totalling their title won in the year to six.
2010 was a year of hat-tricks for Messi as he scored against CD Tenerife, Valencia CF, Real Zaragoza, thus becoming the first Barcelona player to score back-to-back hat-tricks in La Liga. In a second-leg champions league match against Arsenal, at Camp Nou, Messi scored four goals to help Barcelona see off Arsenal who had won it 2-1 at the Emirates Stadium. The year ended with Messi scoring 47 goals and 11 assists in all competitions.
In the 2010 Copa del Rey final, Barcelona faced their arch-rivals Real Madrid. Though the defending champions lost their game to Real Madrid, Messi was, however, the joint top-scorer of the tournament along with Cristiano Ronaldo, with seven goals.
As for the Champion's League, Barcelona beat Real Madrid 2-0 in the Semifinals, with Messi scoring both the goals. In the finals too Messi scored the winning goal to give Barcelona their third title in six years and fourth overall. Messi finished the 2010–11 season with 53 goals and 24 assists in all competitions combined.
Achivements and Awards
In 2008, he came second in the Ballon d'Or and FIFA World Player of the Year Award. He However won the Ballon d'Or and FIFA Player of the year in 2009, at the age of 22. That season Messi had a successful campaign, winning the second consecutive La Liga title.
In 2010, Messi won the inaugural FIFA Ballon d'Or despite his failure at the 2010 FIFA World Cup. Messi finished the 2010–2011 season as Barcelona's all-time single-season highest scorer and the first player in Spain to pass the 50-goal benchmark.
Thanks to his wonderful performance, Messi created a reputation for himself as a creator (no. 8), a scorer (no. 9) and an assistant (no. 10). He received the 2011 FIFA Ballon d'Or award as well as the inaugural UEFA Best Player in Europe Award. Due to his numerous achievements, Messi was regarded as one of the best in the history of the game.
Messi's incredible form continued, in 2012, he was bestowed with the Guinness book of record title for most goals scored in a calendar year as well as the FIFA Ballon d'Or Award. In 2015 and 2019, he has won Ballon d' Or. Messi has won the prestigious Ballon d'Or six times.
Lionel Messi FIFA Ballon-d' OR
Messi has on a number of occasions won awards in the young player of the year category. Some of them are World Soccer Young Player of the Year, FIFPro World Young Player of the Year and Copa America Young Player of the Tournament.
Messi has in his kitty 20 Player of the Year awards including FIFA World Player of the Year (1), World Soccer Player of the Year (3), Goal.com Player of the Year (2), UEFA Best Player in Europe Award (1), UEFA Club Footballer of the Year (1), FIFA U-20 World Cup Player of the Tournament (1), La Liga Player of the Year (3), La Liga Foreign Player of the Year (3) and La Liga Ibero-American Player of the Year (5).
For his knack of netting the ball to the goal, Messi has been awarded as the top goalscorer on numerous occasions. Some of them include IFFHS World's Best Top Division Goal Scorer, IFFHS World's Top Goal Scorer, UEFA Champions League Top Goalscorer, FIFA U-20 World Cup Top Goalscorer and Copa del Rey Top Goalscorer.
Messi was honoured with the European Golden Shoe thrice in 2010, 2011 and 2012. He won the FIFA Club World Cup Golden Ball twice in 2009 and 2011. He was tagged as the European Golden Boy in the year 2005.
He was part of the Argentine football national team that won the gold medal in the 2008 Summer Olympics.
Personal Life
He began his relationship with his wife whom he had known since the age of 5, at the age of 20.
Messi was first seen with his wife Roccuzzo at a carnival in Sitges after the Barcelona-Espanyol derby. A fellow native of Rosario. After several years of being in a relationship with Roccuzzo, he married her on 30 June 2017. Their wedding was held at a luxury hotel named Hotel City Center in Rosario.
They gave birth to their first son Thiago in 2012, their second Mateo in 2015 and last Ciro in 2018.
Lionel Messi and Antonella Rocuzzo as a husband and wife.
Lionel Messi Net Worth
Messi's net worth is currently estimated at $400 million USD. His net worth is boosted by investments as well as endorsement and sponsorship deals with Adidas (lifetime permanent deal)
Philanthropy
Messi established the Leo Messi Foundation, a charity supporting access to education and health care for vulnerable children in 2007. This was in response to Messi's own medical ailments that he faced as a child.
The foundation works towards providing children diagnosed with illnesses treatment in Spain funds covering the transport, hospital and recuperation costs. Most of the funds collected by the organization are through Messi's own effort with a little aid by Herbalife.
Messi was the goodwill ambassador for UNICEF in 2010. He worked towards supporting children's rights
In 2013, Messi donated a sum of €600,000 for the restoration of a children's hospital by the name Victor J Vilela Children's Hospital, in his hometown of Rosario, Argentina. The donated amount was basically used in restoring the oncology unit of the hospital and paying for doctors to travel to Barcelona for training.