BBNaija 2021: Maria's Biography and life
Meet Maria Chike Agueze, a housemate in the 2021 big brother show. BBNaija Maria is a bi-racial Nigerian. She was an air hostess before opting for the big brother Naija reality tv show.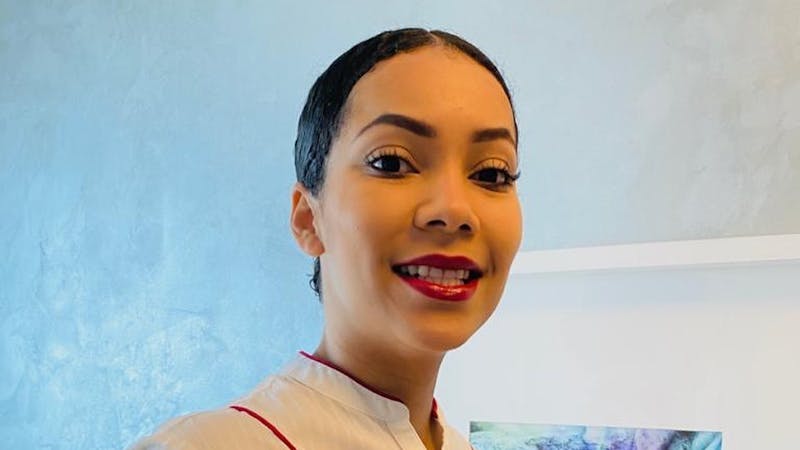 Maria Chike Agueze is among the 22 housemates in the Big Brother Naija show. BBNaija Maria described herself as kind-hearted and loving.
BBNaija Maria promised to bring variety and fun to the big brother house; she also promised to spice up the show by making all the boys fall in love with her.
BBNaija 2021 season 6 (Shine ya eye): BBnaija's Maria's biography

| | |
| --- | --- |
| | |
| | |
| | |
| | |
| | |
| | |
Family, early life and background of BBNaija Maria
BBNaija Maria was born in 1992 to a Nigerian father and a white mother; BBNaija Maria is bi-racial but insists she is a regular Nigerian. BBNaija Maria's father originates from Imo state. Thus, she is of Igbo and white descent.
BBNaija Maria grew up with vast experience stretching different continents; she sees herself as an adventurous girl with no dull moment.
BBNaija Maria's education
BBNaija Maria spent most of her adult life in the United Kingdom. BBNaija Maria completed both high school and college education in the UK.
BBNaija Maria secured her high school certificate from Trinity High School, MANCAT college, United kingdom. She also studied at City College, Manchester, where she read performing arts. BBNaija Maria later enrolled in the University of Salford, United Kingdom, where she obtained a B.A. in communication.
BBNaija Maria's career
BBNaija Maria started her adult career while in the United Kingdom. BBNaija Maria was involved in active administrative roles from 2006 to 2012.
In 2006, BBNaija Maria worked in Grosvenor Casinos as the front of house representative, which she held until 2011.
In 2012, BBNaija Maria was an Administrative Assistant in Goderough college, United Kingdom. BBNaija Maria has worked as human resources assistant in KBC financial services, inc.
At some point in her career, BBNaija Maria served as a personal assistant to the Chief executive officer of Deloitte, United Kingdom.
BBNaija Maria worked with Emirates Airlines as an air Hostess. BBNaija Maria later quit her role with Emirates Airline to focus on real estate.
Before joining the big brother Naija show, BBNaija Maria was working as a realtor in Dubai.
BBNaija Maria's personality
BBNaija Maria believes she is a loving, fun and kind-hearted person. During an interview with Big brother, she disclosed that she used to be a confrontational character but has learnt to be calm.
BBNaija Maria sees herself as a go-getter. She also claims her friends say she is crazy, though in a loving way.
BBNaija Maria stated that she would never fight because of a man while in the big brother house. She also disclosed that people like her because she is real and they think she is funny.
BBNaija spent most of her life in the UK.
BBNaija Maria's hobbies and dislikes
BBNaija Maria loves the thrill and adventures that come with travelling. BBNaija Maria has worked as an air hostess. The job allowed her to travel around the globe. BBNaija Maria has travelled to all continents excepts Antarctica.
BBNaija Maria describes herself as the person that will always mind her business when a fight breaks out in the house. She also sips red wine to calm herself down on a moody day.
According to BBNaija Maria, she has no love for the 'crazy and over Sabi people'.
BBNaija Maria's relationship
BBNaija Maria has not stated if she was dating anyone outside the big brother Naija house. BBNaija Maria is single. The big brother house comes with twists, trysts and triangles; thus, she might fall in love while in the big brother house.
BBNaija Maria's net worth
BBNaija Maria had a successful career in administrative and hospitality capacities. BBNaija Maria now has a career in real estate, selling properties in Dubai.
With the above opportunities and career, BBNaija Maria has an estimated net worth of about $20,000.
The Big brother Naija wildcards
Season 6 of the big brother Naija show came with a twist. Big brother unveiled 22 housemates but revealed that amongst them are two fake housemates or wildcards.
Big brother made it known that the housemates must find out who these wildcards are and report to him.
According to him, if the two wildcards are revealed, they will both be evicted from the house, but if the housemates fail on this mission, then the two wildcards will continue with the show and contest for the ultimate prize.
The wildcards also have the power to nominate the housemates that will exit the house in their place.
On Thursday, 28th July 2021, BBNaija Maria and Pere were revealed as the two wildcards. As of press time, the housemates have not figured out who the two wildcards are.
Clacified will keep updating this article. Stay tuned.