Bishop Kukah, the newly appointed member of the Vatican congregation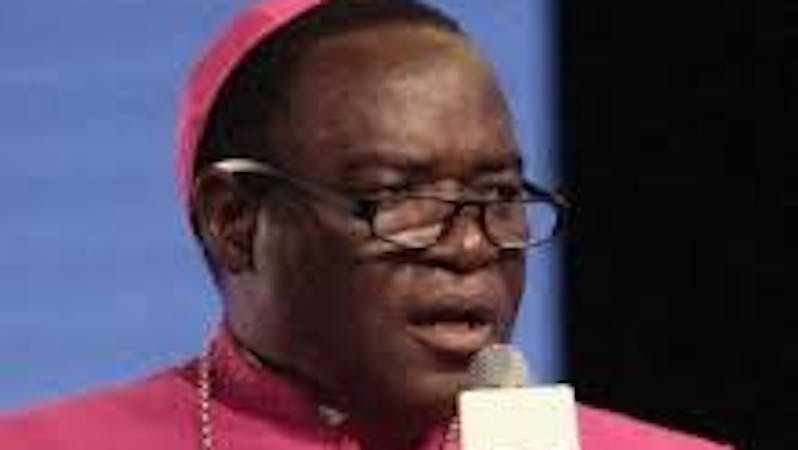 Bishop Matthew Hassan Kukah is the current Bishop of the Roman Catholic Diocese of Sokoto in northern Nigeria. Bishop Kukah was born on August 31, 1952, in Anchuna, Ikulu Chiefdom in Zangon Kataf local government area of Kaduna State.
He proceeded to the seminary immediately after his primary education and was ordained a priest on December 19, 1976, and ordained Bishop on September 8, 2011.
Bishop Kukah's Educational Qualifications
Bishop Mathew Kukah received his primary education at St. Fidelis Primary School Zagom, then St. Joseph Minor Seminary, Zaria, before proceeding to St. Augustine Major Seminary Jos, Plateau State, where he studied Philosophy and Theology.
Bishop Kukah also attended the University of Ibadan, where he obtained a diploma in Religious Studies. Bishop Kukah received a Bachelor of Divinity from the Urban University Rome in 1976, followed by a Master's degree in Peace Studies from the University of Bradford, the United Kingdom in 1980.
He was a Senior Rhodes scholar at St. Antony's College (2001-2003), Oxford, and a Mason Fellow at the John F. Kennedy School of Government, Harvard University, where he earned a Master's Degree in Public Policy.
Bishop Kukah's academic pursuits culminated in a PhD from University of London's School of Oriental and African Studies (SOAS) in 1990.
Bishop Kukah also worked as a parish priest of Saint Andrews's parish in Kakuri, Kaduna from 2004 until he was nominated bishop.
Bishop Kukah's service to God and humanity
Bishop Mattew Hassan Kukah has served in many capacities both in the church and in public offices.
Between 1999 and 2001, he served as a member of the Nigerian Investigation Commission of Human Rights Violations. He also worked as a parish priest of Saint Andrews's parish in Kakuri, Kaduna, from 2004 until he was nominated bishop.
He was the presidential facilitator in 2005 who negotiated an end to the hostilities between Shell Petroleum Development Company and the Ogoni people.
He also served on a committee set up by the Northern Governors to examine Boko Haram's crisis. He is Chairman of the Interreligious Dialogue Committees for both the Bishops' Conferences of Nigeria and West Africa. He is a Member of the Pontifical Council for Interreligious Dialogue, Vatican City.
Additionally, between 2007 and 2009, he worked also in the committee for electoral reform set up by the Nigerian government.
Bishop Kukah, now a member of Vatican Congregation
There is an adage that says that the reward of good work is more work. Bishop Kukah of Sokoto Diocese is well known for his unrelenting labour to God and humanity, as listed above.
In reward of all his hard work, Pope Francis appointed him a member of the Vatican Congregation for promoting integral Human Development.
This appointment ushers Bishop Kukah the right to join other renowned members from different regions of the world to advise the pope.
This appointment also means Kukah will also take an active role in promoting the Pope's concerns on justice and peace, human rights, human trafficking, care of creation, and other human dignity development issues.
This recent appointment by Pope Francis is added to other appointments that have been issued to Bishop Kukah in the Vatican city. In 2016, Kukah was nominated by the Vatican to represent Africa on the Advisory Board of the Vienna-based King Abdulazeez International Interfaith and Intercultural Dialogue (KAIICID).
Bishop Kukah was first appointed as a Consultor and later a Member of the Pontifical Council for Inter-Religious Dialogue, Vatican City and served under three Popes.
Kukah is Chair of the Dialogue Committees of Regional Episcopal Conference of West Africa (RECOWA) and the Nigerian Catholic Bishops' Conference.
He was a member of the Vatican's delegation that met with Qatar Emir when Qatar opened diplomatic relations with the Vatican in 2002.
The recent appointment by the Pope has added to a series of appointment Bishop Kukah is handling in the Vatican city.
The recent appointment by the Pope has added to a series of appointment Bishop Kukah is handling in the Vatican city.
Bishop Kukah, an Agent of Truth
Bishop Hassan Kukah is known for calling a spade a spade. He doesn't know sweet tongue or sugar coat words. He says things bluntly as they appear. Bishop Kukah has been dragged on many occasions over his sermon.
Recently, the Muslim Coalition groups have been threatening the Bishop over his Christmas message titled A Nation in Search of Vindication.
In his Christmas message, Bishop Kukah stated that nepotism is the order of the day in Nigeria as he also questions the president on what plans he has for this nation.
The message read in parts as quoted by International Catholic News:
"This government owes the nation an explanation as to where it is headed as we seem to journey into darkness. The spilling of blood must be related to a more sinister plot that is beyond our comprehension.
Are we going to remain hogtied by these evil men, or are they gradually becoming part of a larger plot to seal the fate of our country?
Every honest Nigerian knows that no way any non-northern Muslim President could have done a fraction of what President Buhari has done by his nepotism and got away with it. There would have been a military coup a long time ago, or we would have been at war."
The coalition of Muslims groups has said the bishop should apologise for his message or leave Sokoto. The Sultan of Sokoto also tackled Bishop Kukah, insisting that his message is a direct attack on Islam.
However, Bishop Kukah has responded to the Muslim groups by saying that if any of them can point out any part of his message that is an insult or attack to Islam, he will render an unreserved apology.
The Benue state Governor also described the Muslim groups' threat as the country's height of lawlessness. The Christain Association of Nigeria CAN has warned the Muslim group to see that nothing happens to Bishop Kukah.
Bishop Kukah, during the wake mass for Archbishop Peter Yariyock Jatau at St. Joseph's Catholic Cathedral in Kaduna, also lambasted Nigeria officials. He once said he was not a happy Nigerian during his new year sermon.