Simisola Ogunleye: Biography and life of the Nigerian afro-pop singer
Simi is a Nigerian Afro-Pop Singer, Songwriter, and Sound Engineer. She is one of the most talented singers of her time; her songs are played on local and international radio stations, and she is a multiple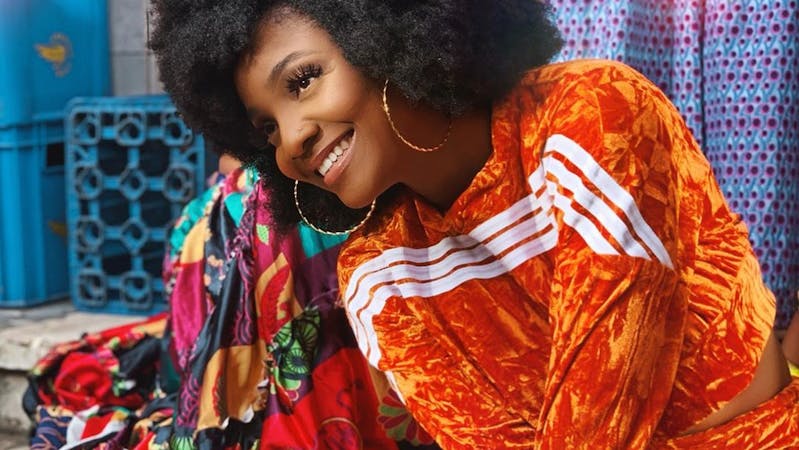 Simi is a Nigerian Afro-Pop Singer, Songwriter, and Sound Engineer. She is one of the most talented singers of her time; her songs are played on local and international radio stations, and she is a multiple award winner.
Simisola Ogunleye

19th April 1988 (age 32)

Ojuelegba, Surulere, Lagos, Nigeria

Singer

songwriter

sound engineer

actress

Afropop

soul

alt-rock

world

R&B
Simi's Family, Parents, State of Origin and Background
Simi's real names are Simisola Ogunleye. She was born in Ojuelegba, Surulere, Lagos State, and is the last of the four children of her parents. Her parents separated when she was nine years old.
Simi attended Stars International College, in Ikorodu, Lagos State, after which she went to study mass communication at Covenant University.
Simisola performing on a stage with what appears to be a baby bump
Early Career of Simisola Ogunleye
Simi released her debut studio album 'Ogaju' in 2008. Ogaju was produced by Samklef. Some of the hit songs in the collection are Iya Temi and Ara Ile.
X3M Music signed her in 2014. Simi has released several hit songs like Tiff, Jamb Question, Love Don't Care, Smile For Me. She has also featured in several hit records like:
Soldier with Falz
No Forget with Adekunle Gold
Orire with Legendary Beatz and a few others
Simi debuted 'Jamb Question' (her second album) in 2016. She just released her 3rd studio album 'Omo Charlie Champagne' on the 19th of April 2019.
The album is slightly different from her typical afro-centric kind of songs. It is a mixture of a sentimental ballad, Afropop, Afro-fusion, Afro-soul, R&B, EDM and moombahton.
She featured other musicians like Patoranking, Maleek Berry, Falz, and her husband Adekunle Gold in Omo Charlie Champagne.
Oscar produced the album with contributions from Vitek, Legendary Beatz, and Sess. Simi dedicated the album to her late father Charles Oladele Ogunleye, who died in 2014.
Before the release of Omo Charlie Champagne, Vol. 1, she debuted three singles:
Simi is a Nigerian Afro-Pop Singer, Songwriter, and Sound Engineer.
Simi the Studio Brat
Simi's contract with X3M Music expired on May 2019, and she didn't renew the deal as she had plans of launching her label. Accordingly, Simi announced the launch of her independent record label – Studio Brat in June 2019.
Simisola, with her husband Adekunle gold.
Simi's Endorsement Deals
Simi was endorsed by Etisalat and Opera Mini as the brand ambassador of both companies in 2017 and 2018 respectively. These endorsements were worth millions, so it was not only a boost to her career, but it also increased her popularity and her net worth.
Simi's Studio albums
Ogaju – 2008
Simisola – 2017
Omo Charlie Champagne, Vol. 1 – 2019
Quotes by Simi
"We're distracted so easily. You go wherever the wind blows.
We know we have problems, but we get carried away by the things that will add zero value to our lives.
Who will value you if you refuse to persistently fight for it."
"African culture, black people culture is so beautiful.
We have the most fun, share the magic with the sun, make amazing music (all these incredible genres), have the biggest laughs, have weird parents that love us – we're not perfect at all, but we're so…"
"You're not paying attention to the details in your life cos you're being obsessed with social media.
And it's really not even worth it cos twitter's not the same anymore.
Everything's different. So put ya phone down and mind the business that actually pays you."
"Life is short. Enjoy your life.
Don't spend half of it worrying about what you don't have, so you won't have to spend the other half regretting not enjoying what you have."
"So the problem is not just with the teachers; it's sometimes the misplacement of priorities.
The inadequacy of the educational system to cater to the diversity of the human mind."
"We're the problem, we're also the solution. We have highly underestimated the power and impact of a good image, and it's catching up to us.
Plus, the change is not just the government, it's all of us. We're getting left behind."
"I know men go through sexual assault too! I acknowledge it, but women and children are more vulnerable.
Let's fight for and protect the most vulnerable in society."