Nigeria gospel artists: Top 5 most celebrated gospel musicians

By Tochi Juliet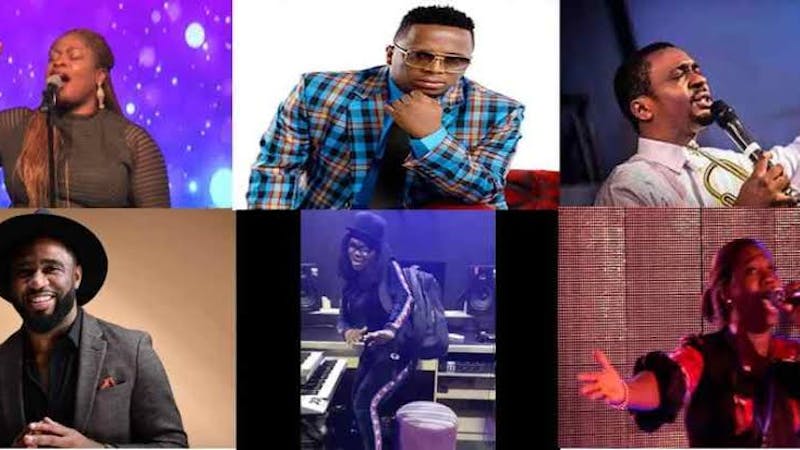 Nigerian gospel music has been making waves in the global gospel music industry recently. Here, we look at the top 5 most popular Nigerian gospel artists.
In the past decades, there was a decline in gospel music in the country. Secular music was the order of the day. This, I assume, was because most gospel musicians sang in their native tongues, thereby making secular music trend more.
However, there is a shift in the recent age through the rise of Pentecostal churches, which gave way for Pentecostal worships. Pentecostal worship cleared a path for many gospel musicians.
These gospel musicians are celebrated both locally and internationally. Their music meets international standards, and some have collaborated with some foreign gospel artists.
Here are the top 5 most celebrated popular gospel artists in Nigeria
Sinach
Sinach is one of the top 5 most popular Nigerian gospel artists. She started singing as a hobby in 1989.
Sinach is a Nigerian gospel musician who has won several awards in recent times. She is also a songwriter, a noble vocalist and an international worship leader.
One won't be exaggerating by saying her songs are in every Nigetiabhime, and Nigerian churches word wide.
Sinach has always been a music lover right from her tender age. She took singing to be her hobby and started singing in 1988. Not only that, she began writing songs from the age of 19. . At the time, she was just a member of the church choir who had no idea that she would go global with her music one day.
Minister, Sinach worked as an administrative staff at the Believers Loveworld Church. Pastor Chris Oyakhilome helped her commence her music career by asking her to lead the worship session before he teaches.
Pastor Chris also encouraged her by speaking words of affirmation which boosted her confidence. These words made her believe in herself. Sinach later released her first official album in 2008.
Sinach, one of the celebrated Nigerian gospel musicians today, has written over 200 songs and has equally won many awards globally.
She has gone across the world to perform in many music concerts, including Kenya, Dominica, South Africa, United States, Canada, Antigua and Barbuda, Trinidad and Tobago, Jamaica, Grenada, Uganda, Barbados, The British Virgin Islands, Zambia, Saint Maarten, the United Kingdom, and India.
Sinach is one of the most celebrated gospel musicians. She is considered the best female gospel artist in Nigeria. Her songs minister healing, hope, and encouragement.
Recently, YouTube gave her a plaque as she joined the small list of Nigerian who have over 1 million subscribers on her channel.
Mercy Chinwo
Chinwo is a top celebrated Nigerian gospel artist. She started from the children's choir at age 8.
Mercy Chinwo is a Nigerian well-known gospel singer and songwriter. She started singing from her tender age, at the age of 8. She joined the children choir at the age of 8, and in 2012, she came to the spotlight after she contested for the talent show Nigeria idol and emerged as the winner.
Mercy Chinwo was born on September 5, 1990, in Port Harcourt, River state. Mercy's father died while she was still young. However, Mercy was able to fend for herself and her siblings. This equally made her take her music career severe from the beginning.
From children's choir, mercy later moved into an adult choir and was made the music director of her local church. She also sings as a supportib\ve singer to artists likeSammie Okposo, Joe Praize, Buchi, Chris Morgan and Preye.
Mercy Chinwo took her music career serious from the inset as she participated in many musical converts until she found Nigerian Idol, which announced her to the world.
She participated in season 2 of Nigerian idol and emerged as the winner. Her breakthrough in music started at that juncture.
In 2015, she released her debut single Testimony (2015) and subsequently Igwe (2016). On February 20, 2018, Mercy released her debut studio album, The Cross: My Gaze.
Mercy is known for her single Excess Love, which projected her to the limelight. The song earned her national and international recognition and sealed her status as one of Nigerian Gospel music's best vocalists.
Ever since Mercy Chinwo released her single, excess love, she has been waxing strong in Nigerian gospel music. The list of top 5 gospel musicians cannot be mentioned without mentioning Mercy Chinwo.
Eben
Eben is one of the top 5 most popular Nigerian gospel musicians. He became a member of Christ Embassy founded by Pastor Chris Oyakhilome in 2016
Emmanuel Benjamin, professionally known as Eben, is a well-known gospel artist and music minister in Nigeria.
Eben was born into a Christian family of six in Lagos, where he was Aldo raised. He attended Orile Primary school and community Grammar School, Orile in Lagos.
Eben ventured into singing in 1897 and was mentored by his elder brother as a rapper. However, he later discovered God is calling him in the area of gospel music.
In 2005, Eben made a public appearance at a youth conference where he sang and performed his song 'Imaramma' for the first time. The performance brought Eben to the limelight.
In 2006, Eben was a member of the Christ Embassy founded by Pastor Chris Oyakhilome. Just a year after joining Pastor Chris Christ Embassy Church, Eben released his first album, "On the Rock", which includes songs like "Imaranma", "God Dey", "Iwo Nikan", "I Don Hammer", and other tracks in 2007.
Frank Edward
In 2016, he collaborated with famous American gospel artiste, Don Moen on an album "Grace"
Frank Edwards, born Frank Ugochukwu Edward, is a renowned Nigerian gospel artist. He was born into a family of seven in Enugu state.
His love for music started at a tender age when his father taught him how to play the piano. In his teenage years, he is already a hood Christian and a believer.
Frank Edward is a member of Christ Embassy, a church pastored by Pastor Chris Oyakhilome. He is also a keyboardist and a presidential band of the same church.
Frank Edward can be considered to be a tenor singer. He is well recognised for his pitched voice. Besides being an artist with many songs that cover various musical genres, he is also a music producer and a master mixer.
He owns Rock town records. The record helps nurture young talents, including Gil Joe, King BAS, Divine, Nkay, Soltune, David and others.
In 2016, he collaborated with famous American gospel artist Don Moen on the album "Grace."
Nathaniel Bassey
Nathaniel Bassey started his music ministry in 1993
Another Nigerian gospel artist that is quite popular is Nathaniel Bassey. Nathaniel Bassey is of the known voices in Nigeria gospel music.
He is a gospel musician, songwriter and music producer. Nathaniel Bassey was born into the family of Mr and Mrs Bassry in Lagos state. He is a native of Ofon Ikono, Akwa Ibom but resides in Lagos.
His father, Mr Joshua Bassey, was a respectable pastor in the apostolic church do Nathaniel Basset grew in a very strong Christian family.
Nathaniel Bassey started his music ministry in 1993. He grew up listening to lots of instrumentals, highlife, Jazz, Rex Lawson, Louis Armstrong, Dizzy Gillespie, Miles Davies, etc.
From his young age, Nathaniel Bassey had the ambition of becoming a super jazz musician doing Afrocentric, jazz and highlife. He always plays jazz with his trumpets at night clubs and parties as a result of his ambition.
However, the dance changes when he became born again and encountered Christ. It stopped being about the music, and it became all about knowing God, with the music as an avenue to show forth God's love.
In 2017, Nathaniel pioneered an online worship challenge tagged #halleluyahchallenge. The movement got so big even secular colleagues joined in.
Nathaniel Bassey is one of the top Nigerian most celebrated gospel artists.