COVID-19 is the fulfilment of Fr Mbaka's prophecy - Adoration ministry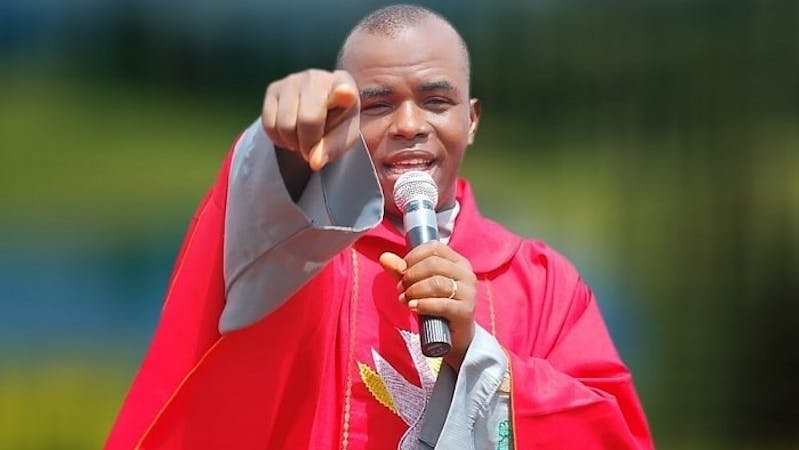 This report was contained in the ministry's official news bulletin, and made available to Daily Post through the spokesman, Barr. Maximus Ugwuoke.
He specifically said that Fr. Mbaka made prophecies on the pandemic while delivering separate messages on 24th June and 8th July 2015.
"The present death and hunger which the COVID-19 pandemic has thrown the world into were prophesied by Fr Mbaka five years ago, in the year 2015 precisely, on 24th June and 8th July 2015 in his video messages titled "Disaster is coming" and "Pray against Death and Famine" respectively.
Fr Mbaka and the worshippers in the church that day shed tears as Fr Mbaka delivered the message. Below were his exact words:
"Listen to this message, a time of death and famine is about coming. I am on my knees pleading with anyone listening to this message to start taking care of the much or little you have now. Don't think that it will continue to be well this way.
"The night is about to come at noon. Death and hunger are about entering the land. Please whoever will listen to this message I plead that you begin to manage well what you have.
"Don't think that this favourable time will continue like this. A season is coming; it will be like darkness in the day time. Death and famine are coming to hit the land. But I cover the children of God with the blood of Jesus.
"Heavenly Father, we pray for Divine solution. Once more, during the visitation of the Ebola Epidemic, You gave us the Divine Solution. You attacked Ebola by Yourself. The hour has come again. There is another horrible vision of mass death, death in quantum with horrible famine."
He continued by saying, "What is coming is a respecter of nobody. It is going to attack A and B. It will try to reach the' Z', but I know that God will not allow it to destroy all. When this season we are prophesying would come, many are going to be beggars in families that are doing well. Many that were lenders are going to be borrowers
"The land is getting hotter and hotter. All over the land, the North, South, East and West will hear the sound.
"At that season that is revealed, people will be afraid to go to church. The offering basket will be empty, and priests and pastors will be hungry. People will be looking for pastors and priests to preach to them. A horrible time is coming.
"What is coming may defy every human solution, every political solution, every military solution. America cannot find a solution over it. Do charity, do charity fast. Go to the sanctuary, remain in the Blessed Sacrament in the Chapels, pray and pray and pray. Only God can avert this disaster that is coming.
"If you shall help those that you are better than, if the rich should remember the poor it will save us. If this is not done the rats and lizards will be on the run. That person that is thinking that he is rich today is not sure if he would be alive to enjoy that wealth.
At the end of the drama, God will evolve a supernatural solution. I pray that we shall be alive to experience the end of the story because the season is bad, the season is satanic, the hour is satanic."