Arsenal targets 21-year-old Fiorentina's exceptional striker, Dusan Vlahovic

By Ernest Sunday
Arsenal is targeting Fiorentina's high valued striker Dusan Vlahovic ahead of the next transfer window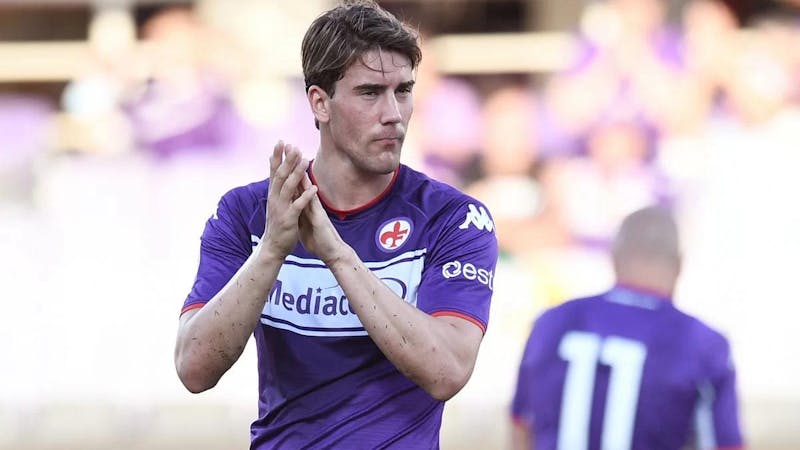 Arsenal is currently monitoring Fiorentina's in-form striker Dusan Vlahovic ahead of the upcoming transfer window. The 21-year-old has made much improvement with The Purples in the past three seasons.
Arsenal's manager Mikel Arteta looks to strengthen his squad with the hope of competing for the Premier League title. The manager has a fantastic team full of young players and wishes to add Vlahovic to make it even better.
According to football transfer guru Fabrizio Romano, there are no serious talks between the striker's agent or Fiorentina and Arsenal's board.
Other European top clubs are also keeping tabs on the talented striker, including Premier League champions Manchester City and Italian giants Juventus.
Arteta might be looking for a replacement for its captain, Pierre-Emerick Aubameyang, who will be turning 33 years old next season. Aubameyang's performance has rapidly reduced this season.
Last two weeks, Aubameyang failed to score from a penalty spot to give Arsenal a lead in their 1-0 victory against Watford. Thanks to a fine strike from Emile Smith Rowe that helped Arteta's team secure the three points.
Arsenal fans were furious about the missed chance and demanded the captain be dropped from the starting eleven.
"Sell Auba and keep Lacazette; a word is enough for the wise", an Arsenal fan Twitted.
"Auba has been absolutely shocking. Probably his worst game so far for the club if he doesn't turn around, and he's quite a stinker in the past couple of years," another said.
Arteta seems to be taking a step forward to find a new striker for his team, and Dusan Vlahovic will be a perfect fit for that.
The young talent is one of the best strikers in the Italian Serie A, and Arsenal would have to pay a heavy amount for the striker valued at €70 to €80m by his club. Vlahovic will be an excellent player for Arsenal if he joins Arteta's team.
Who is Dusan Vlahovic?
Dusan Vlahovic is a Serbian international striker born in Belgrade, Serbia. He spent his youth playing for Altina Zemun, OFK Beograd, Red Star Belgrade, all in the Serbian First League before moving to Partizan in 2014.
In 2016, Dusan Vlahovic made his senior debut for Partizan. He was only featured 22 times for the Serbian club before Italian's Fiorentina came knocking for his signature.
At 17 years, Dusan Vlahovic could go to Italy to play for Fiorentina's first team, a significant achievement for the young lad. On February 22, 2018, Vlahovic was announced as a Fiorentina player after an agreement with Partizan.
In his first season in Italian Serie A, Vlahovic made only ten appearances for The Purple. He became a crucial player the following year; he was featured in 30 of Fiorentina's 38 league games.
Last season Vlahovic's fast development was noticed by many European top clubs, with Arsenal, Manchester City, AC Millan and Tottenham sending scouts to watch the striker.
Vlahovic missed only one game out of Fiorentina's 38 league games, the joint highest appearances for the club in 2020. He scored 21 goals and provided 3 assists.
In 2021 the 1.90m striker has been featured in all Fiorentina's league games. Vlahovic is currently the third-highest goalscorer in Italian Serie A with eight goals, only two behind Lazio's Ciro Immobile, leading the scoring chat.
Vlahovic is currently the best player in Fiorentina; he has created ten chances and hit ten shots on target. His excellent stat has increased the interest of other European top clubs, with Liverpool joining the crew in the quest for his signature.
Dusan Vlahovic's exceptional quality
Dusan Vlahovic is a complete point nine who can score goals from any angle. His exceptional shooting power is rated at 84% by CIES and distribution at 20%, making him similar to Chelsea's legendary striker Didier Drogba.
Dusan Vlahovic has won 76% of the aerial duels he has faced, a perfect fit for Premier League football with his tremendous physique. His physicality is also an advantage to help his team's hold-up play.
Arsenal's team lacks an attacker that can hold up play, and Dusan Vlahovic would balance the team with his strength if he eventually moves to Emirates.