How Barcelona's rejects are turning out as best buys of the season

By Ernest Sunday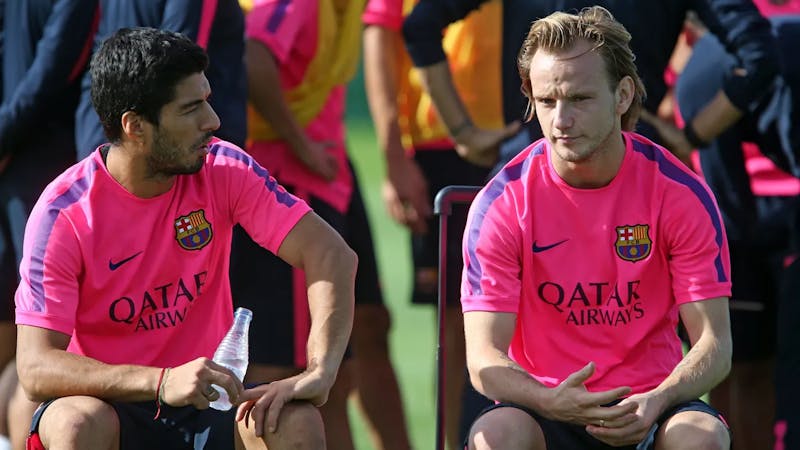 Barcelona shipped out Six old players in the summer of 2020 in what was termed deadwood clearout. Fast forward to 2021, and players like Luiz Suarez, Ivan Rakitic have turned out to be the best buys of the season at their new clubs.
The 2020 La Liga season came with big surprises for former Barcelona's players who left the club during the club's overhaul of old players termed deadwood.
Barcelona's 2020 Summer Departures
The clearout saw players like Luis Suarez, Ivan Rakitic, Aturo Vidal, Nelson Semedo, and Arthur Melo depart Camp Nou searching for new clubs. In total, Six Barcelona players left the club, and two others went on loan.
The clearout also saw five new players join Barcelona along with their new head coach, Ronald Koeman.
Players like Luis Suarez and Ivan Rakitic have been in scintillating forms in the 2020/2021 La Liga season since leaving Barcelona, and this would not come as a surprise to many as those two were always top players.
Lionel Messi voiced his anger at the Barcelona board for letting players like Luis Suarez leave the club and join Atletico Madrid, a rival club. Luis Suarez established himself as Barcelona's third-highest goalscorer in history.
His departure was deemed harsh by the media. Suarez won four LaLiga titles, four Copas del Rey and the Champions League at Barcelona. Fast forward to 2021, and his new club Atletico Madrid is topping the league while old club Barcelona sit 3rd chasing from behind.
Barcelona's season has been disappointing. The club is currently occupying the 3rd position in the La Liga table at 43 points, 8 points below league leaders Atletico Madrid who have one game in hand.
At Sevilla, Ivan Rakitic rejoined his old club, a club he left for Barcelona in 2014 after consistently performing in the La Liga and Europa League under Unai Emery.
Ivan Rakitic became the first player to captain a side to victory in the Europa League final and pick up the match award's official man. He established himself that year, recording 17 assists and scoring 15 goals in all competition.
The beginning of the storm in Barcelona
The problem started in 2019 and after the appointment of former Real Betis manager Quique Setién as its new head coach.
Quique Setién's regime witnessed the worst creativity that Barcelona had seen in the past decade. With the club recording 86 goals in the whole of 2019.
It was difficult for Quique Setién to find a good link-up play among the club's superstar Lionel Messi, striker Luiz Suarez and the club's 2019 signing Antonie Griezman.
Barcelona's 8-2 defeat against Bayern Munich was the club's worst-ever defeat in the Champions League
The fall apart became complete after Barcelona witnessed their worst defeat in the UEFA Champions League history in the hands of German Giants Bayern Munich.
Suarez's scintillating form at Atletico Madrid
Since joining Atletico Madrid on a free transfer from Barcelona, Luiz Suarez has become an undroppable player for Atletico's manager Diego Simeone.
Atletico Madrid now has a new dimension of play thanks to the attacking prowess of Luis Suarez. He has turned Atletico Madrid into goal-getters.
Diego Simone's team were formerly known for their defensive strength. They are hard to beat; once they are in the lead, they see the game out even when down to 10 men.
Luis Suarez has left Barcelona with regrets having scored the highest goals in 2020 La Liga season
Now, Atletico can attack. With 42 goals in 20 games this season, averaging 2.1 goals per game, Atletico Madrid, so far, is the team with the second-highest number of goals this season, just after Barcelona.
As always, Atletico boasts as the best defensive team in the league, conceding just 12 goals in 20 matches, the least conceded by a team in the 2020/2021 La Liga.
Luis Suarez currently has 16 La Liga goals in 17 games, Scoring 40.47% of Atletico Madrid's goals so far in the League. That is an impressive record, something that Barcelona's hierarchy would be regretting by now.
Currently, Suarez is La Liga's highest goalscorer of the season, with 16 goals with former teammate and close friend Lionel Messi second on 13 goals.
Suarez's Barcelona departure left him in tears
Luiz Suarez was not happy with Barcelona's board and the manager's decision when he left the club. According to him, he was forced out of the Club by the board.
"Koeman called me and told me that they did not count on me." Luis Suarez said in an interview.
At Barça, they told me not to go to train; I told them that as long as I had a contract, I would train. The club did not give me any explanation; they only told me that it was the coach's decision.
During Suarez's Last farewell message at Barcelona, he felt unhappy with the way he was treated by Barcelona's board
"When Barça told me they did not count on me anymore, it was hard, and I did not expect it; they were tough moments, "
When pressed on the topic, Lionel Messi also voiced his anger, saying he never thought such would happen and talked about Luis Suarez family's close friendship.
"It was not only Messi, but many Barcelona fans did not understand the decision…I did not want to be a problem. When Barça made it official that they did not count on me, conversations began with Atleti, with Cholo, with Miguel Ángel.
There was interest from many clubs, not just Juventus. I wanted to make the right decision, what was best for my family and me."
Things have changed since then, with former club president Josep Maria Bartomeu resigning from a role he has managed since 2014. On the field, Barcelona is also rising again, and currently, the most in-form team in the league, winning all their last five matches.
Barcelona has the highest number of goals in the league, but they would be regretting letting Suarez join Atletico Madrid, a rival club.
Ivan Rakitic, The reborn Croatian midfielder
Since Ivan Rakitic rejoined his former club Sevilla on the 1st of September 2020 on a free transfer, he has looked reborn and back to the Rakitic of the 2018 World Cup.
Rakitic has become a key part of the club's squad alongside Lucas Ocampus and Jesus Navas. He joined back his old club and reunited with Unai Emery, his former head coach that named him the club's captain back in 2013.
Together with Unai Emery, Rakitic led his team to the Europa League final, of which he picked up the official man of the match award in the final. Unai Emery's team went on to win the competition for 2-consecutive times after Rakitic left for Barcelona at the end of the 2013-2014 campaign.
Ivan Rakitic goal against his former club Barcelona is his second goal of the season for Sevilla
Rakitic's stats since rejoining Sevilla have not been that impressive compared to what it used to be, but his last-minute goal against Barcelona in the first leg of the Copa Del Rey cup could be one to remember.
His last-minute goal helped Sevilla defeat FC Barcelona 2-0 in the first leg of the tournament.
Sevilla is currently 4th in the La Liga table with 42 points in 21 games, Just one point below Barcelona. Sevilla is also on a good run of form, having lost one game in their last ten La Liga matches.