Bayern wins 2019/2020 UEFA Champions League title

By Ernest Sunday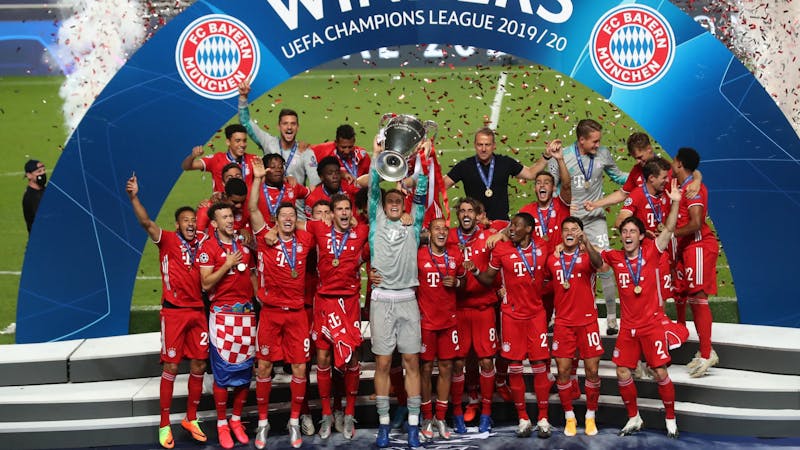 Bayern Munich has won the 2019/2020 UEFA Champions League title after beating French Ligue 1 sid and champions Paris-Saint Germain 1-0 at the Estadio da Luz Lisbon stadium.
The two teams were hoping to make history in the final competition at Lisbon, with PSG hoping to win their first champions league title since the football club's history.
Bayern Munich going into the match, was also hoping to win the cup to complete their treble after winning the Bundesliga and DFB-Pokal earlier this season.
It was a game to watch for football fans with loads of talented players and superstars featuring Bayern Munich and PSG, including Neymar Kylian Mbappe, Gnabry, Davies, Coman and Lewandowski.
Bayern Munich head coach Hans-Dieter made one change in his starting lineup to the one that thrashed Barcelona 8-2 in the semi-finals, bringing in Kingsley Coman for Ivan Perisic. A change that shocked sports fans. But that move proved very decisive as Coman netted the single goal of the tournament.
The PSG lineup had no natural striker in it. The head coach Thomas Tunchel left out Mauro Icardi and Eric Maxim Choupo-Moting on the bench favouring Neymar Mbappe and Angel Di Maria. This was front three in the semi-finals game against Lyon.
PSG's Lineup vs Bayern Munich
Starting lineup: Juan Bernat (14) , Angel Di Maria (11), Ander Herrera (2), Thilo Kehrer (4), Presnel Kimpembe (3), Marquinhos (5), Kylain Mbappe (7), Keylor Navas (G), Neymar JR(10), Paredes (8), Thiago Silva (2).
Substitutes: Bulka M. (G), Rico S. (G), 25 Bakker M (25), 17 Choupo-Moting M, (17), Dagba C (31), Diallo (22), Draxler J (23), Gueye I (27), Icardi M (18), Kurzawa L (20), Sarabia P (19), Verratti M (6).
Bayern Munch's Lineup vs PSG
Starting lineup: David Alaba (27), Thiago Alcantara (6), Jerome Boateng (17), Kingsley Coman (29), Alphonso Davies (19), Serge Gnabry (22), Leon Goretzka (18), Joshua Kimmich (32), Robert Lewandowski (9), Thomas Muller (25), Manuel Neuer M G).
Substitutes: Hoffmann R. (G), Ulreich S. (G), 10 Coutinho (10), Cuisance M (11), Hernandez L (21), Martinez J (8), Odriozola A (2), Pavard B (5), Perisic I (14), Sule N (4), Tolisso C (24), Zirkzee J (35).
Match Report
At the start of the game, it was all going down well for Bayern Munich, pressing Paris-Saint German very high and dominating the middle of the park, thanks to out of favour Spanish Thiago Alcantara that was superb all night. Will this game make Bayern reconsider selling him this summer transfer?.
Thiago Alcantara, a former Barcelona player, is a transfer target for Liverpool, and Mikel Arteta's Arsenal has recently joined in the pursuit of the player.
Bayern's Thiago Alcantara was superb throughout the final VS PSG at Lisbon
The game was very intense, and at some point, you could see that the two teams went for it, with loads of events on both halves, tackles, sometimes lacking the discipline and cohesion, especially from PSG players.
The game plan from the PSG head coach, Tuchel, was to attack from wide positions by utilizing the pace of his front three, Neymar, Mbappe, and Di Maria, but this was very much dealt with by Bayern up to the 80th minute of the game.
Neymar's chance to give PSG the lead was denied by Bayern's 34-year-old goalkeeper Manuel Neuer in the 17th minute of the game after striking a beautiful pass from Mbappe, which Neuer saved with his leg.
Neymar nearly scored for PSG in the Champions League final against Bayern but he chance was saved by Manuel Neuer
Bayern Munich's first notable chance of the night came at the 21minute of the game when Lewandowski's shot from a good turn passed PSG's goalkeeper, Keylor Navas but went a little wide, hitting the bar before going out of play.
Lewandowski's chance. The Polish international almost got on the scoresheet for Bayern but his shot could only hit the bar
PSG had another opportunity to score from Di Maria when he received a good pass from Ander Herrera in front of the 16-yard box, but his shot went wide.
In the 24 minutes of the game, Bayern Munich's defender Jerome Boateng was taken off to be replaced by Sule after he suffered an ankle injury trying to push the ball away from Mbappe.
Jerome Boateng could not complete the champions league final because of an ankle injury, he sustained while tackling PSG's Kylian Mbappen
PSG was unlucky not to score once again when Ander Herrera's shot in the 28 minutes was deflected wide into the corner.
Keylor Navas denied Bayern a goal in the 30 munites with a fine save from Lewandowski's header that came from Joshua Kimmich's good cross.
Lewandowski's header into the net in the Champions League final against PSG
Bayern Munich came very close to getting awarded a penalty before the end of the first half when Kingsley Coman's fell inside the 18-yard box but was ruled out by the referee.
It really looked like a penalty, there was a substantial contact, and on some occasions, the ref would have pointed to the spot.
The first half of the game ended in a 0-0 draw, with both goalkeepers making great saves at each end to keep their team's hope alive.
For the records: Bayern's Kingsley Coman scored the only goal in the 2019/2020 Champions League final for Bayern against PSG. Assisted by Joshua Kimmich
The second half started similarly, with no substitutions from both sides. FC Bayern started on the front foot once again, dominating the midfield and choking out PSG's front three.
It did not take too long for sports fans worldwide to witness the first and the only goal of the tournament when Kingsley Coman headed past the PSG goalkeeper in the 59th minute to give Bayern the lead.
The cross leading to goal was magnificent and accurately delivered, whipped in from the left flank by Joshua Kimmich.
Bayern had another chance to double the lead in the 60th minute from Kingsley Coman's excellent cross, but it was headed away by PSG defender Presnel Kimpembe who was consistent throughout the night at Libson.
Paris-saint German came close to levelling the score in the 69th minute only to see a good shot from Brazilian international Marquinhos saved by Neuer with his right leg.
At the 73rd minute, a penalty call was raised by PSG when Mbapped got fouled inside the 18-yard box after dribbling past two Bayern defenders. There was contact but this one got ruled out by the referee.
Bayern Munich players celebrate winning the 2019/2020 UEFA Champions League title after edging PSG 1-0 in the final
This game had high hopes of goals, looking at the previous matches played by the two teams, but the goals were not flowing as expected in this final. Paris-saint German continued to press for an equaliser, with both Neymar and Mbappe making darting runs and trying to create something out of nothing.
Lewandowski got fouled by Thiago Silva, the PSG captain, whom he had dribbled and was on course to face the goalkeeper, but Silva's excellent to bring him down. That is the kind of experience a man like him brings to the team.
Lewandowski laughed it off, and the leading freekick, which Coutinho, a Barcelona player on loan at Bayern, came up and nearly got his range spot on.
Post Match Interview
Bayern Munich's coach Flick praised his team and the goal scorer, Kingsley Coman, for his final contribution.
"Perhaps he's finally stepped out of Franck Ribery and Arjen Robben's shadow this season. Kingsley has incredible talent, and he showed tonight that he could also score goals, " Flick said on Coman.
"It was a high-tempo, high-octane match with chances at both ends. We have the best goalkeeper in the world in Manuel Neuer, and he kept us in the match in certain instances.
"What was great was how the team played as a lot of people wondered how Bayern would defend against their impressive front line. I think we did a very good job on that score. We had a good attitude out there through the team that was great to see.
"We really made life difficult for the opposition. When you think how we worked defensively until the 92nd minute. Robert Lewandowski was chasing after the ball; that was incredible. It was a complete team performance."
Kingsley Coman, the Match Winner
The goal scorer Coman expressed his joy to win the Champions League and said he is sad for his boyhood club PSG.
"This is an extraordinary feeling. I feel a lot of joy, but also sadness for PSG; it hurts my heart a bit even though I am 100% Bayern as I have said.
"Since the beginning, we tried to control the match. They had countered; we knew that they were going to be dangerous. PSG had a super match, as did we; it was a super final."
Alphonso Davies, the rising Left-back
Bayern's 19-year old left-back Alphonso Davies expressed his joy and said it was a dream come true for him. Davies has been the most exciting player to watch in this season's European competition. Davies, a Juventus academy product, is scintillating to watch.
"It feels really good, feels like everything you dream about growing out into Europe. Winning the Champions League with Bayern, you think anything can happen.
"That [winning after only eight appearances] goes to show the team I have around me. It just goes to show how this team plays and to get the opportunity to play with them is amazing. My story goes to show anyone can do anything if you put your mind to it, and I've got my medal now.
"Coming to this club, legends won the title before, and as a young kid, you want that to keep going. Everyone is hungry to win titles as our idols did."
Disappointment for PSG and Thomas Tuchel
On the other side, PSG players are disappointed, failing to lift the trophy from their first UEFA Champions League final game. An opportunity the club has looked forward to for a very long time.
PSG'S head coach Thomas Tuchel, despite the disappointment, praised his team for their fighting spirit and praised Manuel Neuer for his incredible saves.
"Big fight for me, between two strong, strong sides, very equal. More possession for Bayern, and yes, more changes. But perilous moments for us. It was decisive;
I had the feeling before that the first goal decides the match. It's a pity we couldn't do it because it would've been a big, big obstacle to turn it around. We needed this from 1-0 to show our quality.
But we showed unbelievable quality. We have to accept big quality from Neuer, and it makes the difference.
"You have to be efficient. We did some finishing yesterday to give them a feeling; he lacks rhythm in his games. We don't lack goals in our game. Unfortunately, big fight but not our night."
Ander Herrera's Message
PSG'S midfielder Ander Herrera said it is time for his team to move on and look up to the challenges ahead.
"We need to think, reflect. We achieved something really considerable; we built something considerable for the club and the supporters. There are no words for anyone.
"Tomorrow, we will have to think about what we have done, the things we could have done together. It will be hard to sleep, speak even.
"We are going to try to come back to the final. We are not going to bin what we have done. We had a lot of chances, more than them I think.
"It is a final if you don't score… We had five or six chances, but in return, they had a lot of quality. We need to stick together and start from Saturday to chase the next dream."