12 best finishers in world football right now
By Innocent Benjamin
Chances come a few in soccer, but if one of these best finishers in world football gets half a chance against your team, it's game over.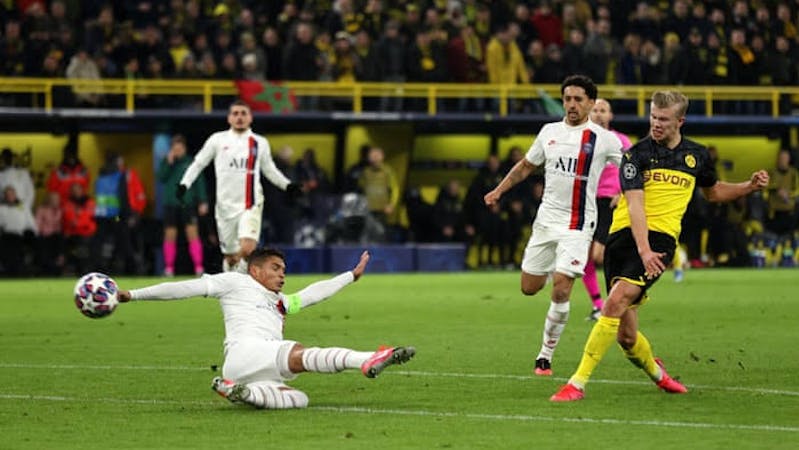 Who is the best finisher in world football? Modern forwards are today expected to possess an array of attributes to be considered good enough for top-flight football. From take-on ability, to good technique, to lightening speed, the requirements are endless.
But one characteristic that has remained unanimously requisite since the inception of the beautiful game is finishing. With this in mind, we have compiled this list of the best finishers in world football currently who will dismantle any team given half a chance.
Best finishers in world football right now
12. Mohammed Salah
Although currently rated as the best player in the world, Salah isn't vintage at burying chances. But still, he ranks statistically as one of the best finishers in world football.
Last season the Egyptian king netted a whopping 22 league goals but was guilty of missing the 2nd most clear-cut chances in English football. This season, he is also replicating that profligacy in the Premier League. 
However, his ability to make up for missed chances and even score from difficult positions has seen him better his chance conversion rate, ranking him as the 12th deadliest player in football. 
11. Franck Honorat
Before last season 26-year-old Frenchman, Franck Honorat was yet to score in a top-flight league in his career, despite breaking into senior football at age 19. But in 2021 alone, Honorat has scored 8 goals for Stade Brestois.
According to the quality of chances afforded him, Honorat is expected to have just 6 goals to his name, but he has doubled that tally, bagging 12 non-penalty goals. This proficiency sees Honorat just make it into our list of best finishers in world football as one of the dark horses.
10. Gareth Bale
The biggest surprise with Gareth Bale's inclusion in this list of best finishers in world football is how lowly ranked he is. As a player that was once the most expensive in the world, Bale has dramatically plummeted down the football ladder ever since.
However, he showed glimpses of his quality during his short stay in the Premier League in North London.
Scoring 11 goals for Mourinho's Tottenham, Bale missed just two clear-cut chances which was one of the lowest rates in the world.
In a show of absolute brilliance, he scored this number of goals from just 19 shots, which also ranked his conversion rate as the second best in the league. 
9. Jesse Lingard
If this article had been compiled a year ago, then hell might have broken loose with the inclusion of Jesse Lingard as a top finisher. But this is 2021, tides have changed, and Lingard is no longer a Manchester United flop, but one of the most sought-after wingers in Europe.
The Englishman, who turns 29 in December, might be a late bloomer, seeing that 38 percent of his Premier League goals have come in 2021.
Last season, he was the league's 5th best 'over-performer', while he sits 10th this season, an objective proof that he is one of the Premier League's most ferocious players.
8. José Luis Morales
At 34 years of age, Levante's Morales is the second oldest player on this list of best finishers in world football but is also one of the most consistent.
The Spanish winger has scored 10+ goals in 3 of his last 4 seasons in La Liga, netting almost 10 more goals than the chances afforded him. 
Last season, Morales managed the 7th best non-penalty goals per minute in the division. Turning 35 next year, he might be at the end of his career, but Morales is one player you don't want your club's rearguard to come against.
7. Mattia Destro
Another tricenarian on our list of best finishers in world football right now is Genoa's Mattia Destro. Beginning his career in the Ligurian city, Destro has been in the Italian Serie A all his life, scoring double digits for four different teams in four separate seasons. 
As he approaches the dip expected of 30 year olds in football, he appears to be increasing in his finishing ability. Last season, 60.5 percent of his shots hit their target, the second highest in the Serie A and the 6th best in Europe. 
He went viral in September 2021 when he scored what was thought to be a winner for Genoa while holding a water bottle. The clip is said to be one of the most iconic in modern Serie A.
Although not one of the grand flagship names in world football, Destro is the last player in 2021 you would want to see bearing down on your club's goal. 
6. Dimitri Payet 
One of the most technical players in the game, France's Dimitri Payet is also one of the best finishers in world football right now. The 34 year old probably has his best years behind him, but has been aging like fine wine. 
This season, he boasts the best chance conversion rate in Ligue 1, and 10th in the world. In a show of consistency, he was also in the top 10 in France last campaign.
5. Son Heung-min
Korea's golden boy, Son Heung-min has held the title of best finisher in football for some years now, but the brilliance of other players just keeps him away from the top spot this year.
Capable of shooting with both pegs, Son's clinicality was so good last season that only four players, including Lewandowski and Messi, had a better chance conversion rate than the 29-year-old. 
In addition, the winger has also ranked as one of the most accurate shooters of a football in the Premier League.
4. Erling Haaland
This year alone, Haaland has scored 37 goals in all competitions for Dortmund and is rated by CIES Football Observatory as the most valuable player in the world. The fact that he is the only player under the age of 24 on this list of best finishers in world football testifies to his brilliance. 
Although he misses a lot of chances, as is a normalcy for elite strikers, Haaland has more than made up by ranking in the top 2 for goals per game in every season since 2018.
Also, in the Bundesliga, he has finished top 3 in goal conversion rate in every season. With this staggering consistency that puts the 21-year-old as an established world-class player, Haaland is the best young finisher in world football. 
3. Karim Benzema
A player in his prime, Karim Benzema, has arguably found football more enjoyable since leaving the shadow of world star, Ronaldo. Since the Portuguese' departure, the Frenchman has netted into the 20s in each of the last three seasons. 
Now 33, the French international is showing the world a part of his game that wasn't so obvious: clinical finishing.
Since 2018, Benzema has finished with one of the highest conversion rates in world football, which comfortably ranks him as one of the best finishers in world football right now. 
2. Robert Lewandowski
Polish and Bavarian legend, as well as one of the Bundesliga's most consistent record breakers, Lewandowski is undoubtedly one of the greatest strikers of all time. 
Currently holding the seemingly unassailable record for the quickest five goals in a single game, Lewandowski has not only imprinted his name in statistics but in the canons of history. 
1. Lionel Messi
Who else deserves the accolade of the best finisher in football, other than the greatest left foot to ever play the game.
Lionel Messi is both statistically, practically and officially the outright best finisher in world football. 
The Argentine legend has scored over 30 more goals than is expected of him in the past four seasons, literally turning water into wine. This is not taking into account competitions outside the Spanish topflight.
For the past eleven years, the 34-year-old has dominated the Spanish golden shoe, carting home the award in eight of those seasons.
His sniper-Esque accuracy is another attribute that adds to his clinical stats. Lionel Messi has had the most shots on target in each of the past five years. In the 2019/20 season, Messi famously scored more goals from outside the box than any club. A legendary finisher.
Best finishers in world football: At a glance
Here's a quick review of who the best finishers in world football are currently:
Lionel Messi
Robert Lewandowski
Karim Benzema
Erling Haaland
Son Heung-min
Dimitri Payet
Mattia Destro
José Luis Morales
Jesse Lingard
Gareth Bale
Franck Honorat
Mohammed Salah