Best rising wing-backs in European football today

By Ernest Sunday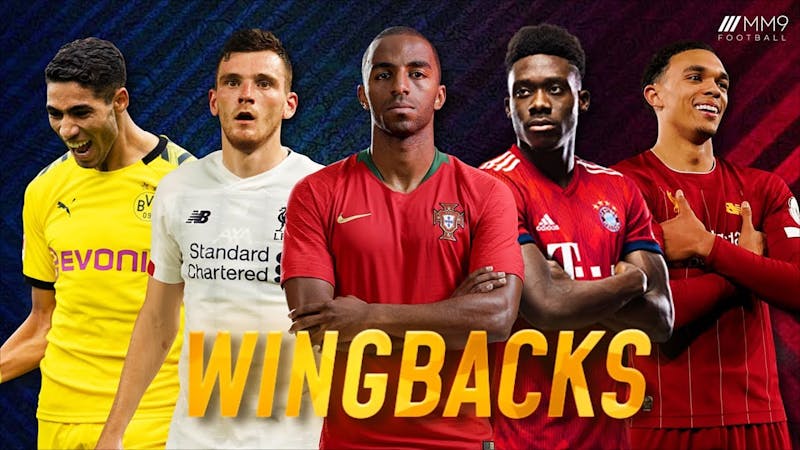 Today's football pattern has changed with many managers looking to buy and train players that are good with wing-backs, unlike full-backs in the olden days' football. Wing-backs in football have given many big teams a good flow pattern of football going on the attack. Let us look at the top wing-backs in the football world today.
1. Alphonso Davies
Bayern Munich right wing-back Alphonso Davies in action for Bayern's home match
The 19-year old player was born in Ghana but grew up in Canada. He joined Bayern Munich from MLS side Vancouver Whitecap FC of United States. Davies is regarded as the best wing-back in this generation regarding his speed and composure with football; his attacking threat is trilling.
His arrival has forced Bayern to play their former left-winger David Alaba as a central defender. Davies has made 28 appearances in the Bundesliga this season, scoring three goals and providing three assists.
Internationally, Davies plays for Canada, and he is the youngest player to score for his country at 16. Davies has been presented with Bundesliga Rookie of the Season 2020.
2. Trent Alexander-Arnold
Liverpool's Alexander-Anorld celebrating his goal against Leceister City
The Liverpool academy graduate has been one of the best players in the Liverpool squad for over three seasons. Since making his debut on 25 October 2016, Arnold has remained consistent, supporting his team in the attacking and defensive threats.
His crosses from almost half of the field is always a significant threat to any opponent. The right wing-back is filled with intelligence and tactics. He was the man behind Liverpool 4-0 win in their second leg semi-final against Barcelona following his tactical corner.
The 21-year-old England player has earned some record to his name, entering the list of players with PFA Player of the Year, PFA Team of the Year and Champions League Squad of the Season.
He has made 30 appearances for Liverpool the season, scoring two goals and providing 12 assists for his club, the highest for any defender in England.
3. Achraf Hakimi
Dortmund's Achraf Hakimi celebrating in a home match
Borussia Dortmund signed Hakimi on a two-year loan from Real Madrid. The Morocco international player made his first La Liga debut for Madrid on 1 October in a 2-0 win against RCD Espanyol and scored his first La Liga goal in Madrid's 5-0 win against Sevilla.
The right-back was among the team that won Madrid's third consecutive Champions League title before he was loaned to Dortmund in 2018.
Since joining the German side, he has been in a staggering form adding to his speed and eye for goal; his flexibility going front brought a flow in the pattern of Dortmund'style of play.
The 21-year-old player has made 32 appearances in the German Bundesliga and has scored five goals and provided ten assists for Dortmund. He has also scored goals in the Champions League competition.
4. Aaron Wan Bissaka
Manchester United right-back Aaron Wan Bissaka in action for his club
Aaron Was Bissaka joined Manchester United from Crystal Palace in a fee of £45 million last year summer(2019) after being named the club player of the year.
The right wing-back has been a nightmare to every winger in England, earning the right-winger with the highest blocking in the Premier League.
The England international has shown his quality defensively. His composure holding the ball has helped his club to maintain balance and build-up play from the back.
The 22-year-old defender has made 27 appearances for Manchester United in the Premier League, providing two assists.
5. Oleksandr Zinchenko
Oleksandr Zinchenko in action for his club Manchester City
The Ukraine international joined Manchester City from Russian club Fc Ufa on 4 July 2016 in a disclosed fee of £1.7 million. His versatility playing as a left wing-back and central midfielder has made him an important player to City.
The 23-year-old passes and accuracy with the ball have made him one of the best wing-backs in Europe with great composure. Zinchenko has made 13 appearances in the Premier League this season.
5. Reece James
Reece James in action for Chelsea football club
James is an academy graduate of the Chelsea football club. He went on a loan spell to Wigan Athletic in the 2018/2019 season; after the season, he was selected in the season's Championship team.
He returned to Chelsea senior team this season under new manager Frank Lampard.
Since then, he has been a utility player to Lampard. His strength is one of the things you can count for, moving forward and backwards.
The 20-year-old right-back made his first senior debut in September 2019 and was recorded as the youngest player to score in the Champions League competition (in the 4-4 draw against Ajax) Chelsea.
6. Brandon Williams
Brandon Williams in action for Manchester United
The 19-year-old England international was handed a debut when the team's first choice Luke Shaw was injured. Since his debut in September 2019, it has been a thing of surprise to people as he plays with no fear in him.
His attacking pattern and also his defensive pattern has been so good. He has created a selection headache for his manager as he competes for the number one choice in the left wing-back.