Could Edouard Mendy's Ballon d'Or snub be another FIFA's error?

By Ernest Sunday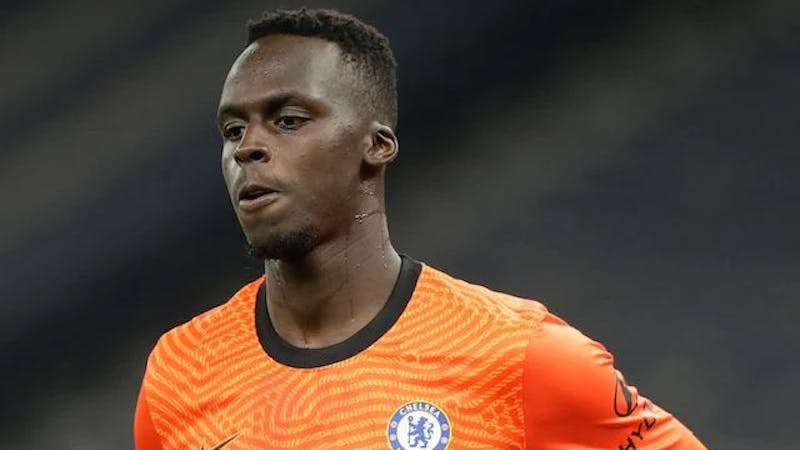 He has made Chelsea a difficult team to face; he makes it hard for any striker through his incredible saves.
In the recent 2021 FIFA's Balon d'Or selection list, the Senegalese goalkeeper was omitted from FIFA's annual Ballon d'Or award list.
His omission made it the first time a goalkeeper is snubbed from the Ballon d'Or list after winning a Champions League title. It has left fans with questions over FIFA's selection strategy; many wonders if it could be another mistake from the football association.
On many occasions, FIFA has omitted certain players from the Ballon d'Or list after outstanding season performances; 2011 was one of the years football fans termed FIFA's Ballon d'Or selection fallacious.
Former Arsenal's striker Robin Van Persie was once a victim of the omission.
In 2011 Van Persie scored 26 Premier League goals in 24 appearances for Arsenal, a high number of goals you could see in the English Premier League. But it was surprising to see him disdained from the Ballon d'Or list.
Frank Ribery, Mario Gomez, David Silva, Antonio Di Natale, and Frank Lampard are also among footballers who once experienced FIFA omission from Ballon d'Or after some great season performances.
The current exclusion of Edouard Mendy from the 2021 Ballon d'Or list has left fans fuming over another FIFA's error of omitting a superstar from the award list.
Mendy's rise from grass
Chelsea's high profiled goalkeeper Mendy was on the verge of quitting football when he was left without a club in 2014 after being released by Cherbourg club, a Championnat National in France.
Mendy had no choice but to train with the Le Havre reserves team. After some time with the reserve team, the Senegalese was fortunate to pass a trial at Marseille. He made eight appearances for Marseille B.
In search of playing time in a first-team, Mendy left Marseille and joined Reims in French Ligue 2 in 2016. The goalkeeper helped Reims secure promotion to Ligue 1 before moving to Rennes in 2019.
With just one season at Rennes, Mendy was tipped as one of the best goalkeepers in French Ligue 1. He was immediately noticed by former Chelsea's goalkeeper Petr Čech who recommended the goalkeeper to Chelsea, having played for Rennes.
In the summer of 2020, Mendy signed a five-year contract with Chelsea for £22 million. He was thrilled to have made a move to London.
"If someone had said to me six years ago when I didn't have a club that I would end up here, I wouldn't have even bothered looking at or listening to them," Mendy said.
"I did genuinely have my doubts about whether I would carry on. But I look at it now and say that it's thanks to those moments that I am where I am today, and my family has also been able to benefit from where I've got to with my football.
"Back then, when I got the message from my agent at the time, I started immediately to go back to the club where I trained when I was young, Le Havre, and I was training with the reserves there every morning.
"In the afternoon, I would go to the gym or to the pitch with my brother to practise shot-stopping.
"I had to take unemployment support at that time so that I could dedicate myself totally to football. It was incredibly difficult, and also, my partner was expecting our first baby.
"And so the unemployment support wasn't going to be enough for us, we needed something else, and so I did start looking for other work.
"But then I had the opportunity to go to Marseille, and I was given a trial there. Fortunately for me, it worked, and when it did, it was like a complete relief for me.
"Because one year to go without football is an incredibly long time. I had many, many doubts during that time. But it was thanks to my family who helped so much in those moments to keep me strong."
Signing for Chelsea was a dream come true for Mendy, and he was prepaid to make his mark at Stamford Bridge.
Edouard Mendy, the discovered talent
When Mendy joined Chelsea in the 2020 transfer window from French Ligue 1 club Rennes, he believed his hard work paid off, but he faced the challenge of becoming the club's number one choice goalkeeper.
He already knew he would be fighting for the number one spot with Kepa Arrizabalaga, who had been the club's number one for two seasons before his arrival.
He was determined to fight for the position even though it is always difficult to outperform a player in the Premier League.
Since making his debut for Chelsea, Mendy has shown why the club chose him for the number one spot challenge. He has turned out to become the best goalkeeper in the Premier League.
He has been praised repeatedly by fans and pundits for his hard work and quality in deciding a game. The 29-year-old goalkeeper has produced many stunning saves for Chelsea that helped them win some matches.
Comments by pundits on Mendy's excellent performances
Paul Merson's comment
"He's got a presence, and he's got great feet. If you watch him, he's like a tennis player waiting to take a shot in a rally, always on his toes. He will save Chelsea points this season where Kepa would have cost them points.
Former Liverpool's striker Peter Crouch
"I spent my playing days hammering goalkeepers, and I'm breaking the habit of a lifetime here by wanting to focus on the excellence of a number one. Mendy underlines the importance of a goalkeeper to a title-winning side.
"He is the final, missing piece that could get them over the line this season", Crouch said after Chelsea's 1-0 win against Brentford on Saturday, October 16 2021.
"Chelsea were hanging on, and it is one of those games they would have drawn or lost in previous years. That Mendy save from Christian Norgaard at the end was unbelievable, and there were a few more."
"But it is Mendy's overall contribution that has given them an added calmness since he arrived from Rennes last year. His touch is spot on when dealing with horrendous back passes; he comes and takes crosses with authority.
"Look at all the teams to have lifted the league title, and one common theme is trust in an exceptional goalkeeper. The signings of Alisson and Ederson altered the outlook for Liverpool and Manchester City, with both going on to finish top.
"Mendy is a major influence in Chelsea now finding themselves in the mix. There are other factors, of course. You have to be strong everywhere, but the margins are so fine that the goalkeeper is often a deciding factor.
"Mendy has slotted in seamlessly; signed at 28, with experience and mistakes behind him, he is one of those goalkeepers who goes largely unnoticed most of the time.
"That is exactly the sort of steadiness you want. And when his moment in the spotlight came this weekend, he turned dropped points into three points."
Nobody knew how good Mendy was until he moved to Chelsea; he has become an unsung hero with fans buzzing about his talent. He has proven hard to score and made Chelsea stronger than they were before his arrival.
Thomas Tuchel's worry over Mendy
Chelsea's manager Thomas Tuchel has a good keeper in Mendy. Tuchel knows how the goalkeeper who helped him lift his first Champions League title as a manager is essential to his team.
He has helped him win so many games both in the Premier League and European competition. Even though the manager is happy about his performance, his omission in the Ballon d'Or list seems to be troubling him.
Tuchel fears that the omission from the Ballon d'Or list could affect his performance. The manager hopes he keeps on his good performance and forgets about his omission from the Ballon d'Or list.
"It's more important that he performs like this than he is on any list," said Tuchel after his side's 1-0 win against Brentford. "I hope it does not bother him because it does not bother me too much."
"I think that we could be on that list as a whole team because we won the trophy as a team. If we have five or six names, it does not matter.
"I have the feeling that we won it with 21 or 23 guys, and everybody played his role. That's how football works, and today, we relied heavily on him. He is the guy he is, and everybody is so happy for him that he can help us.
Reactions to Mendy's Ballon d'Or omission
Football fans, players and pundits have criticized FIFA over Mendy's snub from the 30 men squad Ballon d'Or list. Some players have related it to being an African, while some have termed the action ridiculous.
"Someone explain why he's not nominated for the Ballon d'Or. What a performance. EDOUARD MENDY", Mendy's teammate Antonio Rüdiger tweeted after Chelsea 1-0 win against Brentford.
In another tweet, Mendy's Senegal teammate Kalidou Koulibaly said, "It's a real shame that Edou isn't one of them. He is the first African goalkeeper to win the Champions League.
"We must continue to work and move forward. We have to do the double of some people to be well judged."
Liverpool's midfielder Sadio Mane is also one of the people that criticized Mendy's omission. In a tweet, he said, "It's inadmissible. I don't understand it. It's regrettable".