Could Harry Kane be affected by Manchester City's collapsed deal?

By Ernest Sunday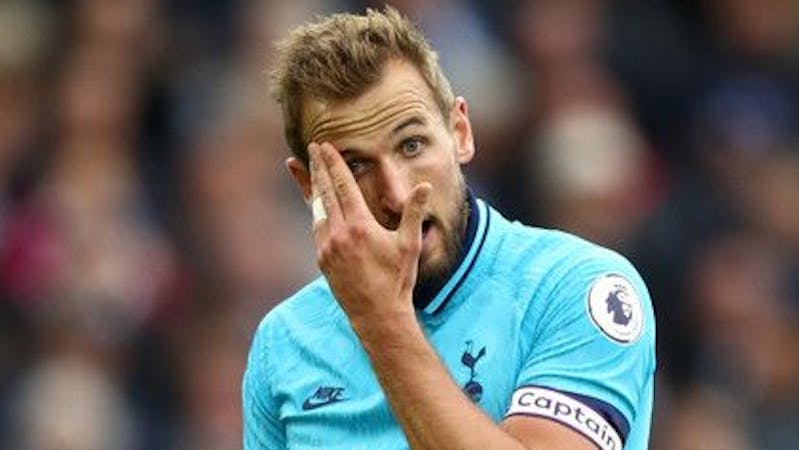 Harry Kane is one of the best strikers across the continent, but he has endured a horrendous start to the campaign. Kane is a modern striker that every team would dream of having.
His hold-up play and ability to create chances for himself make him unique, but his poor start to 2021/2022 English Premier Season has surprised football fans.
Harry Kane has failed to score in his first six Premier League matches for Tottenham this season, his first time in many years. The 3-time EPL highest goalscorer is yet to find the net in over 540 minutes of play.
Harry Kane was a subject of a £150m move to Manchester City during the summer, but the deal fell through towards the closing stage of the transfer window, which left him frustrated.
Harry Kane's poor start to the season
After six games played, the question is, did Tottenham make the right decision by keeping him? Could Kane's poor start to the season be a result of what transpired in the summer?
Every striker in the world goes through moments when the goal stops coming unless you are the next Ronaldo Dilemma. But it is unlike Harry Kane to go through such a poor start in this Tottenham side. A team where he won 3 golden boot awards in the Premier League.
Kane is also struggling to find his feet on the international level. He was substituted in the 76th minute against Hungary in the 2022 World cup qualification match, which ended 1-1.
Football fans and pundits have been observing Kane's situation and are beginning to link his form to a collapsed £150m bid from Manchester City in the 2021 transfer window for the striker.
Kane, who won the 2020 Premier League golden boot award and Playmaker of the Season award with 23 goals and 14 assists, has found it hard to hit the net in 2021.
Harry Kane left the pitch unhappy when he was substituted in the 76th minute against Hungary
The details of the collapsed deal
The 2021 summer transfer window was one of the craziest transfer windows in football history, a transfer window that saw two of the best players in the world move to New clubs. The transfer window also witnessed the most significant free transfers of star players across teams.
People expected Harry Kane to move to a more prominent and elite team searching for silverware with several movements during the window, but that did not happen.
Despite winning three golden boot awards at Tottenham, Harry Kane, at 28, is yet to win any cup medal in his entire career, and the time is ticking very hard and fast for the English man.
Kane was left frustrated by Tottenham after they rejected a 150 million pound bid from Manchester City that could see Kane team up with Jack Grealish and Foden, Kevin De Bruyne and others under Pep Guardiola.
Kane made it open at the end of the 2020 season that he needed a fresh challenge, a place where he can win trophies, which drew many top clubs' attention.
City kept their eyes on him and followed up with a 100 million pounds bid immediately after the Euro tournament in which England lost to Italy on penalties in the final. The offer got rejected immediately by Tottenham.
Harry Kane is one award away from equaling Theirry Henry's 4-time golden boot award winner
Manchester City eventually came back with an improved offer of 150 million pounds, which many expected to go through but got turned down once again by Tottenham.
Rumours started flying around of Kane missing Tottenham's training because he wanted out, but the striker broke the silence and denied refusing to train through his social media channels.
Despite that, it is believed that Harry Kane is not happy but does not want to ruin his long relationship with the Tottenham board and fans.
The game is in the head.
Many might wonder how a collapsed deal some months back could affect a player of Harry Kane's calibre. When a player is not in the right and clear state of mind, it affects his game. Football goes beyond a job; it is passionate; it is about doing what you love.
According to Andrea Pirlo, "football is played with the head; your feet are just the tools". This is even truer when it comes to strikers; the pressure and expectation are enormous. The team, the fans need you firing on all cylinders because you need goals to win.
England's loss in the European Cup competition finals and the way the team lost also affected most of the players, but they have all moved on since then.
Bukayo Saka and Jadon Sancho, who lost their penalties on the day, have started performing for their respective clubs.
At Tottenham, Harry Kane knows very well that his chances of winning a title are slim, and that is even harder to deal with when you could have joined the current Premier League Champions, a team with zero doubt of winning a title this season.
Without lifting the Premier League title, Harry Kane will never be considered a Premier League great despite his exploits and unbelievable talents and awards. Should we say that Harry Kane has been too loyal to Tottenham?
Is Harry Kane too loyal to Tottenham?
Kane is the 7th all-time highest goal scorer in Premier League history. It would be regretful for a striker who has won three Premier League golden boots and two Premier League Player of the Season awards to finish his career without a trophy.
It is astonishing that Harry Kane won all those at Tottenham but has no trophies to show for it. However, it shows how prolific, efficient and consistent he is, judging by the quality of the team at Tottenham.
Harry Kane has been a loyal servant of Tottenham, believing through the bad times that one day, the team under Pochettino will become a significant force in the world. Honestly, the team came very close to that, reaching the Champions League final and almost winning the Premier League title in the past seasons.
But the tides have changed, a lot has happened, and Tottenham let go of Pochetino after nine years of guiding the club towards success.
The time is ticking fast and tick for Kane to remedy his name and join the house of EPL legends. The expectation is that he will be allowed to move in the summer of 2022. Undoubtedly, Harry Kane will have a plethora of options at his disposal, even on current form.