Frank Lampard's managerial role at Chelsea, what has gone wrong?

By Ernest Sunday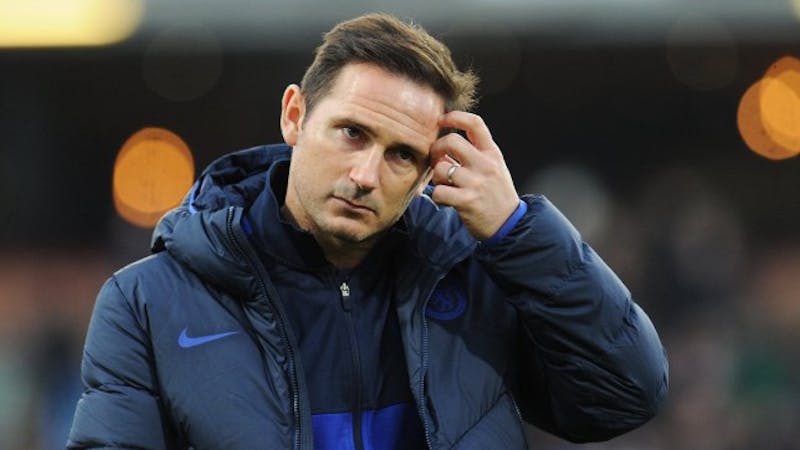 Chelsea fans have endured a difficult season under the club's manager Frank Lampard after big summer spending. We look at his reign at the Stamford Bridge, the problems, and his likely departure.
When Frank Lampard got his managerial Job at Chelsea in 2019, he endured a windowless season due to Chelsea's transfer ban by the Fédération Internationale de Football Association, FIFA after 150 rule breaches involving 69 academy players.
However, with the transfer ban's limitations, the former Chelsea midfielder led his Chelsea side to a Champions League place, with a 4th position in the 2019/2020 English Premier League table.
He also reached the FA cup final, beating Manchester United 3-1 in the tournament's semi-finals but eventually lost to Arsenal in the final at Wembley.
Fast forward to 2021, and a team that looked very promising, with lots of hope, talents and energy, now has lots of questions hanging on her neck. Frank Lampard is under pressure to deliver, and if results do not come in the next few weeks, he could get the sack.
We take a look at Frank Lampard's managerial role at Chelsea, his journey so far as a football head coach, his time at Derby County, his start to career at Chelsea, style of play and what went wrong.
Lampard's managerial job before Chelsea
Frank Lampard started his managerial career with championship club Derby County in May 2018 in a three-year contract after succeeding the club's former manager Gary Rowett who lasted just one year.
Frank Lampard won his first match as Derby Country manager 2-1 against Reading with a last-minute goal from Tom Lawrence. Lampard led his team to the Championship play-off final against Aston Villa after beating Leeds United 4-3 in the semi-finals.
Lampard led Derby County to a Championship play-off final at Wembley in his first season at the Club.
Their 4-2 victory at Elland Road meant Derby became the first team to recover from losing the first leg of a Championship play-off semi-final at home to reach the final.
Lampard's team eventually lost the final at Wembley, losing 2-1 against Aston Villa. One month after the showdown at Wembley, Lampard returned to Chelsea as a head coach replacing his former boss Maurizio Sarri.
Frank Lampard's other notable achievement at Derby County was when his side defeated English Giants Manchester United on penalties in the EFL Cup after a 2-2 draw that saw his side win 8-7.
His move to Chelsea came with many questions, with pundits asking if it is the right time for him to take a job as high as Chelsea job considering his age.
Frank Lampard's style of football
Frank Lampard's style of play is fascinating. His team attacks in full gears, attacking full-backs, and when not in possession, he wants every player fighting to win it back. He deploys the 4-3-3 formation transitions to a 4-2-3-1 in attacking with overlapping full-backs.
He said:
"I want my team to play good football, but on the other side of that, I want them to be really aggressive and win the ball back. So I do not like to try and put myself into the style of play. I think it is important to be adaptable in terms of systems".
Well, you can be very certain that Frank Lampard's team will never sit back and defend, they will always be on the attacking end, ready to hit you on the break. That is his game.
His team is full of energetic young talented players. He has got a lot of runners. Players like James
Frank Lampard's style of play
Lampard's first game as Chelsea boss
Frank Lampard's first game as Chelsea manager in the premier league game against Machester United on the 11th of August, 2019. He lost the game 4-0, despite controlling 54% of the ball possessions, with more shots on goals.
The game statistics proved that Chelsea outplayed Manchester United all day, but Frank Lampard's team lacked game management. His team was impressive, ball distributions, movements, but lacked protection in the midfielder during counter-attacks.
Manchester united capitulated on that, with Paul Pogba an instrumental figure at the heart of the midfield, orchestrating counter-attacks. Daniel James caused Chelsea lots of havoc down the flank and got the fourth goal of the game.
Manchester United Vs Chelsea 4-0, Match Statistics (11/08/19)

| | | |
| --- | --- | --- |
| | | |
| | | |
| | | |
| | | |
| | | |
| | | |
| | | |
| | | |
| | | |
| | | |
The game showed that his team could attack and cause opponents to sit back. It was exciting to watch, and despite losing 4-0, there was hope that something great was in the making for his Chelsea side.
The game also showed us how Frank Lampard approach games. Many expected him to learn quickly from it, and adapt his game, but that was not the case. He likes to be aggressive, to be on the front foot and seems to care less about defending.
Lampard's first season as Chelsea manager
Frank Lampard's first season as Chelsea manager can be said to be exciting, full of hope and optimism.
Despite the limitations posed by the transfer ban mentioned earlier, the former Chelsea midfielder guided the Blues to a fourth-place finish in the Premier League, ensuring another UEFA Champions League campaign.
In the 2019/2020 Premier League season, Chelsea picked up 66 points, 33 points behind tournament champions Liverpool. Frank Lampard's team won 20 games, drew 6 and lost 12 out of the 38 matches.
He also led his side to an FA cup final against Arsenal at Wembley, beating Manchester United 3-1 in the semi-finals.
He was also nominated for the 2019/20 Barclays Manager of the Season award.
There was a big hope among the Chelsea hierarchy, players and fans alike, that things will improve when he brings in his own players during the summer transfer window.
Chelsea's big summer signings
In the summer of 2020, Chelsea went all out after their transfer ban was lifted, and spent £224.7 million on 6 new players, the highest in the league. There also some outgoings and some loan deals.
Full list of Chelsea summer signings

| | | | |
| --- | --- | --- | --- |
| | | | |
| | | | |
| | | | |
| | | | |
| | | | |
| | | | |
Frank Lampard's team looked the real deal on paper and were tipped to emerge as the Premier League Champions come May this year. Fast forward to January, and that dream is fading away with the team currently 8th position in the league table, 11 points behind leaders Manchester United.
Chelsea is currently 5 points adrift of the top four spots.
The hope is not lost. Anything can happen in the premier league, but Frank Lampard's team cannot afford further a deep form if they intend to be crowned champions this year.
Of course, top-four hopes are very much alive, and Lampard has more than enough to get this team back to the top four.
After losing N'golo Kante to injury, Chelsea's form has dipped, and they look even more porous at the back
After losing N'golo Kante to injury, Chelsea's form has dipped, and they look even more porous at the back
It was expected that Lampard would deliver at Chelsea after meeting up his demand, but the manager is finding it hard to get all his attacking players into scoring.
Timo Werner and Kai Havertz who had enjoyed a good scoring season at 2019 Bundesliga, have failed to regain their scoring form under Frank Lampard.
Christian Pulisic and Hakim Ziyech have also failed to deliver under Frank Lampard. Chelsea's fans are no longer happy with the manager over the attacking issue, and many have demanded the manager's sacking.
Defence costing Frank Lampard.
Chelsea's defensive line is the biggest problem. With the signing of Thiago Silva from Paris-saint German and Chilwell from Leicester City, plenty expected an immediate improvement to Chelsea's defence, but that has not worked to plan.
At his disposal are the likes of Thiago Silva, Court Zouma, Andreas Christensen and Antonio Rüdiger, Ben Chiwell, James, but that has not played out well. When you watch play, you see a team that cares most about attacks, possessions.
Lately, fans are getting infuriated and calling for Frank Lampard's head. The deep in Chelsea's form started after it lost 3-1 to Arsenal, a team that lost 1-0 to bottom-placed Sheffield United.
Arteta got the better side of Frank Lampard for the third time in a row, and since that 3-1 win, the Arsenal has been on the rise.
Frank Lampard has failed to find a consistent defensive partner for Thiago Silva
Another problem Frank Lampard is facing right now is to determine his best eleven. After the defeat to Leicester City Tuesday night at King power stadium, he admitted that he does not know his first team, due to inconsistency among the players and the need to get instant results.
"We are not the finished article. Sometimes some players impress and are playing well; Sometimes, players are fighting to get into the team. You can't just conjure up your best team. Players have to make the spot their own.
In an ideal world, you find a team that is rolling. We were 16 unbeaten, and it is easy not to change the team when you're getting results. When you're searching for form and individual improvement, it's normal the team doesn't pick itself."
This is understandable considering the number of players that joined the team. He needs time, but then, Chelsea is not a football that gives managers time. It is a club built on results.
Frank Lampard has also failed to use his new signing Timo Werner as his main striker; instead, he has used him as a winger, operating from the left flank, before dropping him in the game against Leicester City.
Frank Lampard is yet to pick his best Chelsea 11, according to him, players are not consistent yet to keep their place
Will Chelsea allow him more time?
Frank Lampard is adamant over his future and insists he knew the job would not come easy and is prepared to see Chelsea through the hard times. But the question is, Will Chelsea, allow him more time at the helm?
"I can't get caught up in what the reaction will be. I took this job knowing there will be difficult times, " Lampard added after Leicester's defeat.
"We had a ban, we had young players, at the minute we have new players, and we can see they are striving for form and being settled into this team. We have to fight. Everything was rosy in mid-November, but it's not so rosy now. 
"We are not the only team to suffer, and I'm not the only manager to be put under this sort of pressure. The lucky thing for me is that I'm good at handling the pressure.
"I don't like that we are not winning games. I want everyone to be talking about moving towards the top of the league like we were a month ago.
"I just have to concern myself with getting us out of this difficult period."
Let us know what you think about Lampard's reign so far using the comment box.