Is it time up for David Luiz at Arsenal

By Ernest Sunday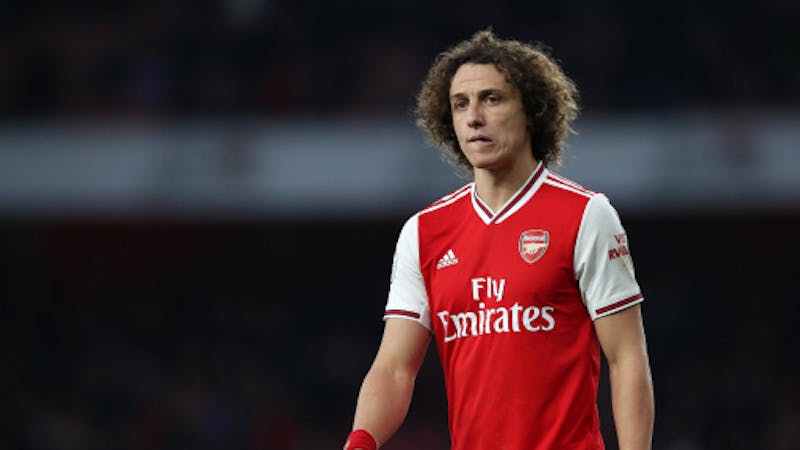 Brazilian international David Luiz has been a flop since joining Arsenal on 8 August 2019 from Chelsea on a transfer fee of £8m; he has been bound to errors on many occasions in Arsenal jersey.
His shaky defending style has been the talk of everyone, conceding two penalties in just four matches for Arsenal, one against his former club [Chelsea] and the other against Watford.
On Wednesday, 17 June 2020, the Premier League resumed its tournament, which was suspended in March 2020 due to coronavirus with Manchester City hosting Arsenal. Luiz substituted Pablo Mari in the 24th minutes after he was injured.
He played well until he made a horrific error at the 45th minutes when he miscalculated Kevin De Bruyne pass for Raheem Sterling that led to City scoring a goal. At 49 minutes, he pulled City winger Riyad Mahrez down in the penalty box and was punished with a red card and a penalty awarded to the home club [City].
After the match, the 33-year-old defender admitted his fault in Arsenal losing their opener against Manchester City and stated his interest in staying at Arsenal.
Talking with Sky Sports, he said, "It's my fault," he said. "The team did well, especially with ten men. The coach is amazing; all the players are amazing; it was my fault.
Referee showing David Luiz a red card in the game against Manchester City
"I want to be here. The coach knows. He wants me to stay."
"I should have taken a different decision in the last two months, but I didn't," he continued.
"All about my contract, if I stay here or not. I have 14 days to be here, and that's it. I should have tried to decide my future as early as possible, but I didn't.
"I don't want to use that as an alibi or excuse; it's my fault - that's it. I love to be here. That's why I continue to train hard."
Arsenal coach Mikel Arteta went quickly to defend him, saying, "He has spoken in the dressing room," Arteta said. "David is sincere.
"My opinion has not changed from the moment I joined the team, and it won't change because of a difficult performance tonight."
At the end of the month, Luiz contract at Emirate will come to an end with Arteta uncertain about Luiz future; when asked if the defender has played his last game at Arsenal, he said, "I don't know. He is very open, he is a leader, and I was sure he would speak in front of everybody.
"You heard what he said; he was straightforward with us too. That is what I value from him, and that is what I like from him. We need to be fair to him.
David Luiz Speaking in an interview with Sky Sports after the game
"I am going to defend him with everything I have because I believe in him. He has shown me a lot of things in his time here, and his career speaks for itself."
Arteta added it might come down to money. "Well, we cannot forget the financial situation," he said. "The way that Covid-19 has hit every club and the economy in general, it's going to have an impact.
"What the club is doing at the moment is assessing the situation and trying to clarify a lot of uncertainties that we have in the future. We have to make big decisions, and time-wise it is challenging to fit them in with our needs.
"We are trying our best, and the club is trying their best. It is difficult sometimes because it puts the player or our sporting necessities in a problematic situation. Again, we have to adapt. It is what it is. That is why I wanted to protect David yesterday.
"That is why I did not start him. But it's a funny game, and after 20 minutes, you need him, a player who has had a lot of uncertainty in the last few weeks."
"I think for all businesses in general. Don't forget that we have accepted a pay cut, not only the players and the staff, to try to help the situation. I think it was an incredible gesture of unity and commitment from everybody working at the football club that I am very proud of.
"So there are consequences, but the people running the club are very responsible and do not want to put the club in a difficult position. To do that, let's analyse first how our finances are going to look.
"We know that we have to improve how we can improve it. And let's see what we can do to get the club in the position it deserves."
David Luiz first error that led to Manchester City's opening goal
Luiz agent Kia Joorabchian stressed about his client future, saying it is still uncertain if he will stay at Arsenal but said it would be sorted soon.
Speaking of talkSPORt, he said, "The situation from Arsenal's point of view will be resolved this week. Not just David Luiz's situation. Several issues within the whole structure will be resolved."
Before the Premier League's resumption, Luiz made another error in the warm-up match against Brentford dribbling in the middle of the field, he loosed the ball, and that led to a goal. It is now left to know if his error will cost him his future or not.