Leicester, Ajax interested in Nigeria's 19yr-old "Little Messi", Akinkunmi Amoo
By Innocent Benjamin
After a successful second campaign in Europe, Leicester and Ajax are leading the queue of European elites interested in Nigeria's Akinkunmi Amoo.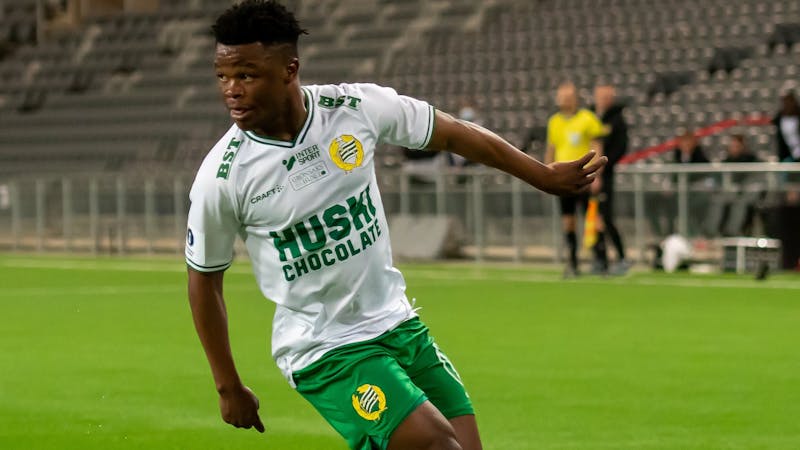 On the back of a revolutionary and highly successful 2021, Leicester and Ajax are monitoring Nigeria's Akinkunmi Amoo, dubbed little Messi, according to fresh reports. 
The 19-year-old wunderkind is starting to realise the potential that prompted Zlatan Ibrahimovic and Hammarby to go all out to sign him in 2020. The left-footed winger was the toast of European clubs after flourishing for Nigeria's U-17 at the 2019 World Cup in Brazil. 
Following a charm offensive of a video call from Hammarby joint-owner, Ibrahimovic, Amoo rejected offers from European giants, AS Monaco and AC Milan, to join the modest Swedish club.
After a year of acclimatization, the move appears to be paying dividends for both parties, as Amoo has exploded in the 2021 campaign, scoring 13 goals and providing 5 assists in all competitions.
With this impressive goal return from the teenage sensation, European elites have begin manifesting concrete interest in the Nigerian, with the Swedish top tier drawing to a conclusion in the next three weeks.
At the top of this queue are Premier League boys, Leicester City, and Ajax of Netherlands. 
With his contract not expiring until 2024 and his market value skyrocketing by 15 times in the past year, Hammarby might request a Swedish transfer record for a player who is currently the 3rd most valuable in the Nordic country. 
Who is Akinkunmi Amoo?
Born June 7, 2002, in the western region of Nigeria, Amoo grew up in the country's largest city of Ibadan in Oyo state.
His skill sets were first honed in Brightville Academy in Ibadan, before he left his hometown to Lagos-based Sidos FC, to further develop as a player. 
From here, he was picked to represent Nigeria's Golden Eaglets at the 2019 U-17 World Cup In Brazil where he caught the eye of international scouts.
Hammarby would need both a one-on-one video call from Swedish legend, Zlatan Ibrahimovic, as well as a €200,000 fee to Sidos to fend off Milan and Monaco approaches.
To this day, the player cherishes his conversation with the former Barcelona, Manchester United, PSG, and Inter striker,
"It was incredible. I was very impressed and happy. Zlatan is an incredible football player, whom I look at as a god, but above all he is a very nice person," Amoo told SportExpressen.
"I usually hear that I play like Leo Messi, so I'm sometimes called Little Messi. He is my role model as a footballer."
With the Swedish football calendar ending next month, a January transfer has been mooted.