Maduka Okoye: What does Nigeria's number one bring to Watford
By Innocent Benjamin
Who is Watford's new signing, Maduka Okoye, and what does he bring to the Watford setup?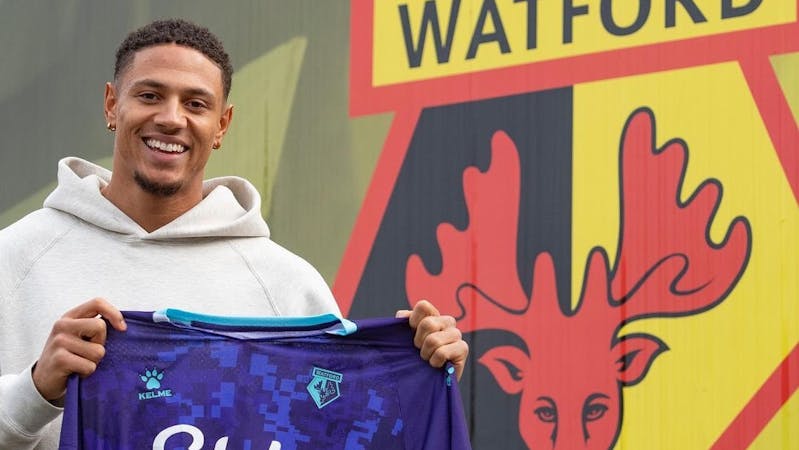 Just a week after securing his first clean sheet of the season, Nigeria's first choice goalkeeper, Maduka Okoye has been signed by newly promoted EPL side, Watford. The signing was announced by the club's official website, at exactly 19:00 WAT on Monday.
With 38-year-old Ben Forster at the twilight of his career, it was only a matter of time before the Hornets go shopping for a capable successor. And now they have officially settled for Sparta Rotterdam's 22-year-old shot-stopper.
An agreement is already in place, and the final details will be ironed out in the winter transfer window in January during which Okoye can officially join the club. The German born youngster, will be loaned back to Sparta Rotterdam for the remainder of the 2021/22 campaign before permanently joining his new side in June.
The total financial outlay of the transfer is quoted as 7 million euros which sets a record as Sparta's most expensive sale of all time. The contract will run for a period of five and a half years, starting January 1, 2022.
According to Sparta director Henk van Stee, the approach by a club from the mega-rich Premier League was the factor behind the hasty deal:
"Last summer we extended his contract until 2025, but both parties knew that an early departure would be very real," he said via the Sparta channels.
"If clubs from the Premier League  show interest, it will be very difficult for both the club, player and agent to postpone a transfer. Then it is important for us to find the best possible conditions for Sparta and we have succeeded in that."
The move is viewed as a coup from Watford, as bigger clubs like Ajax and AZ have also been linked to the highly rated goalkeeper, however, the lure of the Premier League obviously proved the bargaining chip.
Regarding the move, Okoye posted on Twitter:
"I'm overwhelmed to sign for Watford. To play in the Premier League is something I've been dreaming about since I was a little boy. I can't wait to get started with the team's upcoming season! #22/23
I wish the Club all the best for the rest of the season!"
Maduka Okoye now joins Tom Dele-Bashiru, William Troost-Ekong, Emmanuel Dennis, Oghenekaro Etebo, Joseph Hungbo, and Capo Mebude as part of a very strong Nigerian coterie at Watford.
But who is this relatively unknown goalkeeper that Watford have added to their ranks?
Who is Maduka Okoye? 
If you check the word 'meteoric' in the dictionary, you might very likely find the term "Maduka" sitting next to it. Such has been the unprecedented rise of the Nigerian goalkeeper that 12 months ago, he was yet to feature in any senior competitive match in his career.
Starting in the underaged setup of German football, Emilio Maduka Okoye was trained at the Borussia Monchengladbach academy before moving to Bayer Leverkusen u-17 and finally to Fortuna Düsseldorf's u-19, where he made his first competitive appearances. All of these clubs were located in a close perimeter with Düsseldorf, Okoye's place of birth. 
Racking over 4,000 minutes of valuable experience in three seasons, Okoye left his hometown for neighbouring Netherlands in July 2020, where he joined Rotterdam side, Sparta. 
Long before he even left Germany, Okoye was called up to the Nigerian national team by German manager, Gernot Rohr, to represent his father's country of origin. So his first topflight appearance came with Nigeria before any club.
Okoye made his first ever topflight appearance with Nigeria before any club
He made his national debut on October 13th, 2019 in Nigeria's 1-1 friendly draw with Brazil, a 27 minute appearance off the bench.
The youngster followed his new club Sparta's first six games from the bench, watching as they conceded 11 goals under experienced Dutch goalkeeper, Benjamin van Leer, without keeping a clean sheet.
While still awaiting his first topflight appearance at club level, Okoye was once again called to represent Nigeria in friendlies against Algeria and Tunisia.
On his return, he was rewarded with his first topflight club career minutes in the TOTO KNVB BEKER against Ado Den Haag. This landmark appearance came on October 28, 2020, just over a year ago from today. 
But why have Watford signed a player who just last October had never made a senior club appearance? What does Maduka Okoye bring to the Watford setup?
What does Maduka Okoye offer to Watford?
At only 22 years of age, no goalkeeper in the world born in the year 1999 or later has won more national caps than Okoye, except the mercurial Gianluigi Donnarumma.
Although he has played only 6 competitive appearances for the Super Eagles, Okoye is yet to lose a competitive match at national level, keeping a clean sheet in 4 of those matches. This statistic should however be taken with a pinch of salt as the goalkeeper has only been tested in qualifiers.
With his place as number one assured, his first taste of top-quality action will be at January's Africa Cup of Nations tournament, where is qualities will be assessed to the maximum by some of the continent's best.
How does Okoye compare to Premier League Goalkeepers?
At the end of his first professional season in May 2021, Maduka Okoye was rated as one of the brightest prospects in the Dutch Eredivisie. Since his debut in 2020, his market valuation has risen by over 500 percent, a very significant increase for a goalkeeper with only one season of topflight football.
The Eredivisie is renowned statistically as the most trigger-happy league in world football, seeing almost 0.5 more goals per game than the English Premier League. So finding a goalkeeper posing great numbers in such an anti-defensive league is a substantial recruitment.
Last season, Okoye made an averge of 2.1 saves per game at a percentage of 65%. Although modest numbers, this rate would have ranked him as one of the six worst goalkeepers in the English division.
He was also guilty of committing 2 errors leading to goal.
On paper, this might prove grim reading but in retrospect, only 3 of the 21 goalkeepers in the Premier League last season were within the age bracket of Okoye.
While the Nigerian was 21 years of age in 20/21, the youngest goalkeeper above the age of 22 in the EPL was 27 years old, an age depicted as seasoned pro level amongst goalkeepers.
So, to make for fair comparison we will contrast Okoye's season to Illan Meslier (20) of Leeds,  Robert Sánchez (22) of Brighton and Aaron Ramsdale of Sheffield United (22), the only first choice GKs within his age range.
Of all four goalkeepers, Okoye conceded the 2nd least number of goals per game, with only Sánchez posting better numbers.
Although Leeds and Sheffield United were the defences battered the most by opposition, Okoye still had the worst save percentage. However, his figure was only five percent lower than the best, Ilan Meslier, and three percent less than that of second placed Sánchez. 
Okoye will be the second youngest goalkeeper in the Premier League behind only Ilan Meslier
The stats also showed that Maduka was the least error prone of all 4 goalkeepers, committing less goalkeeping blunders than even Sánchez who played one game less. 
In sweeper-keeper skills, Okoye also ranks highly, with the permutations showing he is a significantly better passer of the ball than all 3, expect Aaron Ramsdale.
Lastly, and probably the most important of all, was his ability to keep his net immaculately spotless. Despite missing the first 6 games of the season, Okoye ended the 2020/21 Eredivisie campaign with the 4th most clean sheets in the league, only two less than the highest.
His clean sheet percentage was bettered only by Robert Sánchez, among the four goalkeepers, and would have seen him rank 5th best in the Premier League behind only Ederson, Edouard Mendy, Emiliano Martínez and Robert Sánchez.
So, by all account, Okoye compares favourably against fellow young goalkeepers in the Premier League, despite playing in a more attacking league.
Is Watford good for Maduka Okoye? 
Okoye's move to Watford was completed so stealthily that neither the rumour mill or the grapevine in England, Holland or Nigeria could get a hold on any developing story.
Watford's modus to work so surreptitiously shows their apprehension that the move might have been hijacked by bigger clubs.
Over the summer, more than ten clubs were interested in his services including Reims, Bournemouth, Ajax, AZ and Anderlecht.
So it appears that the record transfer outlay of €7m was the edge Watford had over the other clubs. Most of these clubs showed an unwillingness to fork out such an amount for a player with only one topflight season under his belt.
The fact that Africa's flagship football competition, the Africa Cups of Nation, is coming up in barely two months shows shrewdness on the part of the Hornets but also suggests that Okoye, who is guaranteed first choice, might have been better off with a little more patience.
This move is very similar to that made by Watford's Etebo, who hastily signed a contract with Stoke City in the Championship, only to have a banner campaign at the 2018 World Cup.
Etebo will subsequently show a lack of ambition for Stoke, as he came to the understanding that the Championship might have been a lower level than his abilities.
However, Watford's consistency in the Premier League, is a top draw as they have been relegated just once in their last 6 topflight seasons. In addition, the exposure of English football would also mean that Okoye could easily secure a move back to the top tier if the Hornets suffer relegation, as was the case with Ramsdale.
Lastly, the strong brotherhood of Nigerians at Watford could make for quick team bonding, acclimatization and adaptation, especially with vice captain, Troost-Ekong, within their ranks.
This would no doubt incite positive performances from a player billed to be one of the continent's finest in the nearest future.